News
From Stage Fright To Stage Presence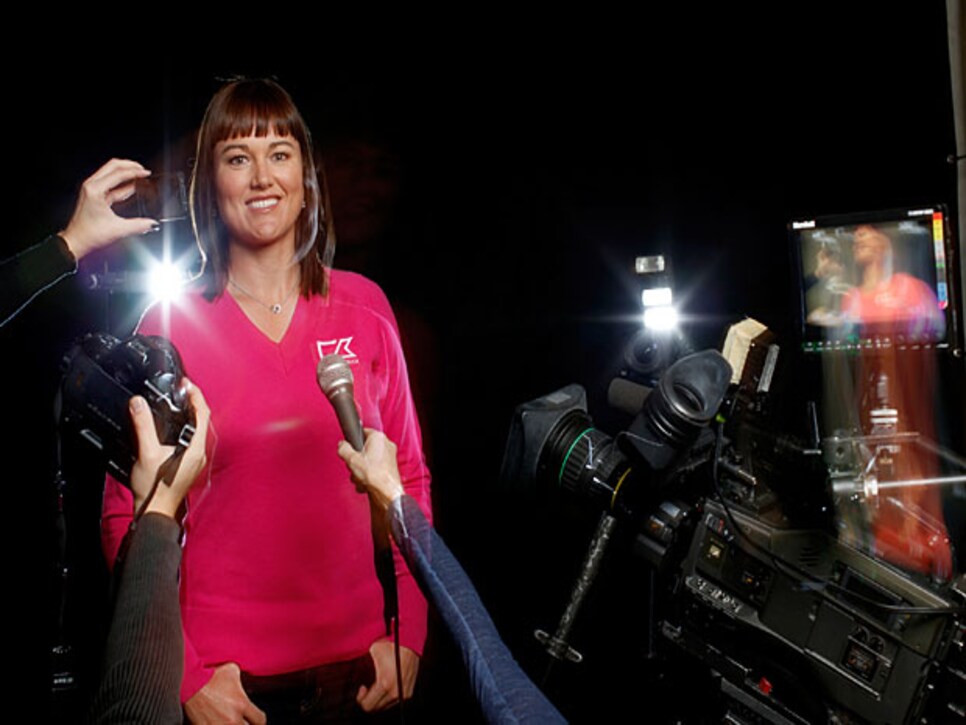 "Publicly acknowledging her stutter is huge for Sophie. The fear of it is always there, eating at her self-esteem and confidence." -- Pia Nilsson
Some walls that impede progress or isolate individuals are visible. Other barriers are more subtle, able to be hidden behind a radiant smile and a friendly wave of someone walking away from a conversation that hasn't happened. Shy? Rude? The misinterpretation depends on the generosity of the person who has encountered Sophie Gustafson, who for all of her 38 years has been trapped inside a virtually wordless world. A talented golfer and bright woman with a sharp wit, Gustafson has been unable to share her personality because of a stutter so severe one sentence rarely follows another without hitting a stop sign.
In two decades as a professional athlete--in which talking to the media and interacting with fans is an integral part of the job--Gustafson has been like the worker in "Maggie's Farm," the Bob Dylan song: "I got a head full of ideas that are drivin' me insane." Several times she thought about walking away, but what else could she do? What else would her stutter let her do?
Despite her stuttering, the 5-foot-10 Gustafson has had plenty of on-course success. Employing a powerful and aggressive game--she attacks a course like her hero, the late Seve Ballesteros--Gustafson has won 28 pro events, including five LPGA titles and 14 triumphs on the Ladies European Tour, where she is a three-time player of the year.
Still, despite the victories, there should have been more. "At the end of tournaments, something would go wrong," says Pia Nilsson, the former coach of the Swedish national team who has known Gustafson since 1989. "I asked her if the fear of giving the victory speech was sabotaging her round, and she said, 'No, no, no.' Then, one day, she said, 'Maybe there is something to it.' She was just so fearful of winning."
Nilsson encouraged Gustafson to prepare some remarks someone else could read if she won. When she won the 2000 Chick-fil-A Charity Championship, her LPGA breakthrough, that someone was Nancy Lopez. Before Lopez spoke, Sophie did, taking about a minute to say "Thank you." As years went by, that part of the job didn't get any easier.
Then, last September prior to the start of the Solheim Cup in Ireland, Gustafson got up the nerve to do her first television interview, sitting down before a Golf Channel camera to talk about her stuttering. The taped interview was shown during the competition, and the response was remarkable. "I've gotten messages from parents telling about their kid who stutters and now has a sports 'hero' they can relate to," Gustafson said in an email interview with Golf World. "Check out my blog and the comments after what I wrote after Solheim. There is a lady who wrote the nicest comment about her son. That is so cool. I wish I can have more of that kind of impact on kids."
Gustafson was a star at Killeen Castle, going 4-0 to help lead Europe over the United States. Some saw Sophie's inspired play as directly related to the Golf Channel interview. Now, everyone knows--there is nothing to hide. "Publicly acknowledging her stutter is huge for Sophie," Nilsson says. "The fear of it is always there, eating at her self-esteem and confidence. She knows how much she has to say, and that has always been frustrating for her."
That Gustafson finally confronted her speech disorder in such a public way was really no surprise. She is a woman of stubborn resolve, which she has needed on several high-profile occasions. Gustafson was harshly criticized by fellow players when she became romantically involved with Ty Votaw, then the LPGA commissioner, whom she married--and then later divorced--after he became an executive vice president of the PGA Tour. For the most part, she was mute in her defense, except to her close friends.
There was a 2003 accusation that her ball moved on the green in the final round of the Samsung World Championship after she had grounded her putter. She denied grounding the club and no penalty was called but some, including NBC and Golf World, questioned the ruling. Gustafson overcame a five-stroke deficit with a 64 that day and won by two strokes over Beth Daniel and Rachel Teske.
Some implied Gustafson got preferential treatment because of her relationship with Votaw, and again it was difficult to get her side of the story because she could not easily tell it. After that she went six years before her next LPGA win at the 2009 CVS/pharmacy LPGA Challenge, although Gustafson did win overseas several times during that stretch.
And then there was her awkward battle with Carolyn Bivens, who replaced Votaw as LPGA commissioner. Life on tour became particularly uncomfortable for Gustafson after she wrote a letter to the board of directors saying Bivens, who was later forced out by a players' revolt, should be fired.
"I saw what she was doing to the tour four months into the job [in 2006] and wrote a letter to the board telling them they should fire her," Gustafson says. "That letter was read out loud in a board meeting with her in it. Needless to say, I wasn't treated very well after that. My problem with her was always how she treated people, most of all sponsors. It was tough, and I was happy to say I had a part of getting rid of her [in 2009] even if it took way too long."
Gustafson, who started playing golf when she was 10 at Särö GC, a course her parents built in western Sweden, doesn't remember not having a stutter. She has tried just about every treatment, beginning with a speech therapist in first grade. She tried acupuncture, with no success. And even when she did find a program that worked during therapy sessions, she had no luck transferring that success to social interaction. It was like not being able to take your game from the practice range to the course.
Medication had a big downside. "I tried several drugs, but most of the time they affected my golf so badly I couldn't hit a donkey in the ass with a banjo," she says. "It was heavy drugs, and it just messed with my head. But it is definitely something I will pursue when I'm finished with golf."
Gustafson impresses a cadre of loyal friends with her determination and humor. She is closest to fellow Europeans, especially those with whom she has played in the Solheim Cup, where she has a 13-12-6 record. "She takes responsibility and has a big heart," says Suzann Pettersen, who has partnered seven times with Gustafson. "Soph is a fighter, hates to lose, just like me."
Technology has been a friend for Gustafson as she has found text messages, email, Twitter, Facebook and her blog (sophiegustafson.com) give voice to her ideas. Still, in public she shows amazing resolve. At a restaurant she insists on ordering for herself, often to the discomfort of the waiter. More often than not, she'd rather you don't finish her sentence for her when she is hung up on a word and takes special pleasure when you have finished one incorrectly.
Sometimes, when a reporter unfamiliar with her stutter asks Gustafson a question, a look of panic comes over the writer's face as the answer unfolds at a snail's pace. Gustafson approached Val Skinner of Golf Channel about doing a TV interview because she felt left out as others were asked to do spots in advance of the Solheim Cup. "It was mostly my own fault because I've always turned down TV interviews," Gustafson says. "So when I sat behind Val on the flight to Solheim, I just asked her if we could come up with something. She loved the idea and ran it by her boss and off we went."
Gustafson will go to the Masters in April to receive the Ben Hogan Award from the Golf Writers Association of America, which goes to a player who has overcome injury or illness to compete. She was placed on the ballot because she went public about her stutter on Golf Channel and because she indicated she would be willing to attend the dinner and accept the honor. "I can't tell you how much this means to me," she said in a text message when told she had won the vote of writers.
Asked what her message is to children who stutter, Gustafson says: "I would tell them do what you want to do. Granted, phone salesman might not be the job for you, but go out and do what you want to do. Don't let other people tell you what you can and can't do."
Nilsson says she wouldn't be surprised if Gustafson's "best days were still ahead of her." Gustafson is more grounded. "I think that is a bit optimistic," Gustafson says. "I'm 38 and I'm no Juli Inkster. But I'm sure going to try to have a few more good years out here."
Between tournaments this summer, in Oslo, Norway, Gustafson will see her favorite singer, Bruce Springsteen, for the 15th time. "There is no comparison to Springsteen," she says. Maybe she can recite to those children she wants to inspire these lyrics from "Living Proof" by The Boss: "You shot through my anger and rage, to show me my prison was just an open cage. There were no keys, no guards, just one frightened man and some old shadows for bars."
When the Solheim Cup was secured for Europe and the winning side had exhausted itself hugging each other, Gustafson spotted a reporter who had covered her career for 10 years and shared many meals with her, admiring as she forced out the word "papadam" in an Indian restaurant.
"How do you like me now?" she said, beaming and with a firm grip on the reporter's shoulders. The words were spoken flawlessly. Gustafson was a winner in many ways in Ireland, and it may be that her run of good luck is just beginning now that she has realized her prison is just an open cage.