News
For Bill Clinton, The Humana Challenge Is About More Than Just Golf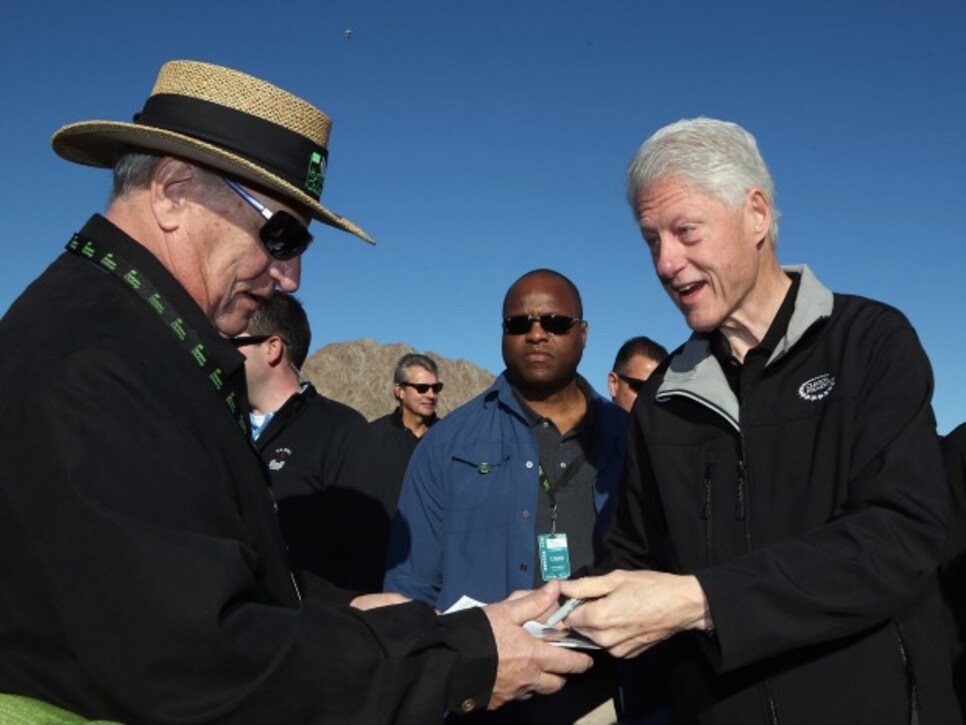 Former President Clinton at the 2013 Humana Challenge, which is partnered with the Clinton Foundation.
LA QUINTA, Calif. -- For former President Bill Clinton, the memories are of playing touch football in a cemetery in Hope, Ark., and of the one time he led his church league basketball game in scoring,  netting 16 in a game.
"I still remember that game," Clinton says with a smile and a headshake. "You don't have to be great at something to be competitive at it."
Herschel Walker, the former football star who was recruited by colleges in four different sports and still looks like he could run through any defensive line, got involved when he was in eighth grade in Southern Georgia.
"I started working out on my own because I was overweight, had a speech impediment and I had had enough of the abuse from other kids," Walker said.
And NBA great Kobe Bryant says it was sports that helped him learn the language after his father moved his family to Italy to play professional basketball.
"You can learn things through sports that you can apply to any area you want to pursue," Bryant said Monday night at the La Quinta Resort & Spa as tournament week kicked off for the third Humana Challenge in partnership with the Clinton Foundation.
Truly, the PGA Tour stop that was once the Bob Hope Desert Classic, where Hollywood stars played the game pretty much with a cocktail in one hand and a cigarette in the other has been transformed into a week-long pep rally for healthy living.
On Monday night, it was the ESPN Town Hall with Clinton, Walker, Bryant, baseball star Matt Kemp, Olympic sprinter Allyson Felix and U.S. Olympic Committee CEO Scott Blackmun, hosted by Mike Greenberg and Tom Farrey, both of ESPN.
Tuesday it's the Clinton Foundation's third annual day-long Health Matters: Activating Wellness in Every Generation conference in which the former President will be joined by PGA Tour commissioner Tim Finchem, former tour player Notah Begay, who is an activist for the health of Native American children and a dazzling array of experts in physical, mental and spiritual health.
The numbers, quite simply are frightening. According to Clinton, American children now spend nearly as many hours each day -- more than seven -- in front of a TV or computer screen as they do sleeping.
Well more than half of American children have no physical activity in their life and no physical education in their school, while young people in the United States have the highest obesity rate of any in the industrialized world.
"This may be the most inactive generation of young people in history," Clinton said. "This could be the first generation of Americans whose lives are not healthier and longer than that of their parents."
Certainly, changing lifestyles are part of the problem. Video games have replaced pick-up baseball games. And then there is the fact that lots of children lose a passion for sports at an early age because they are forced into competition by parents.
"We are seeing kids burned out at 12, 13 years old because they are pushed too hard," Bryant said. "A lot of people don't want to hear this, but there is such a thing as fun competition that doesn't have to be nasty."
And this is where golf can come into the picture. Science says walking a half hour a day will help you live longer and better. And if there is one message that the business of golf needs to shout from the rooftops it is that playing 18 holes -- or even nine -- is a pathway to healthier lives and more functional families.
The mantra for anyone trying to grow the game of golf needs to be the five Fs -- Fitness, Family, Fun, Fast and (A)Fordable.
Play the game with your children.
Play the game to have fun.
Play the game at a reasonable cost.
One of the points Clinton, Walker and Bryant came back to several times in their talks was that when they were young sports were less organized and less expensive. Kids got together, got a ball and played.
"My first memory of sports was breaking my leg jumping rope when I was five years old," Clinton said. "Cowboy boots. Heel got caught."
Bryant said the message to kids that playing sports will help them live a longer and happier life will never resonate. He says the message to get across is that they can have fun right now playing games.
"I don't think it is as much fun to participate in sports now as it was when we were kids," said Blackmun, the USOC CEO. "It's hard to enjoy sports now because it is so competitive."
And that is what Humana, the Clinton Foundation and the impressive roster of business partners who support the Humana Challenge have transformed this week in the desert into: Education that leads to action. Nearly $350 billion a year is spent on preventable diseases in the U.S., Clinton says.
"You will enjoy your life more if you can find some kind of athletic activity to be involved in, I guarantee it," Clinton said is that persuasive way he has of making a point. "You don't have to be great, you just have to be good enough."
And in this time when golf is looking for ways to grow the game and get more people playing, it could very well be that the health of the game depends on positioning the sport as a healthy activity.
This week, at this tournament, Humana and the Clinton Foundation have taken a huge step in that direction.