News
Micheel's Major Moment, Revisited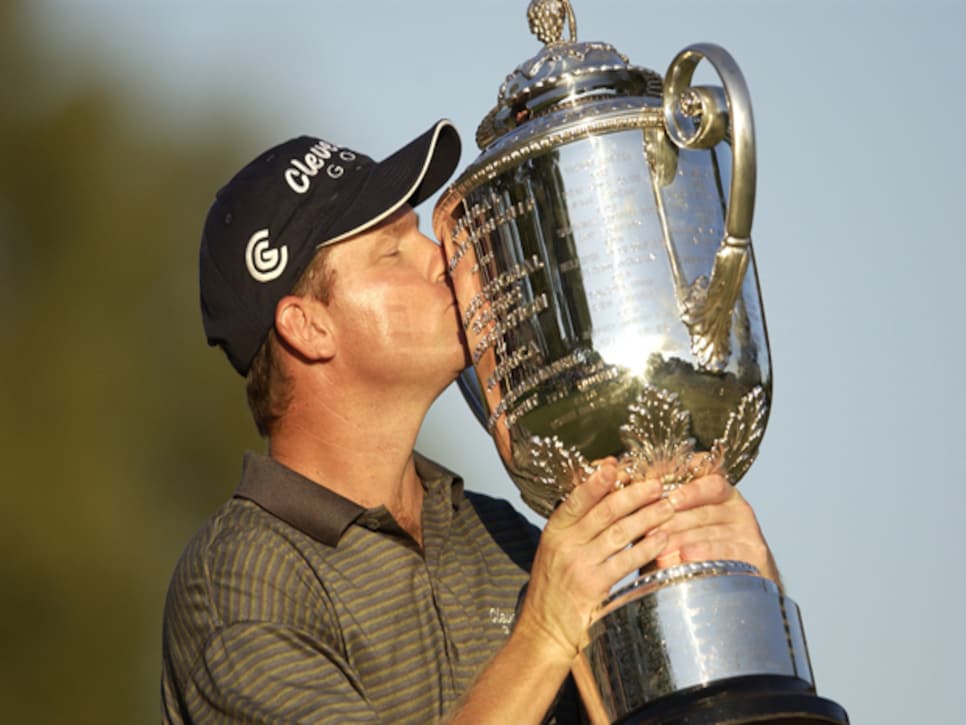 Shaun Micheel was just back from a family reunion in Wyoming and still feeling a little sentimental when we caught up last week during the Reno-Tahoe Open. Being around so many relatives had gotten him thinking a lot about his mother, Donna, who died in October 2010. "We don't get a chance to do these things enough," Micheel said. "We're all getting up there in years."
The 44-year-old has certainly aged a lot competitively since he won the 2003 PGA Championship at Oak Hill -- dropping to No. 1,040 in the world will do that to a man. It remains his only victory on the PGA Tour.
At one time being tagged a one-hit wonder bothered Micheel, but he's past that now. He decided to celebrate his return to the season's final major, where as a past champion he has a lifetime exemption, as if it could be his last big-time tournament.
He arrived over the weekend, and brought along his wife, son, daughter, in-laws and 71-year-old father, Buck, who in 2003 was on camera with Donna at their home in Tennessee during the tense final moments of their son's finest hour.
"I don't know if I'll ever get back to Oak Hill again, you never know," Micheel said. "Hopefully, they love the place like I do."
Until this week Micheel had been back only once since raising the Wanamaker Trophy. He did an outing in 2004 for a children's hospital and was asked to re-create the 7-iron he staked on the 72nd hole to beat Chad Campbell by two strokes. It was a cold, wet day in September, and from 174 yards, Micheel remembers he came up 10 yards short of the green.
"There was no problem finding where I hit it," Micheel said. "There's a plaque out there now." Every so often he goes back and looks at the video, hears his caddie say, "Be right," hears Jim Nantz call it "one of the great shots you'll ever see under major-championship pressure."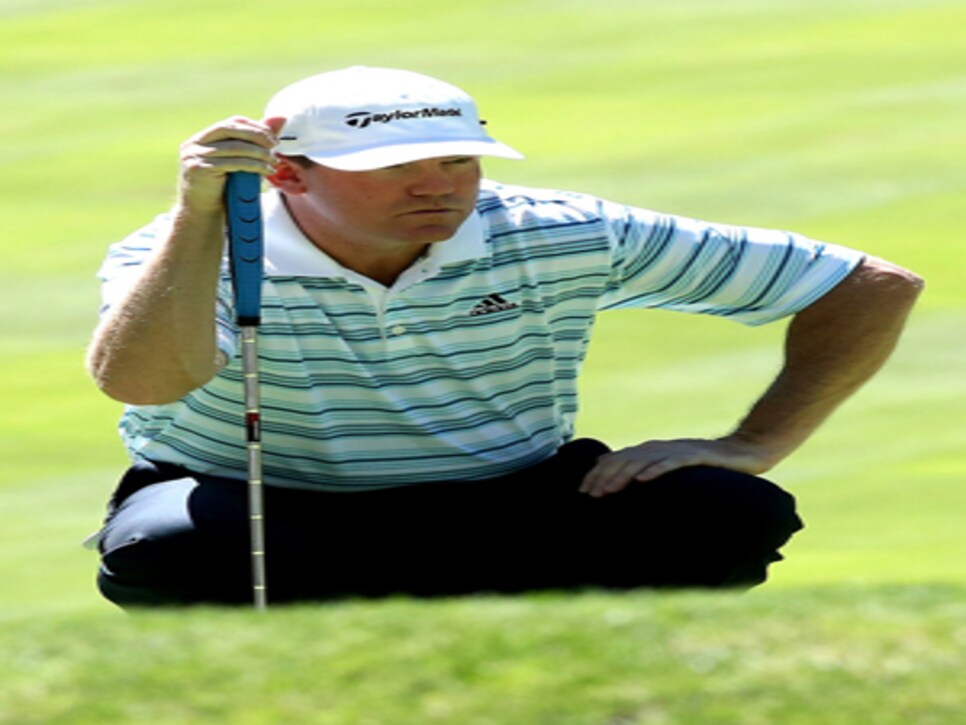 Part of watching the video is therapy, part of it an echo chamber. "It amazes me every time I see it," he says. Pro-am partners always ask him to relive it. During a practice round at Oak Hill Sunday, he was asked again. He wanted to hit a 6-iron, but went with the original club and came up short again. But 10 years ago, in his prime, playing the golf of his life and filled with adrenaline, he knew with that 7-iron he had the "perfect yardage, and in the game of golf you don't get perfect yardages that often."
The resulting tap-in led to his 21st birdie of the week. "What a way to finish a golf tournament," he said. "Hit it stone dead, wave goodbye to the crowd and walk off into the sunset."
While missing the cut in Reno last week, there were moments when Micheel sat in his hotel room and wondered why it had seemed so easy for four magical rounds in Pittsford, N.Y., and why the resulting decade has been so difficult, both professionally and personally.
Along with the loss of his mother to lung cancer, Micheel suffered through the effects of low testosterone, had a scare with possible multiple sclerosis and, for the last five years, has battled an inner-ear issue. After all that, Micheel isn't as sensitive about being called a fluke anymore. "I guess the label of one-hit wonder is one hit more than a lot of people experience," he says. "How in the world could I ever top the win?"
In his 215 tournaments since, the highlights have been a distant second-place finish to Tiger Woods in the 2006 PGA at Medinah and a double eagle during the 2010 U.S. Open at Pebble Beach. It was only the second albatross in the championship's history, but Micheel associates the memory with the sadness he was feeling during the final stages of his mother's terminal illness.
The rough ride is one Micheel is not sure he would take again. "I can tell you today," he says, "sitting here in Reno, I wouldn't have ever dreamed after holding that trophy up, that 10 years after winning the PGA, I would be non-exempt on the PGA Tour and the Web.com Tour. I never would have believed it. I would have done a Barry Sanders and retired."
Still, Micheel would have skipped the family reunion two weeks ago if he had gotten into the Web.com's Albertson Boise Open. Meanwhile, Reno-Tahoe was his fourth missed cut in four events on the PGA Tour this year. Add that to four MCs and a WD in five events on the Web.com Tour and it's understandable why Micheel would be wistful as a nostalgic week looms.
"I'm kind of beat up to be honest with you," Micheel said. "Golf is a lonely existence at times, and I've felt that share of loneliness, but you have to pick up and move on. When you do something like I did that week, all the hard work, all the time away from home, all the time by yourself, all the hotel rooms, the lonely dinners you eat at night, [winning] made it all worth it. It's tough [though]. I'm 44 now. I don't know if I love the game the way I did."
It was a week of firsts for Chris Wood. The 6-foot-5 Englishman played in his first WGC-Bridgestone Invitational, having qualified by winning the Qatar Masters in January with an eagle on the 72nd hole. He also had his first Tiger Woods pairing, shooting an even-par 70 in the third round with Tiger before closing with a Sunday 71 for a T-7 finish -- his first top-10 in the United States. "It was probably better than I could have hoped for, to be honest," Wood said of his walk with Woods on Saturday. "Yeah, totally an experience for me." The 25-year-old Bristol, England, native grew up idolizing Woods and learned a few lessons in the 18-hole journey. First, "if he misses the green or he's out of position, [he's] absolute master class in damage limitation." Second, finish as close to Woods as possible, "because that's probably going to be second."
It's getting late for Keegan Bradley and Jason Dufner as it relates to qualifying for the 2014 Hyundai Tournament of Champions. The two principals in the 2011 PGA Championship playoff -- won by Bradley -- headed to Rochester in search of their first victory in 2013. Bradley, the defending WGC-Bridgestone champ, claimed a share of the title in what he called "the tournament within a tournament" at Firestone with a Sunday 67 that tied him for second with Henrik Stenson, albeit seven back of Tiger Woods -- who he'll play with the first two days at Oak Hill. Dufner's T-4 at Bridgestone followed a T-4 in the U.S. Open. The two-time winner in 2012 has had trouble on the greens this season, ranking 163rd in strokes gained/putting. "I've been struggling a little bit," Dufner said. "But it's nice to get here and put [together] some good scores and some good rounds."