News
A Coach's Enduring Presence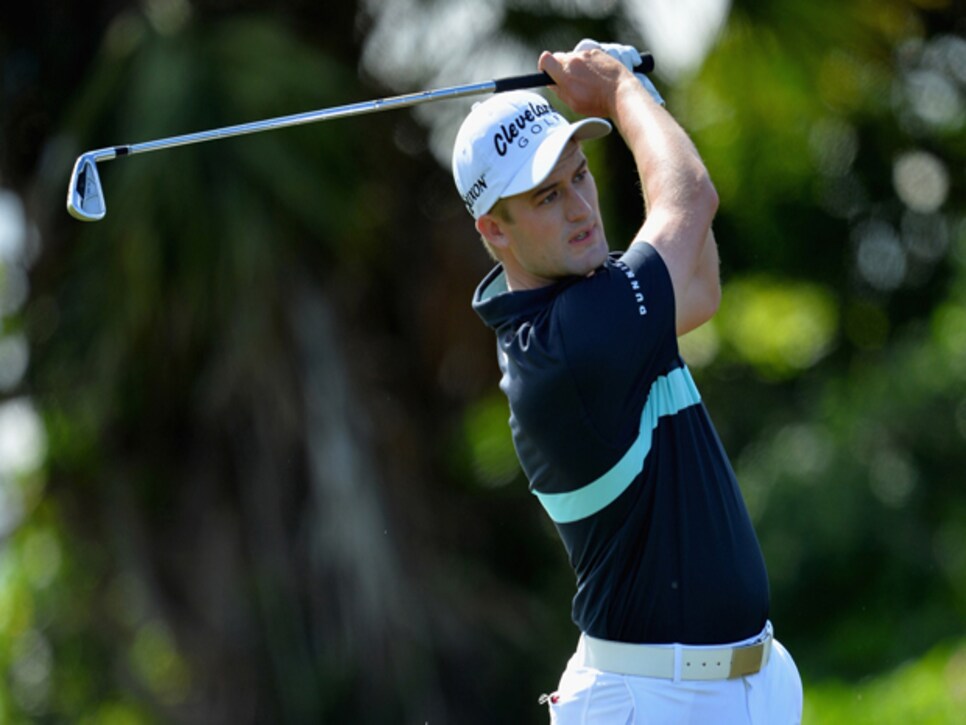 A big part of Russell Knox's life was missing as he played in his first Players Championship. Just a week before the tournament, the 28-year-old Scot attended the funeral for his coach at Jacksonville University, Mike Flemming. "It still doesn't seem real, to be honest," Knox said when we spoke before the tournament. "We were extremely close. I was hoping he was going to help me out this week."
One of the last times they were together was at Bay Hill in March for the Arnold Palmer Invitational. Knox was just a skinny kid from Inverness when he arrived at Flemming's office in 2003. Flemming gave Knox a scholarship based on a scouting service that touted his biggest wins: the Nairn Dunbar club championship, the Nairn County Championship and the North of Scotland boys' under-18 championship. If only Flemming could have lived long enough to see Knox's Players debut.
"Mike Flemming once told me a long, long time ago, the thing he wanted to do more than anything else in the world was stand on a driving range at the PGA Tour event with Russell hitting balls," Knox's father, Mike, told me Sunday. "If he had been alive this week at the Players, it probably would have been his finest moment. There were 100 times in the last four days that I thought about Michael. I've got tears in my eyes now."
I talked to Flemming after Knox lost a four-man playoff for the Honda Classic that included Rory McIlroy, Ryan Palmer and eventual champion Russell Henley. Flemming told me he didn't see Knox hit a shot until the first day of practice at Jacksonville, and how he won his first tournament as a freshman. Somehow the old-school Texan and Knox, the son of an American father and a Scottish mother, were on the same wavelength.
"He was a nice, quiet kid, kind of laid back, and it didn't look like he was in a hurry to get anywhere," Flemming said. JU was a good fit for Knox, for the climate and also the size, although moving to Jacksonville from Inverness felt like moving to New York City. "I guess I see myself as American as anyone living here, really, even though sometimes I talk funny," he said.
Knox's patience came through in my first conversation with him: He told me winning the Honda just wouldn't have felt right. He was on his cellphone having lunch at The Breakers resort with his then-fiancee, Andrea, celebrating the biggest payday of his life, $448,000. "In a weird kind of sick way, I'm glad I didn't win," Knox said. "I kind of feel like if I put myself in that situation time and time again, that when I do win, it will mean that much more."
Knox earned his card in 2012, then lost exempt status but regained it by finishing T-6 in the Web.com Tour Championship at TPC Sawgrass (Valley) last September. The biggest moment for him and Flemming in 2013 was seeing the young pro's name on the leader board with Phil Mickelson and Luke Donald through 26 holes at the U.S. Open. Being on the range at Merion, according to Flemming's son, Neal, was the highlight of his dad's career.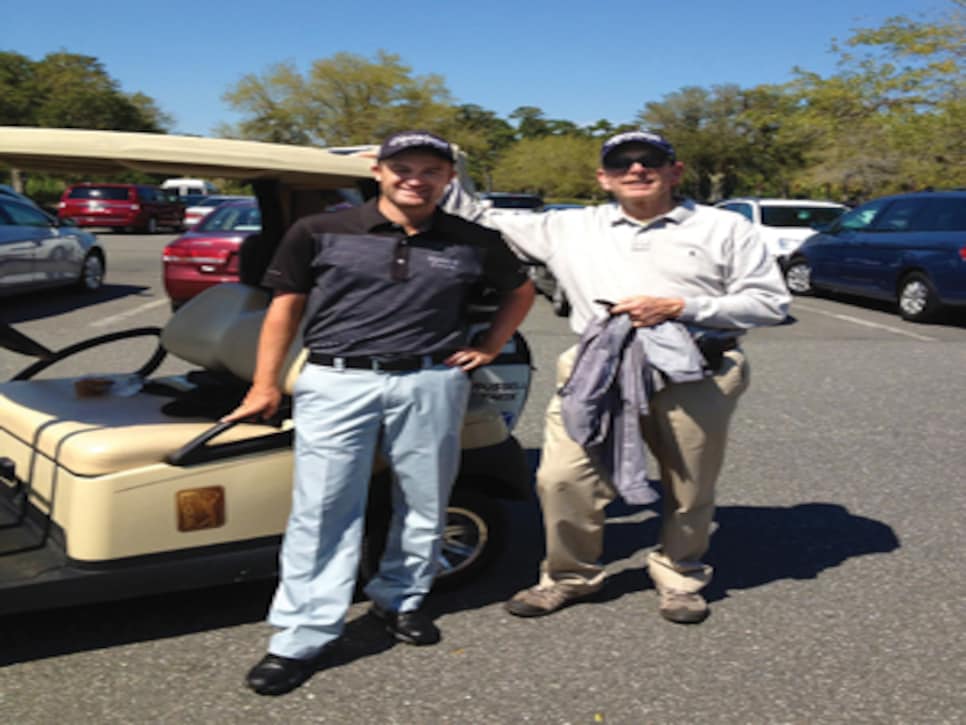 In April, Knox was driving home after a top-10 in Hilton Head when he heard of Flemming's death. Services were held April 28, the Monday of the Wells Fargo Championship. Knox and Vijay Singh were there, along with members of the Jacksonville golf team and the local golf community. While it was never a formal relationship, Singh used to call in Flemming to provide a set of eyes on the back end of the TPC range.
Ten days later, Knox was on the tee for his first Players. His first three rounds were uneventful. He shot a pair of 72s to make the cut. On Saturday he eagled the par-5 second hole but couldn't keep his energy going. He shot 73. I caught up with him that night.
"It's been tough for me for sure," he said. "I was struggling with my wedge game. I just wasn't getting it close enough, and that's always something we worked on. [Flemming] would have been able to tell me through self-diagnosis what was going on."
Sunday was different. Following Knox around the course were his parents, Mike and Valerie; friends from Marsh Landing GC, where he cleaned clubs in college to make a few bucks; his bride, Andrea, who he met at Marsh Landing when she was the tennis pro; along with former teammate and close friend Kipp Henritzy. "Every hole," Knox said, "there was somebody saying 'Hey' that I hadn't seen in a long time."
Knox gave them something to cheer about with a run of four straight birdies starting on the 10th hole, moving up 27 spots on the leader board by posting 68 to finish T-34. Mike Knox compared it to Harvey Penick being there for Ben Crenshaw in the 1995 Masters.
"Flemming would have loved this," Henritzy said. "Being at the Players, standing on the range, watching him hit balls, cheering him on -- especially after making four birdies in a row."
Flemming had open-heart surgeries at the ages of 43 and 52, but lived to 71. The cause of his death, according to his son, was lung failure. The coach was unable to play golf because of his condition, but Knox's career gave him something to look forward to in the latter stages of his life. Just as Knox had hoped, Flemming was there to help him out at the Players.
Bernhard Langer has been a big brother to Martin Kaymer since they met at a tournament in Hamburg, Germany, when Kaymer was just coming off the Challenge Tour. The two-time Masters champ was a sounding board while the 2010 PGA champion and former No. 1 went through swing changes. Langer provided counsel the night before Kaymer sunk the winning putt in the 2012 Ryder Cup and was exchanging text messages or on the phone with his countryman most of last week at the Players. Sunday morning Kaymer hoped to have one more conversation with Langer, but the Champions Tour stalwart was in church and unable to take the call. Turns out Kaymer could handle it on his own, and there was nobody happier to see Martin win than Bernhard, who predicts Kaymer will be No. 1 again. "He's a wonderful person with great character. I admire that in him," Langer said when we spoke Sunday night. "I don't think highly of him just as a golfer. I think highly of him as a person."
Paul McGinley walked out of the Sky Sports booth after a long Sunday at the Players hoping to find Martin Kaymer so he could buy him a beer. In truth, the European Ryder Cup captain needed to buy a six-pack after Kaymer led a Euro domination of the PGA Tour's showcase event. Five other prospective members of the Irishman's team also had top-10s and boosted their Cup chances at Sawgrass: Sergio Garcia, Justin Rose, Lee Westwood, Rory McIlroy and Francesco Molinari. "All credit to him," McGinley said after Kaymer registered the first victory by a European on the PGA Tour in 2014. "It was like Martin won the tournament and had to go win it again," said McGinley, a reference to Kaymer's pre- and post-lightning delay momentum Sunday.