News
My Town: Rosie Jones' Albuquerque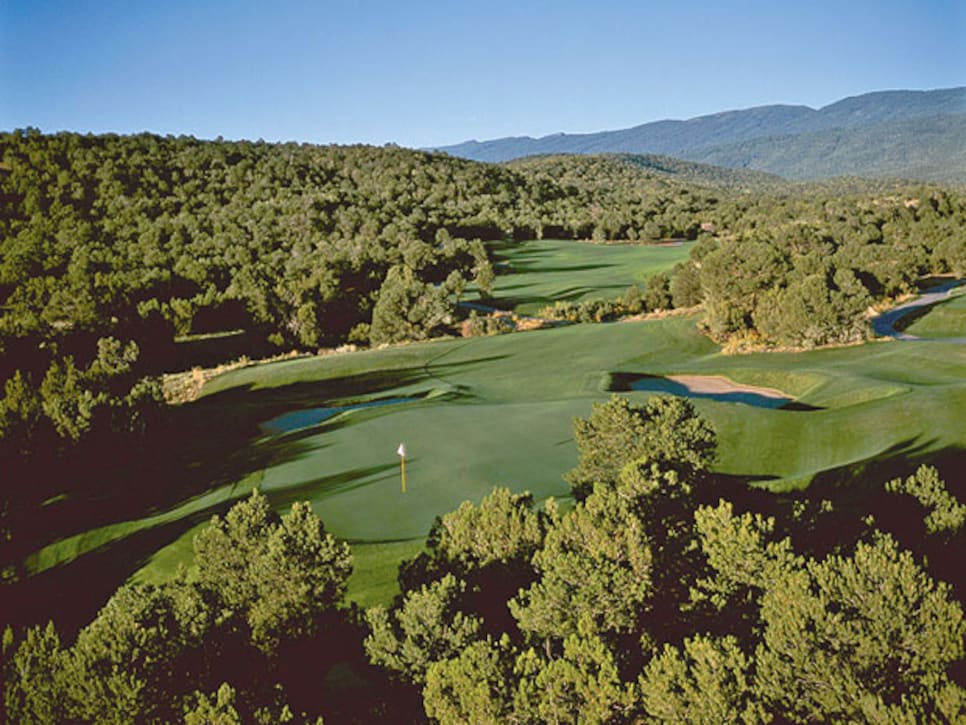 The first hole at Paa-Ko Ridge GC.
Rosie Jones was born in Santa Ana, Calif., and has lived in Atlanta for years, but her heart--one of her biggest attributes as a 13-time LPGA winner--remains in Albuquerque, where she grew up and first made a name for herself in golf.
Jones' family moved to New Mexico when she was 2. She began playing at age 11 at the par-3 Sunport GC, now Puerto del Sol GC
. "I see the course every time I visit my sisters, nieces and nephews, which is once or twice a year," says Jones, whose family eventually moved across town near Paradise Hills GC, now Desert Greens GC
A 1977 Cibola High graduate, Jones captured three straight New Mexico Junior titles (1974-76) and, while attending Ohio State, won the 1979 state amateur.
Upon qualifying for the LPGA in July 1982, she formed a limited partnership with her first group of sponsors from Paradise Hills. "I was very grateful," Jones says. "I still get back there when I'm in town. In fact, my original accountant there is still my accountant."
, north of town on Cochiti Lake. It's a really great place to play if you're looking for an off-the-beaten-path course.
, consider using them. Both are very nice private clubs. Albuquerque CC has always been the elite course in town. Growing up, it was the place to play. Tanoan CC is also a fantastic layout. A "Who's Who" of Albuquerque lives near there.
My all-time favorite Albuquerque restaurant is El Pinto, a traditional New Mexican-style restaurant that's a local institution. The menu is fantastic, and they make their own salsa and mixes. Unbelievably, I saw a bottle of their Green Chile Sauce in Skaneateles, N.Y.
My favorite breakfast places are the Flying Star Café and La Hacienda. The Flying Star--which also serves lunch and dinner--is trendy and fun. I strongly suggest the Graburrito. It's a great place for working on your computer, meeting over coffee or just grabbing a magazine and hanging out. They, like La Hacienda, have multiple locations. La Hacienda is a small, walk-up restaurant. I will fly to Albuquerque just for their incredible breakfast burrito with green chiles, eggs, cheese and potato.
There are some great B&Bs in Albuquerque's historic Old Town section, but my favorite place to stay is the Hyatt Regency Tamaya Resort & Spa. The rooms are beautiful, and it's relaxing. It's easily accessible to a lot of good courses, including Twin Warriors and the 27-hole Santa Ana GC, both of which are adjacent to of the Tamaya resort. Santa Ana head professional Dave Brown and I grew up playing golf together at Paradise Hills GC.
I love shopping for antiques, especially in trendy Nob Hill. Jackalope, an eclectic store, is a favorite of mine. Historic Old Town has more than 150 stores and galleries and is built around the Plaza.
Adults and kids will love the ABQ BioPark's Zoo; the Triple A Isotopes, the Dodgers' affiliate; and, in fall, the Albuquerque International Balloon Fiesta and Dixon's Apple Orchard. ... One other must is to take a ride on the Sandia Peak Tramway, which is the nation's longest (2.7 miles long). The High Finance Restaurant & Tavern is at the peak. Go a little before dark. Going up you can see downtown. Coming down you see the city's lights. It's beautiful.