News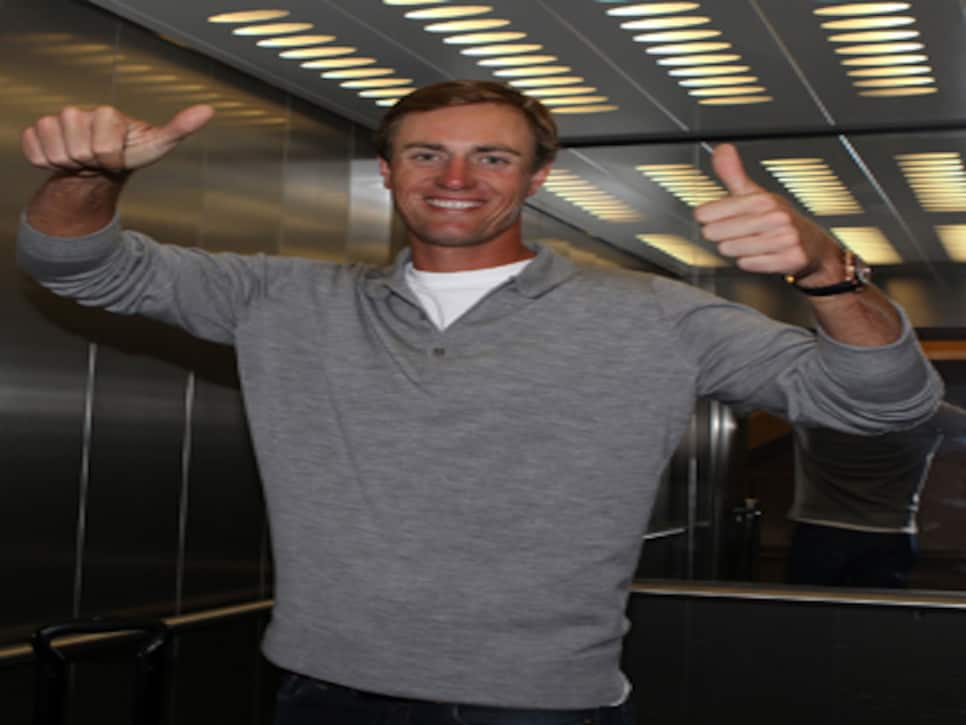 Colsaerts was all smiles after arriving in London's Heathrow Airport following Europe's comeback win at the Ryder Cup.
Picture the dashing Nicolas Colsaerts doing this interview last month while cruising the 405 Freeway in Los Angeles, oozing European cool on his way to LAX for an international flight. The Belgian had been hanging out in Southern California between tournaments, getting acclimated to American culture before jetting off to China to continue his life as one of golf's new rock stars. "I just think I'm a dude, man," Colsaerts said in his French-Flemish accent, living up to the image he portrays and the nickname given by his European Ryder Cup teammates.
Colsaerts will be forever famous in Ryder Cup history as the dude who dropped eight birdies and an eagle on Steve Stricker and Tiger Woods in a four-ball match at Medinah. Woods called it one of the greatest putting exhibitions he can remember. What I'll remember was the quote afterward. Asked how he did it, in his very first Ryder Cup match, Colsaerts coined the expression, "You just have to go with what's in your pants."
When I asked about the creative choice of words, Colsaerts laughed and said, "I was trying to come up with something. I was thinking, 'You've got to show you've got b----,' but I thought, 'I can't go that way.' I think everybody got the point."
Although he didn't earn a point the remainder of the matches, Colsaerts more than ingrained himself in the American golf consciousness with his effortless power -- hence the nickname "Belgian Bomber" -- and a backstory as one of the all-time great European Tour party boys. This wasn't lost on Colsaerts. "People seemed to embrace what I did, [said it] felt like it was a bit of fresh air," he said. "They wondered, 'Who is this guy who comes from Belgium? I've never heard of him.' "
This wilder side of Colsaerts started surfacing when José Maria Olazábal made him a captain's pick. In an interview with The New York Times, Colsaerts described his former lifestyle as, "Anything you can imagine, it was probably worse." At Medinah he said, "I feel like I've come back from the dead." There was another reference to that lifestyle in a Golf Channel interview the Wednesday before he played the Frys.com Open. Asked about the European Tour's after party in suburban Chicago following their comeback victory over the United States, Colsaerts nonchalantly admitted, "I used to be really, really good at partying, but that had to be in my top three, ever."
When I followed up on that, and asked how good he was after hours, Colsaerts hardly tamped down his reputation as a closet DJ. "I've always been into music, and the music I liked to listen to was in clubs," he said. "I always knew I had a rock-and-roll side in me, but when you're in Brussels doing the underground thing, you find yourself in very odd places at times."
As a teenager, Colsaerts idolized the coolness in Fred Couples. He was considered one of the continent's golfing prodigies, visiting the 1997 and 1999 Ryder Cups as part of European Junior Ryder Cup teams and nearly winning a Challenge Tour event as an amateur, losing a playoff to Henrik Stenson in the Luxembourg Open. At age 18 he became the second-youngest player in history to earn his European Tour card, but he finished 172nd on the money list in 2001.
By 26, Colsaerts had just about partied himself out of the game. In the winter of 2008-09, after losing his card and dropping to 1,305th in the World Ranking, Colsaerts had his epiphany "watching the guys on TV, all doing good, getting recognition."
Telling his father, Patrick, that he needed to get away from Belgium and Europe, Colsaerts enrolled in the A-Game International Golf Academy, a golfing boot camp in Australia where the students awoke at 6 a.m. and either trained or hit balls all day. The results were instantaneous, with two Challenge Tour wins and a third-place finish on the developmental tour's money list. "He came back and all his friends said he was completely different," is how Patrick put it outside the clubhouse at Medinah.
With his 30th birthday coming up Nov. 14, Colsaerts looks back on his nightlife phase as something he has simply outgrown. After re-dedicating himself and hiring Dave Stockton and Dr. Bob Rotella, he has climbed to 33rd on the World Ranking and looks to be in good position to lock up a PGA Tour card for 2013 even though he is skipping the season-ending Children's Miracle Network Classic in Florida. Colsaerts has earned $677,011 in tour events this year and as long as he finishes ahead of the 125th player on the final money list -- a position currently held by Billy Mayfair at $619,961 -- he'll qualify.
Colsaerts, who was T-54 at the WGC-HSBC Champions event in China, will stay in Asia until moving along to Dubai for the European season finale, Nov. 22-25. From there he'll play in South Africa, Thailand and Brunei before calling it a year. Long range, he's looking at property in Florida's Palm Beach County, a sign that he's seriously settling down -- or settling in to being the dude.
"I found out I wasn't living the life I was supposed to," he said. "I went back to what my original aspiration was. I was basically living a life that wasn't mine. I'm so proud I've been able to turn things around and to basically enjoy and embrace the position I'm in now."
There was a false report last Saturday that Jim Flick had died after his battle with pancreatic cancer, which caddie Andy Martinez heard at Desert Mountain and passed on to Flick's long-time student, Tom Lehman. After a prayer with Martinez and friend Dennis Trixler, Lehman attempted to warm up for the third round of the Charles Schwab Cup Championship. But Lehman told me Sunday night at his victory party that he was so down, he had to call Flick's wife, Geri, before teeing off. When Tom called to say how sorry he was, Geri was understandably upset. "Jim wants to talk to you," she said. "Here he is." With that, Lehman heard Flick's voice say, "Hello, Coach. Go be Tom Lehman. Don't worry about me." Flick called everybody "Coach," and Lehman went from being sad to shocked to somewhat relieved. He then produced the best round of his Champions Tour career, a 62. When he talked to Geri after his victory Sunday night, Lehman was told Jim was still alive but wasn't coherent enough to understand what transpired.
Cristie Kerr was more than a host for last week's Charles Schwab Cup Championship. She was also a caddie for house guest Corey Pavin during the third round at Desert Mountain. Kerr lives nearby and offered Pavin accommodations when they were playing in this summer's CVS Charity Classic. They talked about the caddie gig Friday night and enacted it for the last four holes Saturday. Pavin chunked his first fairway shot with Kerr on the bag but recovered nicely. With longtime caddie Eric Schwartz outside the ropes sipping a beer, Pavin birdied three of the four holes for a 69. "Looks like I've got a new caddie," Pavin said. Kerr begged off, but she noted that carrying the bag is tougher than it looks. "It's a good workout," she said.