News
Being The Last Man In Pays Off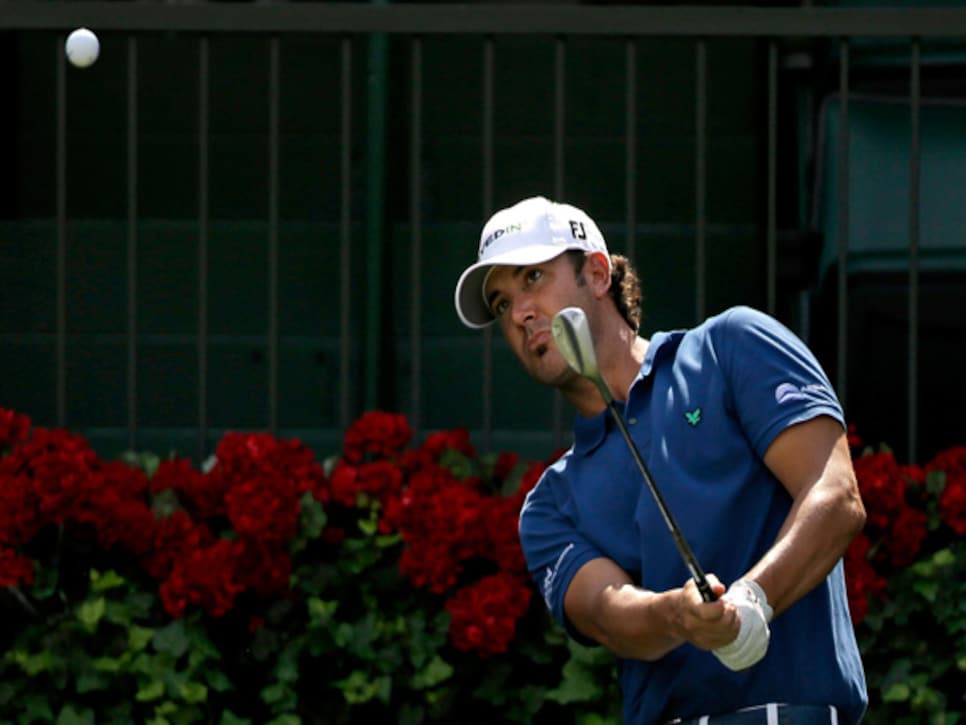 Piercy played in the Tour Championship for the first time, finishing T-15 in the 30-man field at East Lake GC in Atlanta.
In the East Lake GC locker room, the 30th and final player to qualify for the Tour Championship was showing signs of comfort in his work environment. Bo Van Pelt walked by and nodded, an acknowledgement of Scott Piercy's opening-round 67. "I think a lot of guys are getting to know me," Piercy said in quiet tones. "I think you've got to earn the respect. Once they give you a little respect, they open the door to get to know you a little bit."
Piercy, winner of this year's RBC Canadian Open, kind of back-doored his way into the season-ending event of the FedEx Cup playoffs, but that didn't matter now. Considering where he was five years ago, when he had $5,000 in the bank and owed $25,000 on his credit cards, he was in the black and qualified for all the majors next year.
"I feel like this week I can't get any worse than I already am," he said. "I'm 30th [in the FedEx standings]. The worst-case scenario, I'm 30th."
Making the most of almost nothing has been Piercy's career profile, whether it was winning the $2 million Ultimate Game in Las Vegas in 2007 when he was upside down financially, keeping his card last year with a harrowing win at the Reno-Tahoe Open, rallying late this season in the FedEx Cup standings or making it to Atlanta through a chain reaction of collapses at the BMW Championship.
On July 1, Piercy looked like he was headed back to Reno to defend. That's when he got hot, finishing T-12 at The Greenbrier Classic, third at the John Deere and first in Canada. Instead of Reno, he was in Akron for the WGC- Bridgestone Invitational.
With nine holes to go at Crooked Stick in the BMW, Piercy was projected 33rd in the standings, the top 30 getting spots at East Lake. In the locker room, watching the permutations on TV after posting 68, Piercy saw his number improve as Bill Haas, Kyle Stanley and Vijay Singh dropped shots. When all the final FedEx numbers were crunched, Piercy was in, finishing 30th, seven points ahead of Stanley.
The survivalist in Piercy once again came through. "You have to have the inner belief you're going to get there," Piercy said. "Sometimes when you're not doing it, it's going to wear on you. I believe I should be one of the top players in the world, but there's still a lot of scar tissue to wipe away."
The scar tissue comes from six years of driving cross-country in a pickup truck on the Hooters Tour after playing college golf at San Diego State. Piercy married young, had two (of three) children and a pile of debt when a sponsor fronted his entry into the Ultimate Game at Wynn Las Vegas. Down by three strokes with seven to play, Piercy ripped off five closing birdies to win. His sponsor got $1 million. Piercy took the other million and virtually shut down his career to rest an injured wrist.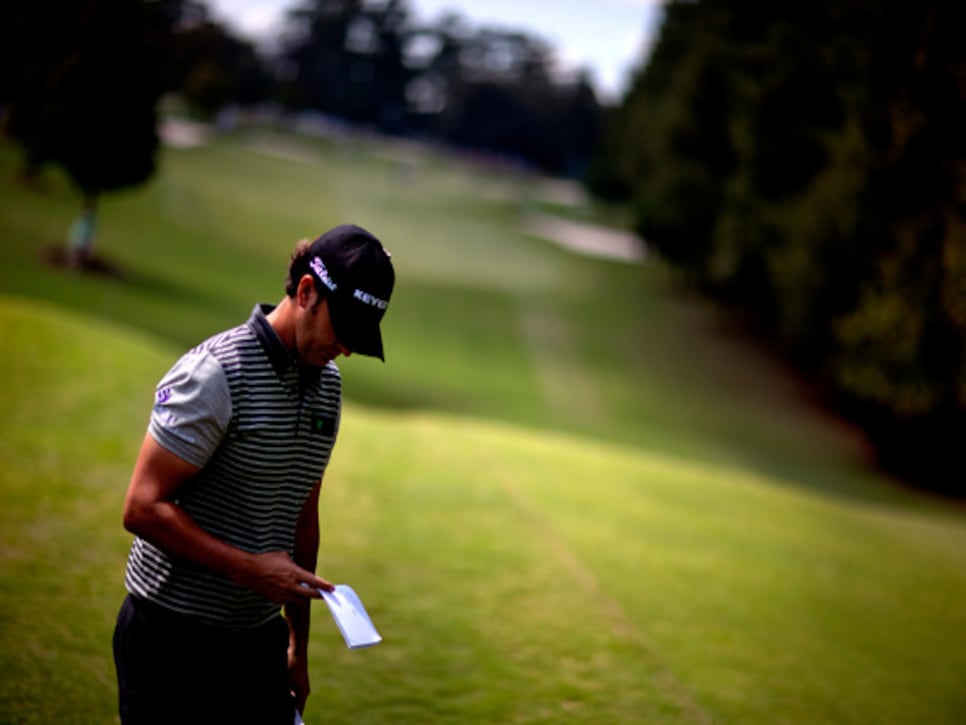 Piercy finished 27th in FedEx Cup points in 2012, and has earned more than $2.5 million in prize money.
"It was a good time to get a big chunk of money," Piercy said. "One thing I always tell people, playing the mini-tours, I could support my golf. I couldn't support my family. My parents had to help me. My wife was working a little bit for my dad as a secretary. I had to keep playing just to keep things floating."
The boat was pretty much sinking until that seven-figure increase in earnings. He played six PGA Tour events that year and missed the cut in all of them. Then he finished T-122 at Q school, in his first time to the final.
"The money allowed me to get a mental break," Piercy said. "It was more important than the break I needed to rest my wrist. I was close to six years straight on mini-tours beating my head against the wall, always skirting by."
With limited status Piercy qualified for Web.com Tour events and the U.S. Open in 2008 by scouting courses on Google Earth. In late summer, he locked up status on the PGA Tour by going win, T-6, win, missed cut, second. That led to some short-lived prosperity: a $1 million season in 2009.
The success didn't last. Piercy was 136th on the 2010 PGA Tour money list and made a return trip to Q school where he withdrew after five rounds. He was looking at another return last year until holding on for victory at Reno-Tahoe, making a seven-footer for par to win by a stroke over Pat Perez on the last hole after squandering a three-shot lead. He was 142nd on the money list at the time.
The Reno win came just after his one-year anniversary of working with one-plane swing instructors Chris O'Connell and Jim Hardy. This year's victory in Canada, where he shot four rounds in the 60s, was a day shy of the two-year anniversary. His sons, Cole, Brennan and Jett, are 14, 9 and 3. His wife, Sara, no longer has to work or change diapers while traveling the country in a motor home, as the family did on the Web.com Tour.
"I'm at a different stage in life," Piercy said.
That may be so, but coming down the stretch Sunday at East Lake, Piercy was once again thinking about "making money." Blaming mental and physical fatigue, he played 2½ rounds of over-par golf. Three birdies on the final five holes moved him up to T-15 in the Tour Championship, and 27th in FedEx points (and a $190,000 bonus to go with his $2,542,830 in earnings this year). It was three spots better than the worst-case scenario.
"In golf, you can always do better 99 percent of the time," he said. "I expect a lot of myself, but just being here, I won."
After the controversy over his feelings on possibly representing Great Britain over Ireland in the Olympics (see Voices, page 43), Rory McIlroy is more aware of political sensitivities. No, the sale of his home in Holywood, County Down (listed at $3.26 million), does not mean he's deserting Northern Ireland. All it means is that as a global player dating a global tennis star (Caroline Wozniacki), committed not only to the European Tour but also the PGA Tour, he doesn't get home as much. This was simply a business decision. Located 10 miles southeast of Belfast, the compound features five suite bedrooms and a practice ground with four greens that require a full-time greenkeeper. "From a financial point of view, it doesn't make sense to keep it," McIlroy said. "Obviously, I put a lot into it, but you know, it just made it easy to sell it because I'm not there so much." When he does return home, McIlroy will stay in the house where he was raised, with parents Gerry and Rosie. His mom has said she is redoing Rory's room.
What music will be playing in the U.S. team room this week in Chicago? Here's a hint. Davis Love III and Jim Furyk seem a little straight-laced to be showing up at a Pearl Jam concert, but that's how the Ryder Cup captain and one of his picks spent Saturday night in Atlanta, listening to Eddie Vedder and the mega-grunge band along with more than 50,000 others at The Meadow at Piedmont Park. Jim (Bones) Mackay arranged for the tickets, and Love insisted they stay until the encore before he flew to Chicago for the Ryder Cup Sunday morning. It was Bones' 10th PJ concert. His boss, Phil Mickelson, had to back out at the last minute to take a business call.