News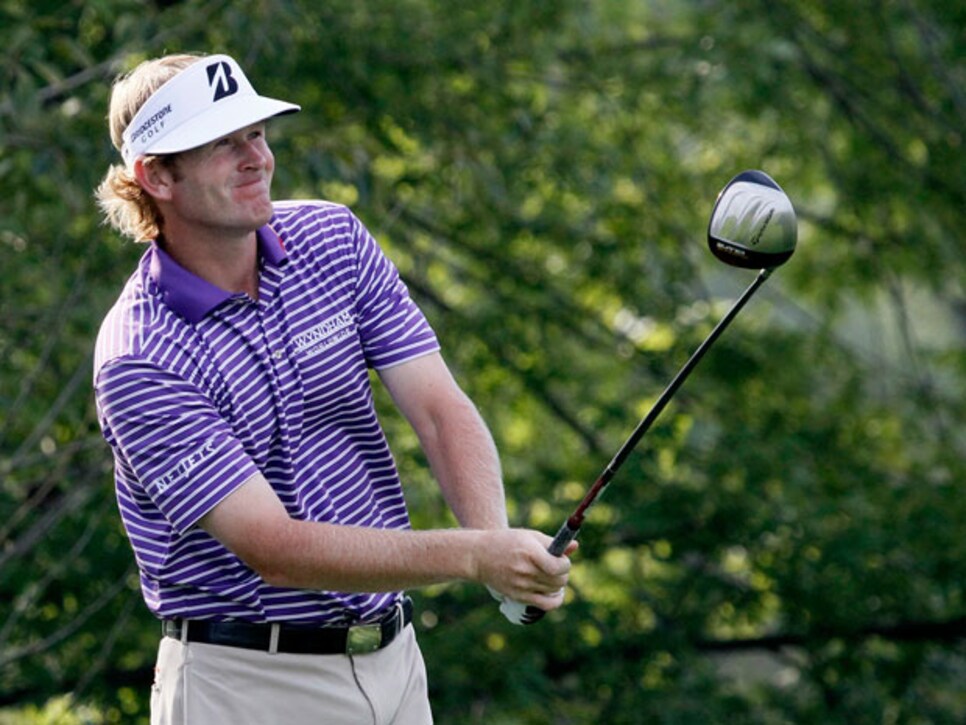 After consecutive top-10s helped him to a Ryder Cup berth, Snedeker struggled at the BMW (T-37)after the news of Anderson's accident.
We know Brandt Snedeker as being emotional, and he went through a wide array of emotions last week. When he got off the plane in Indianapolis for the BMW Championship, he received confirmation that he made the U.S. Ryder Cup team, but the elation didn't last. Hours before teeing off in the second round, he learned that the son of his swing instructor had been injured in a horrific car accident.
Snedeker battled through it, as did most of the Sea Island, Ga., community, when news of Tucker Anderson broke. Anderson is the 18-year-old son of Todd Anderson, the 2010 PGA Teacher of the Year and Snedeker's instructor since his college days at Vanderbilt. Returning to his dorm room at the University of West Florida, where he is a first-semester freshman and a member of the golf team, Tucker lost control of his car and hit a tree. He was hospitalized in critical condition with head and neck injuries.
"As much time as I've spent with Tucker and T.A., I just had to focus on what I could control," Snedeker said. "Tucker is like one of my brothers."
The Sea Island guys who play the tour are like brothers, and they took it equally hard. That includes Ryder Cup teammates Zach Johnson and Matt Kuchar, but there's no doubt who the Big Brother is. That's Davis Love III, the U.S. Ryder Cup captain.
Love played it so coy with his picks that Snedeker didn't know what to expect when he saw Love had sent him a voicemail upon landing in Indiana. Love has been a mentor to Snedeker since the Nashville native bought a place on Sea Island, so Brandt semi-panicked when he heard the familiar voice say, "I haven't been watching much golf lately. You still putting good? Give me a call."
The only thing keeping Snedeker's heartbeat under control was that he was indeed still putting well, so well that he led the tour in strokes gained/putting. Snedeker couldn't call back quickly enough, anxiously asking Love, "I have a good feeling about this, but what's going on?"
What went on during the first two weeks of the FedEx Cup playoffs is that Snedeker made enough putts to fill Love's No. 1 priority. The captain was looking for a player who could handle pressure and make important putts. That's what Snedeker did on the last two holes of the Barclays for the most timely back-door second-place finish of the year, and again with a solo sixth at the Deutsche Bank Championship. He was T-37 at the BMW.
This was not the same Snedeker who missed the cut at the PGA Championship, admitting to me, "That was the culmination of too much pressure and everything coming to a head, and me blowing up." Love knew it and sat down to lunch with Brandt that Friday at Kiawah Island, telling him, "Just go play golf." But, as Love admitted, that's like Bob Rotella saying to him, "One shot at a time."
After a two-hour conversation with Anderson in August, that's exactly what Snedeker did. They looked at film from Snedeker's win at the Farmers Insurance Open in January and by replicating that, Brandt could turn the ball over. With that, his confidence returned. "His mindset is that this was a second chance to go out and show that he was worth being on the team," said Anderson. "He embraced the pressure and went out and performed. He showed character."
Snedeker showed character in many ways considering he started the season coming off hip surgery and missed five weeks at midseason, including the U.S. Open, with a cracked rib. Eligible for the Hyundai Tournament of Champions, he nevertheless spent the first two weeks of the season rehabbing his hip by carrying his own bag for 36-hole sessions at Sea Island's Frederica Club, where Love is also a member.
The two are so close, in fact, that Snedeker is sensitive to the fact that "some people think Davis went out on a limb," by picking him. In other words, being part of the Sea Island fraternity gave him a leg up on other candidates. I asked Love about that. He responded by pointing out it was like Fred Couples picking Bill Haas over Snedeker for last year's Presidents Cup team, when Bill's father, Jay, was one of Freddie's assistant captains. "I needed a good reason [to pick him], and Brandt gave me one," Love said of Snedeker's PGA Tour Playoffs performance.
Snedeker swears he didn't know. "I didn't have a clue, no inklings, no feelings," Snedeker said. "The only correspondence I got was a text after the Barclays saying, 'Good playing.' The next time was after the third round of the Deutsche Bank saying, 'Good playing.' That's it. I was trying to get info out of Mac [Barnhardt, Love's manager], but he said he didn't know anything. Davis played it close to the vest."
Snedeker wanted to make this team not only to play for Love, "because of everything he's meant to me and my career, and what he stands for," but also because of his history of barely missing Cup teams. Two fewer strokes at last year's BMW Championship and Snedeker would have made Couples' team on points. At the end of the year he swore that would never happen again.
Friends of Snedeker say he is still bothered by not making the 2003 Walker Cup team despite winning the U.S. Public Links Championship and being a first team All-American his senior year at Vanderbilt. Snedeker, however, said. "I am over it. Looking back on it now, it's not that big a deal, although it was at the time. I felt like I had done enough to deserve a chance."
At 31, Snedeker still has boyish enthusiasm and is expected to bring energy to the team. He was excited after Love brought the squad together for a dinner during the BMW Championship and even more excited to head to Chicago for practice sessions at Medinah with Love and fellow Cup rookies Keegan Bradley and Jason Dufner.
Snedeker looks forward to being in the team room with the guys, but is worried about letting Love down. "I was just so excited when I got here," Snedeker said on the day of the selections. "I couldn't hardly sleep."
Four days later, Snedeker still couldn't sleep, and it wasn't out of excitement. He couldn't help thinking about Todd and Tucker as he played through the tears.
Robert Floyd delivered the most telling tribute to the life and times of his mother, Maria Floyd, who passed away Sept. 7 at age 69 after a protracted battle with cancer. "Anyone who knows the Floyd family knows who was in charge," Robert said in a text message. "She was the foundation of a Hall of Fame career and the foundation of our family." The reference was not only to the life Robert, brother Raymond Jr., and sister Christina lead, but also to that of his father. "I had a career before and career after, and it doesn't take a genius to see which one was best," said Raymond Sr., the four-time major winner, when reached at his home in Southampton, N.Y. Maria had died of cancer a day earlier, but even after a long battle the shock had not worn off. "She was my partner. She was my inspiration. She got me up when I was down. She kept me on track," said Floyd. "It wasn't just me and my family. It's incredible how many lives she impacted and touched." One of those lives was Barbara Nicklaus. "If Maria was your friend, you couldn't have a more loyal friend," Barbara said. "And she was my friend."
Struggling all year after off-season knee surgery, Steve Marino decided to seek a major medical extension into 2013. Complications from meniscus surgery had him fearing avascular necrosis, also known as Bo Jackson Syndrome. Marino went back to famed orthopedic surgeon Dr. James Andrews and underwent a stem-cell procedure and will rehab until the 2013 season. Marino, who hasn't played since the Travelers Championship, made more than $1.9 million with two second-place finishes in 2011. After making two cuts in six starts this year, he will have 21 or 22 starts in 2013 to match the 125th-place finisher on the 2012 money list.