News
A Job Well Done Could Lead To More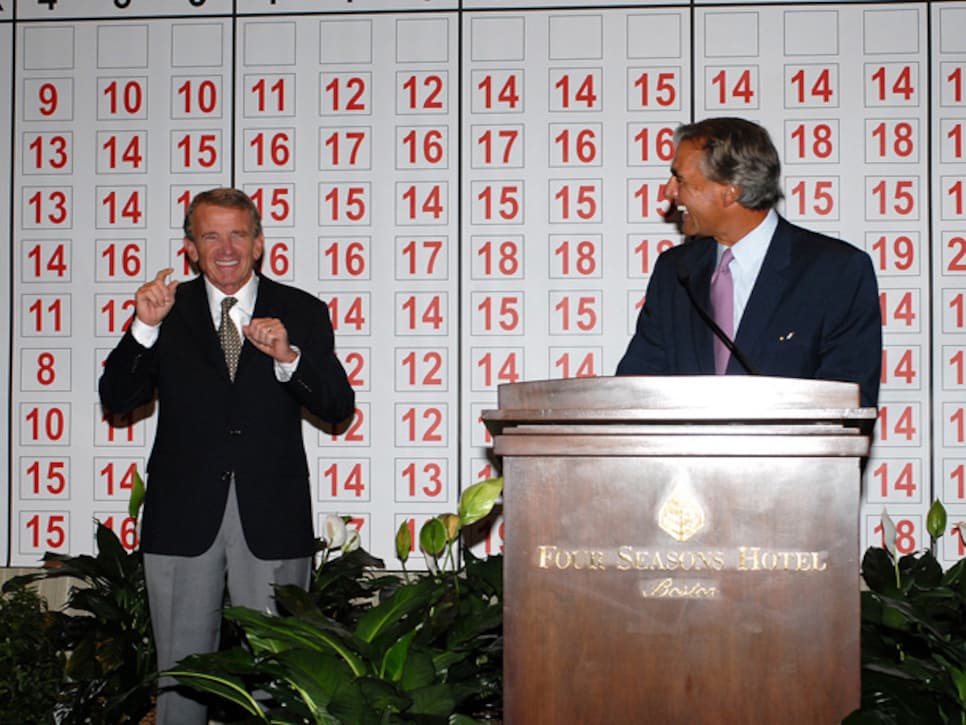 Waugh gets a smile from Tim Finchem during the Deutsche Bank draw party.
In the back of a black SUV heading south out of Boston in rush-hour traffic, Seth Waugh worked his Blackberry and checked his smart phone, as CEOs instinctively do. As Waugh focused, I noted the scene leaving the Four Seasons, how all the bellmen and valet attendants had taken turns shaking his hand or giving him a hug, the doorman even commenting on how he liked Waugh's pink golf shirt with the Seminole GC logo. As always, Waugh was in style, right down to the white khakis and loafers with no socks, a pair of Ray-Bans completing the outfit and resting on his right thigh as we rode to TPC Boston.
On the day's agenda was hosting the Deutsche Bank Championship pro-am for what could be the final time. For the company's soon-to-be-retired CEO that meant a busy day of "shaking hands and kissing babies," along with a 12:30 p.m. tee time with PGA champion Rory McIlroy, Henry Kravis, the co-founder of the iconic global investment firm Kohlberg Kravis Roberts & Co., and two of his bank's important clients, R.A. Walker and Paul Salem. "I'm looking at it like it's the last time, so you sort of savor it," Waugh said.
What Waugh really wants to savor is Clancy Waugh's senior year at The Benjamin School in Palm Beach Gardens, Fla., and his college golf career at Wake Forest. Which is why this Boston-raised, Amherst-educated son of two school teachers announced his resignation in February and will step aside once a replacement is named. His legacy is bringing major-league golf, playoff golf, to his hometown, and standing up to the sport's politically incorrect perception in 2009 by pointing out the event has meant $60 million annually to the region.
"We've created a lot of jobs," Waugh said last week, "and a lot of memories." In addition to being the face of the Deutsche Bank Championship, Waugh could ultimately replace Tim Finchem as PGA Tour commissioner. Their friendship was apparent the previous night at a pro-am draw party, where a four-year extension of Deutsche Bank's sponsorship was announced, along with the company's seven-figure investment as a First Tee Trustee. Waugh and Finchem's relationship began 12 years ago when Waugh wanted to increase his company's profile by getting into tournament golf. Through the advice of Pebble Beach's Paul Spengler and IMG's Alistair Johnston, Waugh brought Finchem a package that included not only the Boston market and his company's dollars, but also a Tiger Woods component by establishing the Tiger Woods Foundation as the tournament's charity.
"We were at a point in the gestation period where I wanted to make a splash," Waugh said. "We were a German bank in a foreign land. We didn't want to be the best European bank here; we wanted to be the best bank here. We were doing a lot of good things, but nobody knew about it. How do you do that? Everybody watches sports. Nobody watches opera on TV. Golf had the right values."
The Waugh-Finchem dynamic is unique in that Waugh has a way of playfully teasing Finchem in public and getting a smile out of the commissioner, as he did twice during the pro-am draw party. As for potentially replacing Finchem, there is no timetable. Waugh will not discuss it at length, both out of respect for Finchem and his decision to focus the next few years on Clancy. In actuality, the timing could be perfect. Finchem's latest contract expires in 2016, which means should Waugh be considered for, and want the job, at age 58 he'd be ready for the challenge.
"The commissioner thing is an uncomfortable thing to bring up," Waugh said. "Tim likes his job, right? Lots of folks have asked me about it, a lot of people behind the scenes are talking about it. Let's see how it all plays out." For now, Waugh would rather watch Clancy play golf. He recently caddied for him in the Pacific Northwest Amateur at Bandon Dunes and left Boston after the pro-am to walk the opening 18 holes of the Junior Players, an AJGA event at TPC Sawgrass, where Clancy finished 51st at one of the junior circuit's most prominent events. The Tuesday after the tournament, Waugh was scheduled to teach an economics course at Clancy's school. He has also taken on the role of assistant golf coach.
"When I graduated Amherst I had three jobs one was coaching, one was teaching, one was trading commodities," Waugh said. "The headmaster [at his son's school] knew my parents were teachers and this was in my blood, so they designed a course around me. What we're trying to do is bring economics of the real world into the classroom. They just learned about supply and demand, so we take out the Wall Street Journal and discuss, for example, what does this mean for Facebook?"
What does his imminent retirement mean for Seth Waugh? Less time in the air, more time in his own bed, no more commuting from New York to Florida, and who knows beyond that?
"I missed a lot," Waugh said. "[Clancy's] high school matches weren't on the weekend. I missed a lot of his basketball games. I want to wake up in my house, help him with his homework, do the normal stuff."
Clancy is a 6-foot-4, 17-year-old. Waugh just turned 54 and is trying to make up for lost time. He is also channeling his 85-year-old father Jim, who coached him in baseball and basketball as a boy.
"It's not like it can wait until next year. There is no next year," Waugh said. "When he goes to college we'll be close, but it will be different."
It could be different without Waugh serving as headmaster of the Deutsche Bank Championship, but a door remains open that if the next Deutsche Bank CEO is not "golfy" -- Waugh could be the ambassador and still have a life at home.
It took Fred Couples a week after withdrawing from the Boeing Classic in Seattle with severe back pain to get on an airplane and fly home to Los Angeles. By the weekend the assistant Ryder Cup captain was texting Davis Love III about possible captain's picks. Couples, who had blood-spinning treatment in Germany prior to his win at the Senior British Open, said he was "sore as hell" and doesn't plan on doing much for a week or so. Although Couples described the initial pain "as a bomb going off in my back," business manager Lynn Roach said it was just another flareup. "He's got a lot more tournaments left," Roach said. "He's not done for the year, not even close."
What started for Charl Schwartzel with a three-foot birdie putt on the 18th hole Sunday at TPC Boston ended in a moment that went viral on the Internet, with the 2011 Masters champion four-putting for double bogey, a third-round 79, and nearly an exit from the PGA Tour Playoffs. The scene was uncharacteristic for the South African, especially his backhand miss from two feet, seven inches on his third putt -- after his tap-in from 21 inches for par lipped out. Schwartzel, who missed a month between the U.S. and British Opens with a rib injury, rallied Monday with birdies on his last two holes for a final-round 71 to advance in the playoffs (he's 68th among 70 players), but after seven straight weeks of tournament golf he left TPC Boston questioning his fitness for the BMW Championship at Crooked Stick GC. "[The injury] seems to be coming back," Schwartzel said. "It's not as advanced as it was. It's not torn, but it's very uncomfortable, and I don't want to get it to the stage where I can't play the rest of the year."