News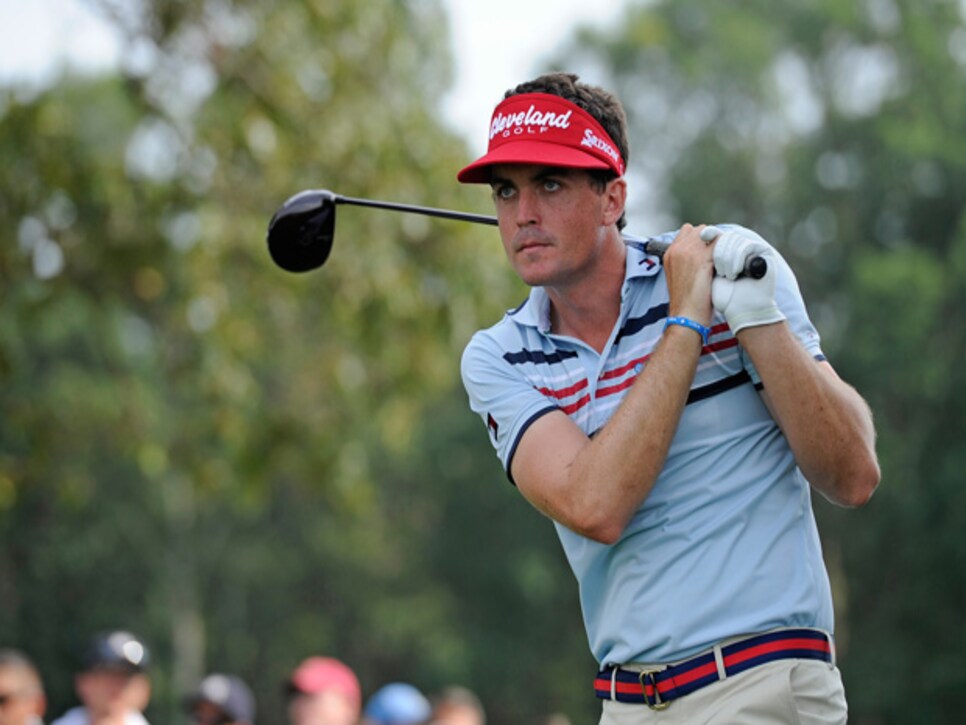 Perhaps feeling the pressure of playing in front of old friends, Bradley missed the Barclays cut for the second year in a row.
The last place Keegan Bradley wanted to be Saturday morning of the Barclays was in a rental car, heading to Vermont, Long Island in his rearview mirror. The only element that made the ride pleasurable was the car had SiriusXM radio, so Bradley could listen to his favorite talk show host, Howard Stern.
"I'm trying to put Bethpage behind me," Bradley said, referring to his missed cut at the Barclays. "Some weeks you don't have it. This was one of those weeks."
There will be other weeks for Bradley, a major champion and winner of a World Golf Championship event, but he wanted this one badly. For the New Englander, a trip to Long Island represented a homecoming from his days spent at St. John's in nearby Queens, sneaking onto Bethpage Black with his college team and working the bag room at Wheatley Hills GC in nearby East Williston, N.Y., for playing privileges and spending money.
"They really took me in," Bradley said. "I don't know where I'd be without the people of Wheatley Hills."
Money is no longer an issue for Bradley the way it was in college; missing the cut in the opening round of the FedEx Cup playoffs dinged his pride more than his wallet. Not long ago Bradley was driving over to Wheatley in a beat-up Ford Focus with the side mirrors duct-taped to the doors, wondering where he would get the cash to cover his entry to PGA Tour Qualifying School.
"All I can remember about that Ford Focus is that the left-front tire pressure was 25 while the left-rear was 37," said Frank Darby, the St. John's coach. "That could have been the worst maintained car in America, and you can quote me on that. Somebody hit him when he was parked on a Queens street. I always teased him that since he drove like an old lady, he never used the side mirror anyway."
The deal at Wheatley Hills was that Bradley would work 10 hours every weekend in exchange for using the course and its practice facilities. "He'd put in a couple hours, but once the members found out how good he was, everybody wanted to play with him," said Jay Wood, the Wheatley starter. "He'd give me the puppy-dog look, and I'd tell him, 'Go ahead, you're useless, go play golf.' ''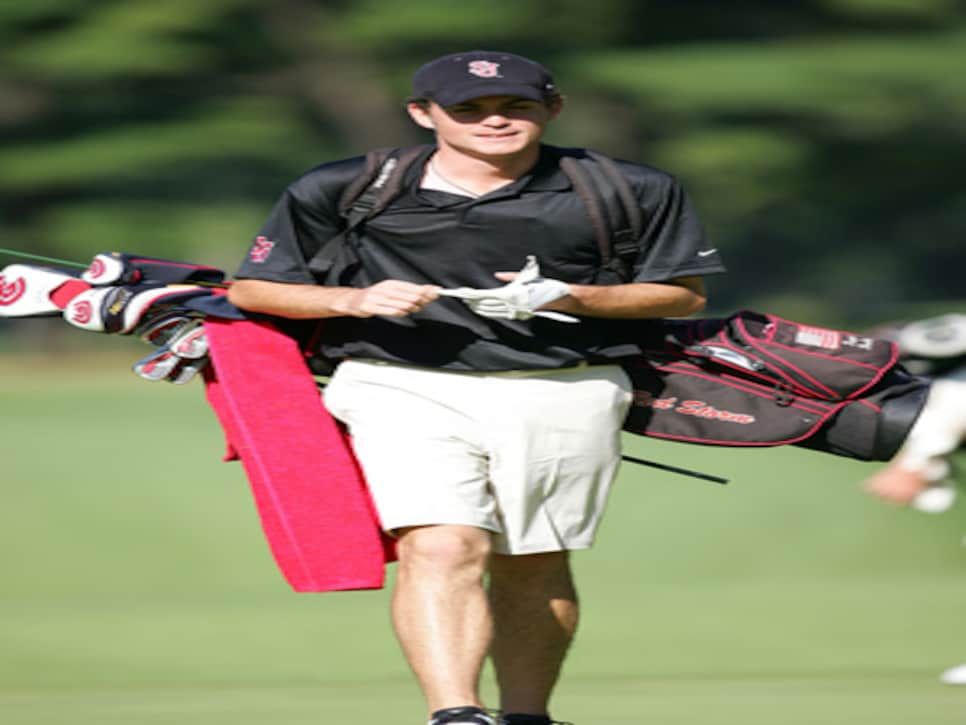 The tradition at Wheatley is the same at many golf clubs. First man in brings the starter breakfast. Wood favored bacon and egg on a hard roll and an iced tea from the local deli. Bradley was often the first to arrive but never had any money, so Wood had to buy his breakfast as well as his own.
"You like pulling these bags?" Wood used to ask him. "If you don't like pulling them the rest of your life, you better get better."
Bradley did, of course, returning to Wheatley for a corporate appearance before the Barclays with a spot on the Ryder Cup team. Wood was there to bust his chops like it was the summer of 2007, but nobody is prouder of Bradley than one Wheatley member in particular, Dr. Glenn Muraca.
Muraca grew up in Queens, played college baseball at Hofstra and saw a lot of himself in Bradley, including a love of the New York Mets and dislike of the Yankees. He bought Bradley clothes, golf shoes and a car to play the Hooters Tour and eventually fronted him the money for Q school. "I felt the same thing Keegan was feeling, coming from an overlooked background, your choices in life were limited based on the amount of money you had," Muraca said.
It wasn't just Muraca who pitched in at the club. "I remember one ­specific time I was about to go play and I really had no money," Bradley said. "I showed up on the first tee at Wheatley, and one of guys handed me an envelope stuffed with cash. I guess everybody in the locker room put in $200. There was a couple thousand dollars in that envelope. That was so important to me at the time, so huge, because I had to pay the rent. That took a lot of pressure off me, made me feel loved at that club."
What everybody says is that Bradley didn't forget where he came from, whether New York or Vermont. He is now in a position to give back in a different way.
On Aug. 27, Bradley hosted a fundraiser for flood-relief victims in Vermont. The event was held on the one-year anniversary of Tropical Storm Irene at Woodstock GC, where he grew up playing. "I was never a member," Bradley said. "But the pro, Jim Gunnare, is still there, and he let me play whenever I wanted. I was supposed to go into the bushes at the range and chip out all the balls. I'd take the bus there in November when it was snowing, and I'd stuff my pants with balls. I didn't care if they were Pinnacles. I'd play eight balls per hole."
Twenty-six teams sold out the Monday event in two days. Bradley bought two teams himself, and invited his teammates from Woodstock Union High to join him. It was the first time he was back since moving to Jackson Hole, Wyo., where his father, Mark, got a club-pro job -- and eventually saved the money to buy Keegan the Focus to drive cross country to St. John's.
So all roads lead to good things, and that's why Bradley wasn't particularly bummed out driving up the Merritt Parkway in Connecticut, going to raise money for the people of Vermont as a detour before playing the Deutsche Bank Championship outside Boston. "I'm thinking how amazing it is to do this," Bradley said. "I'm jacked."
Brian Alexander put his name in to be a caddie at last week's CN Canadian Women's Open, not knowing who he would get. The Vancouver GC member is a plus-1 handicap, knows the tricky greens at his club and had an in with Dave Showman, chairman of caddie services. All that did was get him an interview with Lydia Ko and her mother. "I could tell they were thinking, 'This could work out as long as he has the physical ability to carry the bag for four days,' '' Alexander said. "'He looks old, but once we get past that …'" Alexander, 63, earned enough trust that Ko relied on him for 60 percent of the reads, and they made history -- in two ways. As Alexander says, "Besides being the youngest [winner in LPGA history], the other record is [being the only winner with] a caddie four times her age."
Darrell Kestner is legendary in the PGA's Met Section not only for his playing, but his ability to roll his rock -- and for communicating those skills to club level players. "I probably give more putting lessons than swing lessons," Kestner said from the Deepdale GC pro shop Sunday, where he has worked for 23 years. But other than some work with Nick Price and Jesper Parnevik in Florida, the 59-year-old pro at the Long Island club has never been in a position to help a tour pro until longtime friend Sam Reeves asked if he could spend time with Nick Watney. Kestner admitted he didn't do much, other than put Watney on video, adjust his setup, and let Nick watch it for himself. Watney responded with a victory at the Barclays. "The whole lesson was about having perfect speed control," Kestner said. "We kept it simple. The worst thing I could do was over-teach. After we did drills, he was 1,000 times better."