News
Still Chasing After All These Years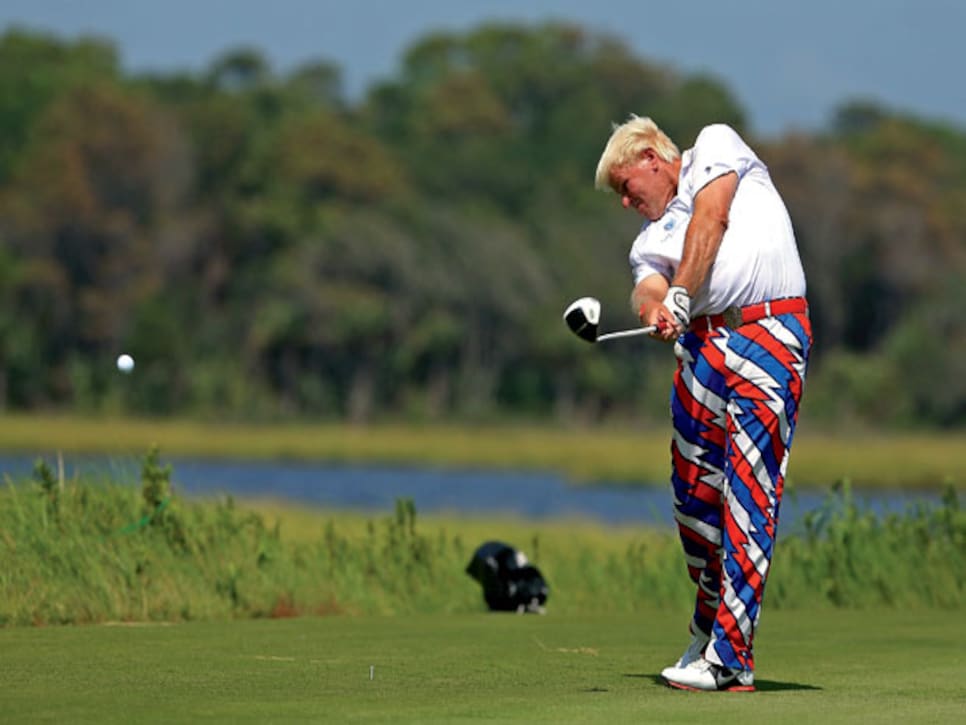 A T-18 finish at the PGA was Daly's best result in the tournament since his victory in 1991 at Crooked Stick.
Ask John Daly why he's playing good golf lately, why he's showing the game more respect by not withdrawing from tournaments, and he'll say it's not out of desperation because he has few places to play. He'll tell you the answer lies in the home-schooling program he's been doing with his 9-year-old son. Yes, Daly is home-schooling his son, with the books and the blackboard and everything. And it's a case of the teacher learning as much as his student. "I learned a lot in the third grade teaching Little John," Daly said. "He passed the third grade. I got him through three grades in a year and a half." You could tell that made Papa proud.
When they're not back in Arkansas, Little John is on the road with his father's girlfriend Anna Cladakis, and his sisters, Shynah Hale and Sierra Lynn, traveling the globe while Big John chases sponsor invites. It might sound like growing up in a reality show, but what an education -- in life. That's why Daly's mind is right, at least why it was right at the 94th PGA Championship. "When you have everybody together, it makes you feel more comfortable and more at ease in your own life," Daly said.
And it is reflected in his golf. At 46, there are still similarities between the Daly who won the 1991 PGA and the one who walked around the Ocean Course in a bleached-blond mullet. And we're not just talking about the cigarette clenched between his teeth on the range or cupped in his hand on the course. He appears at ease inside the ropes, with only two missed cuts in 11 PGA Tour starts in 2012, including a T-18 at the PGA.
"I want to be like everybody else in the top 50 and get that free money in the World Golf Championships and be in all the majors and getting sponsors, big, big sponsors and stuff like that," Daly said before realizing he better pay off the logos that adorn his shirts. Like a stock car driver he was always good at mentioning his endorsers. "I've got some pretty great sponsors in Loudmouth and Pilot, but you just want to get a schedule."
Which hasn't been easy to do for Daly, who hasn't been exempt on tour since 2006. He doesn't want to be relegated to playing in the Reno-Tahoe Open (where he finished T-5 a week before the PGA). He wants to wear his Loudmouth pants on the course at Augusta National, instead of behind the counter of his merchandise trailer in a Hooters parking lot the week of the Masters.
The beauty of Daly is that after four wives, countless withdrawals, suspensions and fines, and the hard life that's been building up over the past 20 years, there is always forgiveness and a friendly pat on the back. When he came off the Ocean Course Thursday after an opening-round 68, singer Darius Rucker and quarterback Dan Marino were there to greet him. Even Tiger Woods paid tribute after Daly nipped his round of 69 by a stroke. "He's always been great to me over the years," Woods said. "I have always rooted for him. I have always been a John Daly fan and a friend."
That endorsement speaks to Daly's appeal and partly explains how he can get away with so many transgressions. Even in Australia, where there is a good chance he'll be forgiven for going Tin Cup at the 2011 Australian Open.
Trevor Herden, the Australian Open tournament director who dressed down Daly after he pumped several balls into a pond at The Lakes GC course before walking away from the tournament last November, likes what he sees in Daly this year. "There certainly have been encouraging signs of late," Herden said when I reached him Saturday. "If all of that were to continue, we might want to [invite Daly back]."
Although Daly has always had the gallery behind him and tournament directors seem intent on giving him numerous chances, the media remains pessimistic, even if there are extenuating circumstances. Daly recently explained the Australian Open withdrawal, saying his mother's death was on his mind. But like so much of Daly's life, even that was misundersood. At the PGA it was revealed to me that his mother died in 2002, days before Daly was to play in the Australian PGA. That week he infamously flung his putter into a water hazard on the 18th hole, refused to sign his card, and was disqualified and fined. Everybody laughs about it now, as the putter was retrieved and hangs in the clubhouse. Daly claims that his brother told him to play and they'd have the funeral when he got back to Dardanelle, Ark. "That's when people bashed me when they really didn't know the whole story," he said.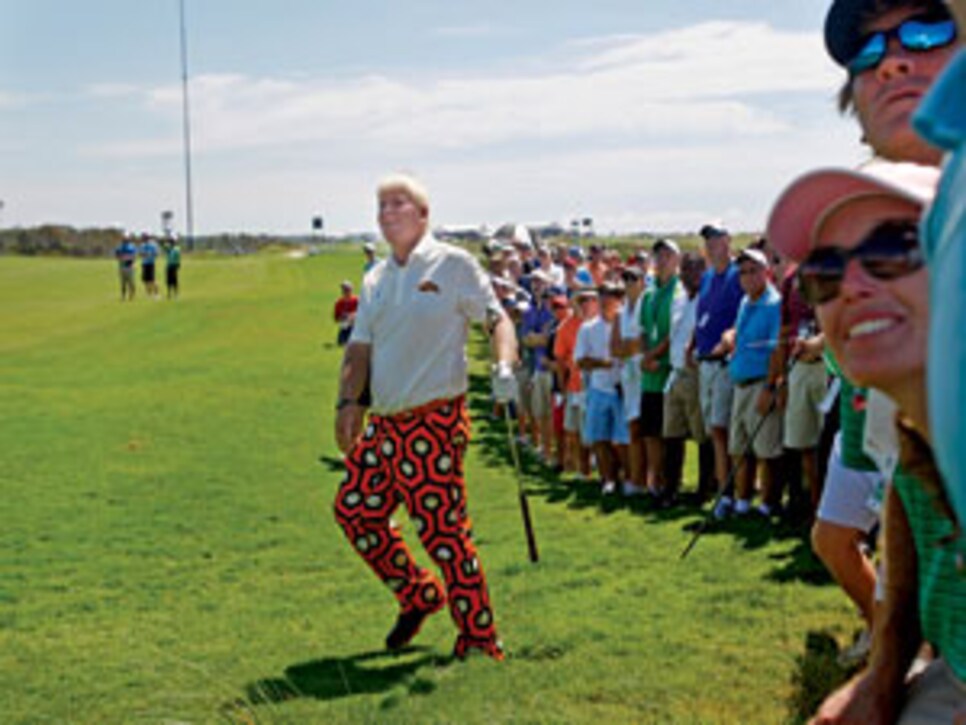 Photo: Gerry Melendez/The State/MCT
Daly's many WDs and DQs have cost him more than sponsorships and major appearances. In 1995 it was part of the reason why Lanny Wadkins declined to pick Daly, who had recently won the British Open, to his Ryder Cup team. It was the second time, after 1991, that he won a major and didn't make the squad.
He won't have to worry about a Ryder Cup snub this year, but his play at the Ocean Course did open some eyes. After a 77 in 30-mile-an-hour wind Friday, his weekend scores of 73-69 were more than respectable, and the T-18 was his best finish at the PGA since his win in 1991. Asked what he was proudest of, Daly smiled and said, "I only made one double."
With that, he was off to the Wyndham Championship. School is out for the summer, but after cramming his first three years of teaching in 1½ years, Big John and Little John have a year to complete the fourth grade.
"Third grade is not easy," Daly said. "Verbs, nouns, adjectives, homonyms, synonyms, antonyms, the stuff we all forget. But he's a quick learner. His self-esteem is better now that he knows he's in the right grade." Is there a teachable moment for Little John from watching his father? Daly smiled before saying, "He's at an age where he just wants to see trophies."
Keegan Bradley attended the 1999 Ryder Cup at The Country Club as a 13-year-old golfer and downhill skier from Vermont. "Greatest sporting event I've ever attended," Bradley said. After defending his title with a T-3 in the PGA, Bradley officially gets to participate in what the city of Chicago is hyping as its biggest sporting event, the 2012 Ryder Cup at Medinah CC. Bradley locked up a spot on the team with a win at the WGC-Bridgestone Invitational and finished fourth in the final point standings after the PGA to qualify for his first cup squad. "The Ryder Cup means everything," said Bradley, who didn't hide his disappointment after narrowly missing last year's Presidents Cup team. "It's going to be a real challenge for me that week to stay calm and not get too excited. It's a great event. I can't wait to play."
At the 2008 Ryder Cup, Justin Rose and Ian Poulter were a rare productive team Nick Faldo could count on, going 2-1. The Brits haven't played together since then, but their performances on Sunday at the PGA Championship pretty much ensures the possibility of a Rose-Poulter pairing for José Maria Olazábal. Left off the 2010 team although he had two wins in the United States, Rose is currently second on the European team's standings thanks in part to his win in the WGC-Cadillac Championship. At Kiawah Island he went out early, turned in 32 and shot 66 for a T-3, topping his best finish in a major, the famous T-4 as a 17-year-old at Royal Birkdale in the 1998 British Open. Poulter, who made the 2010 team, shot 69 to tie Rose and currently occupies the final qualifying spot for Europe. "There's something about Ian. When he gets into the big occasion, he thrives," Rose said. "He's exactly the kind of guy you want on the Ryder Cup team."