News
Despite Falling Short At Olympic, Els Finds Real Reasons For Hope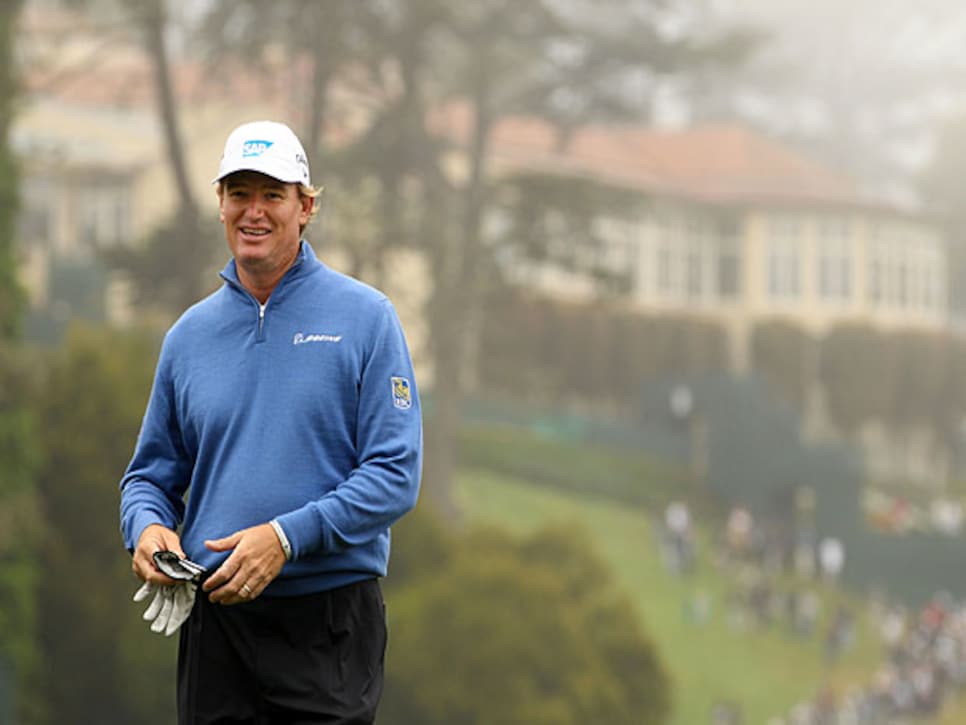 "I was a lot calmer. I felt in control. So that's a good sign. We've got two majors left, and I'm going to take a nice break now and try to regroup and come back. I got the belief back."
When Ernie Els took the 1997 U.S. Open at Congressional, the next major after 21-year-old Tiger Woods won the Masters by 12 strokes, it seemed as if he would play the role of Arnold Palmer while Woods chased down Jack Nicklaus. The Big Easy looked poised to pick off several majors on Tiger's way to breaking Jack's record of 18. But with three majors, and that still is a great number, it feels as if Els has underachieved.
The 6-foot-3 South African with a tempo to die for and incongruously soft hands for a guy the size of a tight end, burst on the scene when he won the 1994 U.S. Open at Oakmont in a playoff with Loren Roberts and Colin Montgomerie at age 24. When he added that second Open at Congressional three years later, it seemed as if Woods had his co-star. But a funny thing happened on the way to the rivalry: Woods broke Els' spirit in 2000 when he had perhaps the greatest year in the history of the sport.
Els finished second in three majors in 2000, first to Vijay Singh at the Masters and then twice to Woods -- by 15 strokes in the U.S. Open at Pebble Beach and by eight in the British Open at St. Andrews. There were two telling incidents at that British Open. After a good early round Els faced the media and the second question was about Woods, angering Els. And then when the tournament was over, Els essentially said, "I don't know what you want me to say. I'm doing the best I can, and he is beating us all."
The only other major Els would add was the 2002 British Open. Along the way the Big Easy had plenty of heartbreaks, finishing second in the Masters twice, third in the PGA Championship twice and losing a British Open playoff to Todd Hamilton, one of three runner-up finishes in the oldest major. In 2005 he had another setback when he injured his knee while sailing and needed surgery.
On Sunday at Olympic Club, Els went into the final round three strokes off the lead with a real chance to get his third U.S. Open. And when he made a 15-footer for eagle at No. 7 to get to one over par, he was very much in contention. But some missed putts -- a problem in recent years -- a couple of wayward drives and a yanked 9-iron coming in and Ernie finished with a final-round 72 to finish four over, three strokes behind winner Webb Simpson. If he had played even par after that eagle, he would have been in a playoff.
"I just pulled that shot on 16," Els said about his third shot to the par 5 that ended up in a short-side collection area from which he could not save par, turning a potential birdie hole into a bogey. "I wasn't meaning to go at that flag. I pulled it. And I missed the fairway on 17, and I guess I misread the putt," he said about the eight-foot birdie miss on the reachable-in-two par 5 that ended his chances.
Els and his wife, Liezl, run the Els for Autism Foundation, which is raising money to build a center in South Florida to help families of those with autism, a disability that affects their son, Ben. When Els showed up at a tournament in 2008 with an "Autism Speaks" logo on his golf bag, many thought a weight would lift from his shoulders now that he was publicly acknowledging that Ben, then 5, was autistic. But that has not been the case, mostly because Els has struggled with the putter.
Still, Els is taking his latest major championship disappointment as a sign that he still has enough game to win a major. "I thought I was a lot calmer," Els said about his performance Sunday. "I felt in control. So that's a good sign. We've got two majors left, and I'm going to take a nice break now and try to regroup and come back. I got the belief back."
Belief is what Ernie lost in 2000. But with no dominant golfer in the game now -- 15 different players have won the last 15 majors -- the 42-year-old Els has an opportunity to pick up another major or two before he calls it quits. He still has a chance to come through on some of that enormous promise with which he teased us 18 years ago.