News
Match Play: When The Business Of Golf Can Get Rather Personal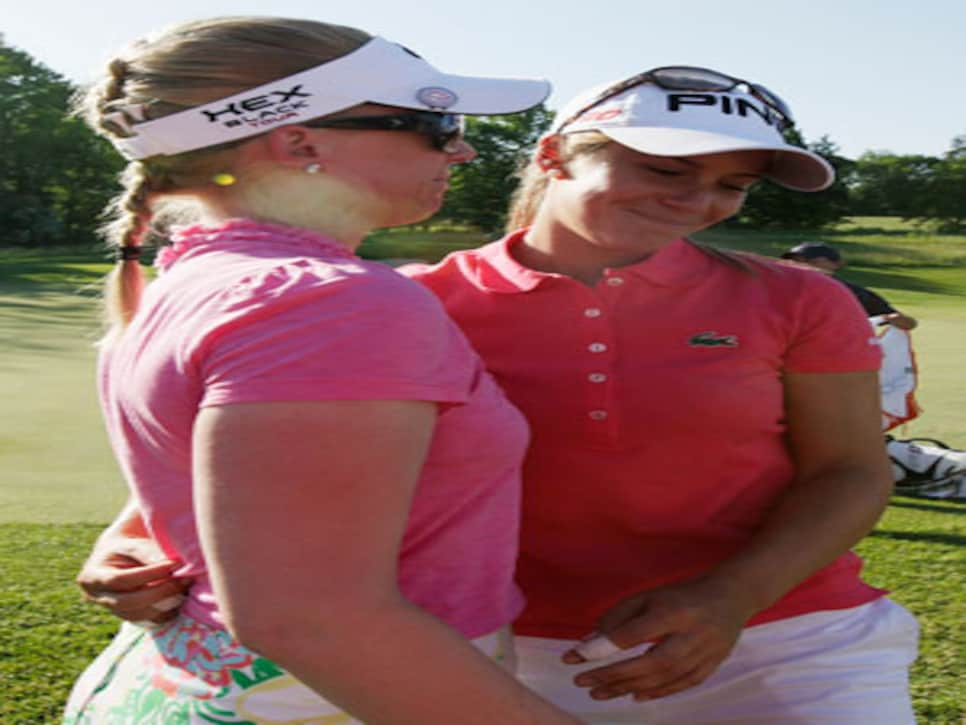 Pressel and Munoz reluctantly embrace after their semifinal round match at the Sybase Championship.
When Tessio is found to have betrayed the Corleone family in "The Godfather" and is about to be taken for a ride, he says to Tom Hagen, the level-headed consigliere, "Tell Mike it was only business, I always liked him." Hagen replies: "He understands that." At another point, Sonny Corelone says to his brother Michael, "You're taking this very personal," and turning to Hagen adds: "Tom, this is business, and this man is taking it very, very personal." Which brings us to Azahara Munoz, Morgan Pressel and match play.
Professional golf is a business, but when it comes to match play it is also very, very personal. In fact, match play is personal on any level, even playing against your best friend in a $2 nassau. In a stroke-play event you are competing against a field of dozens of others. But in match play there is only one other who matters -- the person you are playing against.
And that can bring out the nasty side of even the nicest person. Match play is like an NBA playoff basketball series. After several games of the same guy sticking an elbow into your ribs, it gets a little annoying. Familiarity truly breeds contempt, even among people who like each other.
On Sunday, in one semifinal of the Sybase Match Play Championship in Gladstone, N.J., the friendship between Munoz and Pressel was put to the test when slow play by Munoz led to the pair being put on the clock and eventually a pivotal loss-of-hole penalty on Pressel for a bad time on No. 12. Then Pressel apparently retaliated by accusing Munoz of touching the line of her putt with her putter on No. 15.
"I'm not going to say that I was disappointed that there was no penalty," Pressel said about the incident that resulted in tour officials going to the TV trailer to examine footage, which was inconclusive. "But, I mean, it is the Rules of Golf at that point, the same thing that I was penalized for three holes before."
The penalty on Pressel turned a 3-up lead into a 1-up lead; the attempt to get an infraction called on Munoz was denied, and the Spaniard won the match, 2 and 1. "You know, we are really good friends, and I guess what happens on the course stays on the course," Munoz said after getting her first LPGA victory when she defeated Candie Kung, 2 and 1, in the final.
"I was really worried after we finished because she's a really good friend of mine, and I didn't want that to change," says Munoz, who sent a text to Pressel saying exactly that, prompting Morgan to approach her on the range before the final and say, "Just win it for me."
When Munoz closed out Kung on No. 17, Pressel was there to give her a hug. Still, although some is forgiven, not all is forgotten. "She was definitely slower that I was," Pressel said. "You know, in seven years on tour, I've never had even a plus time, and this is probably the worse time it could have happened."
That's probably true, and the LPGA will most likely take a lot of heat for enforcing a rule at a time that essentially determined the outcome of a semifinal match. But the LPGA should be commended for its action, and the PGA Tour should be embarrassed that it does not have the courage to take a similarly strong stand against slow play. The last penalty stroke issued for slow play on the PGA Tour was levied on Glen Day in the 1995 Honda Classic. The LPGA says it has issued 10 slow-play penalties since 2008.
Slow play is a problem. Kevin Na aside, two weeks ago in the first round of the Players, it took five hours and 17 minutes for Rickie Fowler, Hunter Mahan and Tiger Woods to play 18 holes. It didn't help that noted dawdlers Webb Simpson and Keegan Bradley were in the group in front, along with Matt Kuchar. Such a pace of play is bad for the game.
It's true that the peculiarities of match play at the Sybase were what made Pressel the victim of a perfect storm. But unfair as it seemed, the rule was properly enforced.
The business of golf got personal between Pressel and Munoz. But as Hyman Roth said to Michael Corleone, "This is the business we've chosen." That the LPGA stuck to its business on golf's most difficult-to-enforce issue should be applauded. It should also make the PGA Tour take note.