News
If The Woods Era Is Indeed Ending, The New One Looks Pretty Good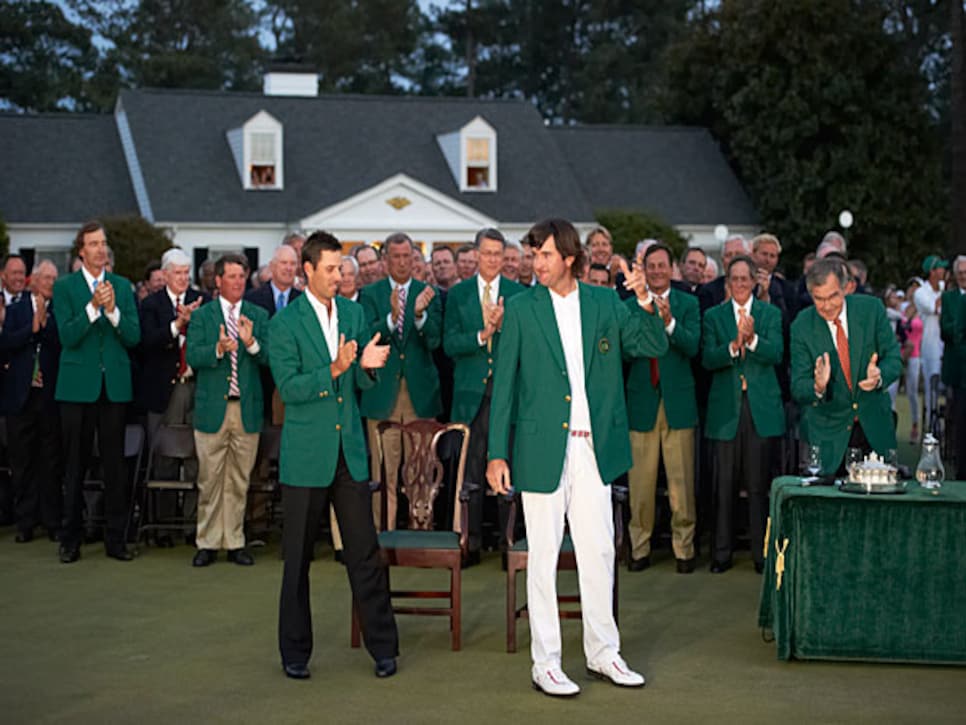 Bubba Watson with Charl Schwartzel after donning the green jacket at the 2012 Masters.
Golf is going to be just fine when we enter the post-Tiger Woods period, whenever that might be. In many ways the last two years, as Woods has struggled, have been a rehearsal for that transition. He hasn't been a dominant player--just one victory in his last 28 PGA Tour starts and no majors since the 2008 U.S. Open--and what we have learned is that, although another Woods is not yet on the horizon, the sun still shines on the game, sometimes with radiant intensity, as it did Sunday at the Masters when we were reminded that golf is bigger than any one person.
After Jack Nicklaus won the 1986 Masters, his last of 18 major titles at age 46, many said the game would never again see a player that dominant because there was simply too much talent. Ten years later, along came Woods. The lesson is that there is always someone out there--at least there always has been--from Bobby Jones to Ben Hogan followed by Nicklaus and Woods. The corollary to that lesson is that the wait for the next transcendent player doesn't have to be Godot-like. What's happening right now is good enough.
The acts that have trudged across the stage during Tiger's down period have proven to be compelling. We got another top-notch performance Sunday at Augusta National when Bubba Watson won the Masters in a two-hole playoff over Louis Oosthuizen. All you had to do was soak in the chants of "Bubba, Bubba" to realize he's an extremely popular champion. And all you had to do was watch his booming drives or the 40-yard hook he hit out of the trees and onto the green at the second playoff hole to win the green jacket to know why. Bubba is wired to hit big curves, and that makes for great entertainment.
Because Tiger was so good, we defined the game almost entirely in terms of him. Even now, the temptation to follow the slightest sign of success with a chorus of "He's back" is too great for many to avoid. What we haven't done is define what we mean when we say, "He's back." Will we ever again see the 2000 version of Tiger, with nine wins and three majors? That prospect grows more unlikely every day. But could we see a type of Tiger Light--three wins and a major in a season, for example? That's much more likely, and it would still be more wins than any other PGA Tour player managed last season.
Ever since Woods won the 1997 Masters by 12 strokes at the age of 21, he has been the favorite in almost every major. With a victory at the Arnold Palmer Invitational two weeks before this Masters, he came into Augusta ­National as a favorite, but not the only favorite, and certainly not the prohibitive favorite the way he used to be. The talk was that the stage was set for a shootout involving Woods, Rory McIlroy, Phil Mickelson and world No. 1 Luke Donald. Of those, only Mickelson kept his appointment with the leader board, finishing T-3, as Donald was T-32 while Woods and McIlroy were T-40. And still it was fun.
The nine-year TV deal the PGA Tour reached with CBS and NBC that goes into effect next season was a vote of confidence by the networks about the future of golf. "This is a new start for the game of golf," CBS commentator Jim Nantz said on air immediately after Watson won. Add Bubba, 33, to a recent group of talented, young, multinational major winners that includes McIlroy (22), Keegan Bradley (25), Charl Schwartzel (27), Martin Kaymer (27) and Oosthuizen (29) and there is great reason for optimism.
"This is nice, I look like you now," Watson said after Schwartzel slipped the green jacket on him in Butler Cabin. Well, sort of. Bubba will never really look like anyone but himself. And that's good for the game. The majors are no longer a question of "Can anyone beat Tiger this week?" They are a question of "Who among many will be on their game this week?" Although it might be premature to say we are seeing the end of an era, it would not be wrong to acknowledge a glimpse of a new one--and it looks pretty good.