News
Engineering A Path Of His Own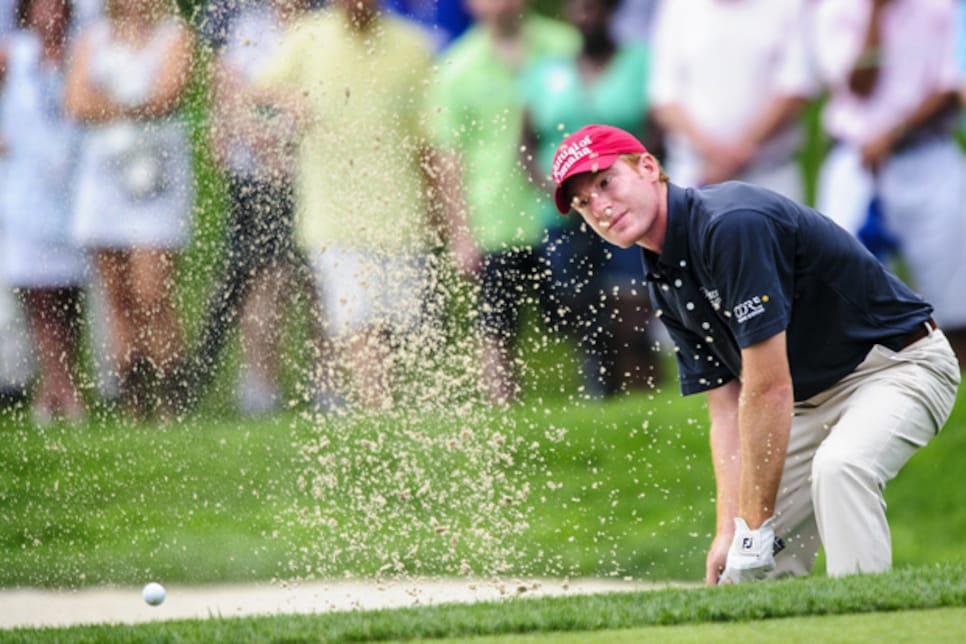 In the clubhouse at Congressional last month, Roberto Castro was watching the delayed broadcast of the final round of the AT&T National. On the screen Nick Faldo was analyzing his swing, in particular his follow-through, and not being too kind. That night at dinner in Georgetown, following a career-best second-place finish, Castro brought it up with swing coach Jeff Paton.
"You could tell he was a bit unnerved about it," Paton said. "But I told him you can't worry about that. If you lined up the last 50 major winners, you'll not see anybody's swing that looks alike. It's important that the individual characteristics are there. That's what makes a great player."
In just his second full year on the PGA Tour, Castro is a long way from being a great player, but he is heading in the right direction with a skill set and individual characteristics that are unique among his peers. Gio Valiante, the sport psychologist who works with U.S. Open champion Justin Rose, says the 28-year-old Castro has the best mind among all the young golfers in the game. He will take the Faldo analysis and break it down, but won't let it linger for long.
"He looks at golf like a puzzle," Valiante says, "and he's putting all the pieces together so well."
The industrial-engineering degree Castro earned in 2007 at Georgia Tech is part of that puzzle. He didn't like being labeled the smart kid because he was more resourceful than gifted, and that was the case on the course as well. Essentially, he used the skills he developed in the classroom to become a systems analyst of his own golf game.
"I have to tell you something really interesting about Roberto," says his mother, Annie. "You mark me, he is the farthest thing from an engineer. He reads. He writes. But every time I asked him to fix something in the house, he could never fix it. He told me once, 'Mom, I actually used a screwdriver and a hammer.' He was so proud of himself."
As Annie explained, Roberto, or Cicio as his family calls him ("little boy" in Italian) may not be good with a toolbox, but he does have a high standard. The reason he chose industrial engineering was because Georgia Tech's program was ranked No. 1 in the country. Castro graduated with honors as an academician and a golfer, earning the Byron Nelson Award in 2007 and the NCAA Top VIII Award in 2008.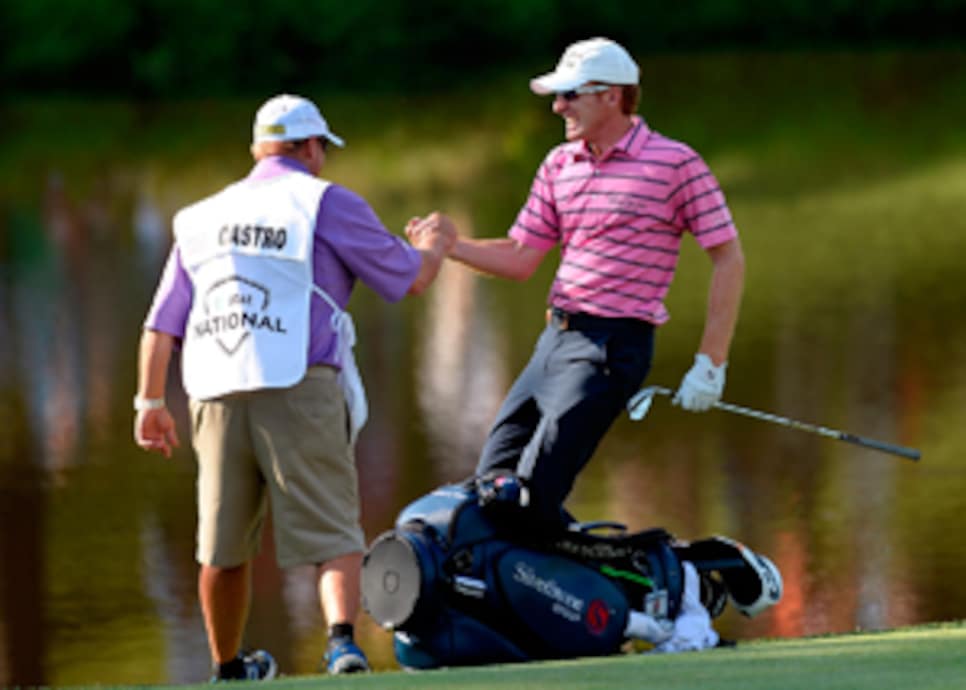 Yellow Jacket coach Bruce Heppler talks about the way Castro is "outrageously efficient" with his time, marveling at his ability to continually improve without tripping over the same step twice. He had to be, taking courses in calculus, trigonometry and statistics as well as playing golf in the Atlantic Coast Conference.
"Because he is so smart and intelligent and well thought out, he can step away from things that happen to him, analyze those and make improvements," Heppler says. "There were not a lot of people predicting in college that he'd work his way through, but he just kind of gets better every year."
I talked to Castro Saturday night of the Players in May, two days after tying the Stadium Course scoring record at TPC Sawgrass with an opening 63, one day after shooting 78 with a ragged start. I asked him, if he wasn't a golfer, what could he see himself doing? It had nothing to do with industrial engineering.
"I think I'd go to a Spanish-speaking country and dive into it," he said, explaining how seeing his dad and his uncles master another language was a real asset. Castro is bilingual too, although the column he writes for the campy website he created (allthingsthataregood.org) is in English. "Cicio's Good Things of 2K13" include Castro's take on "Good tunes, tweets, television and more ..."
Heppler believes the reason Castro moonlights as a blogger (along with maintaining an entertaining Twitter account
) is for the release it provides from the day-to-day grind of tour life. Annie thinks it is just part of his creative, eclectic makeup. His grandmother is Italian and his grandfather is Swedish. His mother was born in Peru and his father in Costa Rica.
"Roberto is a little bit of everything," she says, explaining even further that her oldest son was born in Houston, but transplanted to Baton Rouge and, eventually, Alpharetta, Ga.
The first time Valiante saw Castro was on the range at the GC of Georgia outside of Atlanta. It was a fall day and Castro, playing the Tarheel Tour at the time, was wearing a turtleneck and a French beret.
"Like he belonged reading Nietzsche in London," Valiante remembers. "I said, 'Who is that dude?' They said, 'That's Roberto Castro, he marches to his own drum.' "
And the drum is beating louder since Paton suggested a putter change following the Wells Fargo Championship. With his runner-up finish at the AT&T National, Castro locked down his card for 2014 and moved into the top 50 of the FedEx Cup standings.
We caught up again after an opening-round 68 at last week's John Deere Classic. I asked if he was more proud of the comeback in the Players -- shooting a pair of 71s on the weekend for a T-19 finish -- or coming within three strokes of Bill Haas at Congressional. His answer said every- thing about the way Castro thinks: It was playing the last six holes of his Friday 78 at the Players in even par.
One thing's for sure, people are starting to pay more attention.
"The last two weeks I've noticed walking around that people who come to golf tournaments and tune in to watch Golf Central walk by and at least know who I am," Castro said from his hotel room at the John Deere Classic, where he finished T-68. "But I don't think they're lining up for pictures or anything."
Jordan Spieth said all he packed for his latest three-week trip on the PGA Tour was short-sleeve shirts. In other words, no sweaters and, more importantly, no passport in anticipation that a fourth week might be tacked on for the British Open. Luckily for Spieth, his agent, Jay Danzi, had an assistant swing by Jordan's parents' home in Dallas to pick up his passport and bring it to Silvis, Ill., just in case. That allowed the 19-year-old rookie to fly the charter leaving the John Deere Classic and arriving Monday morning in Scotland, giving him an added day of practice and time to adjust to jet lag. As for the sweaters, Spieth shouldn't have to worry. Under Armour was sending Spieth's outfits for the week from its headquarters in Baltimore.
Billy Foster says his two-week run on the bag of talented South African Branden Grace isn't due to Zack Rasego having been fired. Rasego, voted 2012 European Tour caddie of the year after Grace's four-win season, had an illness in the family that forced him to return home to South Africa. Foster stepped in, having been let go as Lee Westwood's full-time caddie after missing most of 2012 with a knee injury. Before losing the playoff to Phil Mickelson at Castle Stuart, Grace acknowledged he was lucky to have a caddie of Foster's repute given the loss of Rasego, whose experience includes being on the bag for Louis Oostuizen during his 2010 British Open victory at St. Andrews. For Foster, it was his second straight runner-up finish while on temporary assignment; he worked for Thomas Björn during the BMW International in June. Meanwhile, Foster has been runner-up three times at the Open, including with Westwood at St. Andrews in 2010.