News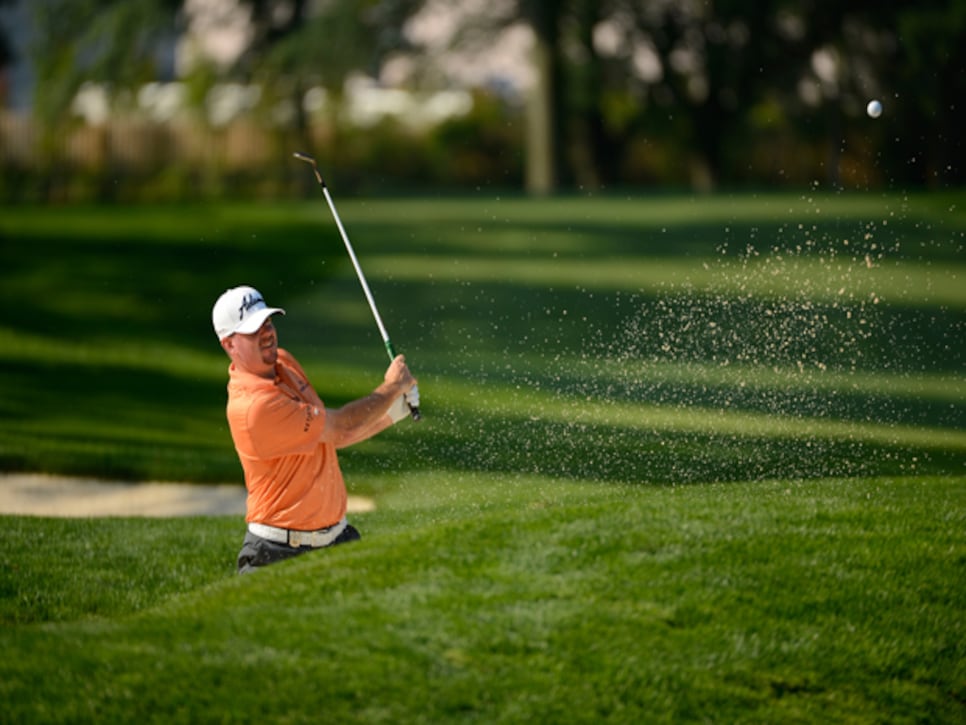 On the Thursday morning before their opening-round tee times of the 95th PGA Championship, Robert Garrigus compared notes with Tiger Woods on parenting.
Garrigus saw Woods carry his 4-year- old son Charlie off the 18th green after his win at the WGC-Bridgestone Invitational and mentioned how he had his own 3-year-old son back at the house he was renting just outside the gates of Oak Hill. He talked to Tiger about how R.J. has enough energy to power a city.
"We kind of talked about the energy kids have," Garrigus said when we caught up later. "It's amazing. We used to have all that energy, now we need to drink a Mountain Dew to get that."
Garrigus has lacked energy for most of the past six months, but the PGA helped rekindle the competitive juices that have been lacking since the putter went cold and a second son, Andrew, was born May 29.
The beauty of this little dip in emotions is that no matter what Garrigus shoots, whether it's 67-68 to open or 74-72 to close -- as he did at Oak Hill to turn a potentially high finish into a modest T-25 -- R.J. doesn't really care, and neither does Garrigus' wife, Ami.
"It's pretty much the same every time I come back," Garrigus said. "I usually get tackled by my 3-year-old."
Coming home to a happy family is something Garrigus never thought he would see a decade ago. After fighting drug addiction, he celebrated his 10-year anniversary of being clean at this year's U.S. Open. Yet the occasion was almost an afterthought. The temptation just isn't there anymore.
The way the 35-year-old Garrigus looks at it, if he didn't have a dependency, he wouldn't have been at the Calvary Ranch, a Christian rehabilitation center in San Diego, where through mutual friends he was set up on a blind date with his future bride. If he didn't meet Ami in 2003, there would be no R.J., and no Andrew.
"You think about it," Garrigus said. "You always wonder where life takes you and why, and that's why there are no regrets. Regardless of what I did in college, it led to everything I have now, everything. It's really special."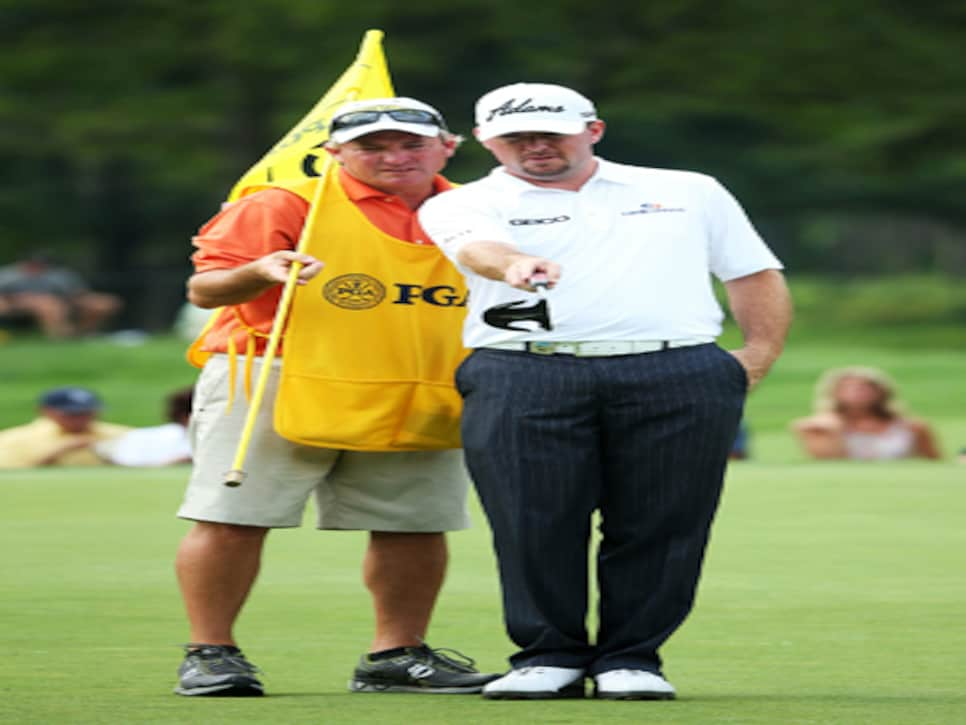 PGA Championship week started out like it was going to be a special one for Garrigus inside the ropes too. With Oak Hill's East Course playing wet and long, it catered to the physical strength that is a large part of his game. In the same type of scoring conditions, Garrigus posted his best finish in a major, a T-3 in the 2011 U.S. Open at Congressional.
Sitting four off the lead in a tie for seventh Saturday, Garrigus was expecting a big day warming up with swing coach Jim Ahern, strength coach Eric AH-Yuen and caddie Brent Henley. The session was so good, AH-Yuen took video for future reference.
The thing of it is, the guys who make up Garrigus' team were just happy this was the Robert who made the trip to upstate New York. Since the Wells Fargo Championship the first week of May, he had only made one cut. Going back even further, he hadn't played well since losing to eventual champion Matt Kuchar in the quarterfinals of the WGC-Accenture Match Play Championship.
During that span, those close to him say you could never tell whether Garrigus had a good or bad round, but you knew he wasn't into it. "He didn't want to be out here," AH-Yuen said. "He didn't want to play golf."
Part of it was the birth of Andrew. He got a call Thursday of the Memorial that Ami was in labor and bolted Muirfield Village for Scottsdale.
The real reason, though, that Garrigus lost interest was because his putter, the ficklest club in his bag, was once again confounding him. For the better part of two seasons Garrigus had been experimenting with different models, using everything from a 29½-inch version you'd find at a mini-golf course to a belly putter before settling on a standard-length model, but not with a load of confidence.
Ahern, though, thought he might finally have a solution. The 64-year-old former Champions Tour player who started working with Garrigus in November 2010, just before his breakthrough win at the Children's Miracle Network Classic, brought with him a Ping Scottsdale Y Worry putter he had pulled from his closet back in Arizona.
Garrigus liked the look of the club, enough to head over to the Ping trailer at Oak Hill to get one of his own. To his surprise, he learned the line was discontinued. The next step then was simple: Take Ahern's putter, get it reshafted and put it in the bag. Sure enough, on Thursday he took only 25 putts, on Friday 28. Through the first two rounds he led the field in putts per green in regulation.
Of course, to expect a complete turnaround in a major championship would be asking a bit much. Despite the confidence he carried in the practice session, Garrigus didn't make a birdie until the 13th hole during Saturday's third round, and by then he had already recorded four bogeys. And the hole appeared to get smaller. He took 34 putts en route to a 74 that dropped him to T-12, eight strokes back.
Come Sunday, bogeys on two of the first four holes knocked him down, but a birdie on the 18th for a closing 72 left him feeling upbeat.
That night at Oak Hill, Garrigus sat next to a fire pit outside his home and roasted marshmallows with R.J. The fire within had also been rekindled as he got ready to travel to Greensboro, N.C., for the Wyndham Championship. "I had some real positive stuff happen this week," he said.
For the first time in a while he could have meant both on the course and off.
Apparently there is a limit to how much fun can be had on the famed par-3 16th hole during the week of the Waste Management Phoenix Open. The PGA Tour has banned the caddie races that had become part of the "Craziest Show on Grass." Safety was the reason given. Brent Henley, who caddies for Robert Garrigus, went down in his sprint with brother Kip Henley, who caddies for Brian Gay, in what has become a YouTube favorite. "The atmosphere on the 16th hole is pretty lively without the caddie races to further enliven it," said Andy Pazder, executive vice president and chief of operations for the PGA Tour. "It made sense to dial down the volume a little bit." In its place, the Thunderbirds, the organization that runs the tournament, is creating an interactive game where spectators can guess which golfer's ball will come closest to the hole. The same ban applies to the Crowne Plaza Colonial, where the caddie races began.
Jack Nicklaus has long been tired of seeing tour players in the Memorial step to the 18th hole at Muirfield Village GC and pull out an iron or hybrid for the closing tee shot of his most famous design. So now participants in the upcoming Presidents Cup will be taking a 30- to 40-yard walk back into what was woods to a new tee box Nicklaus signed off on before heading to the PGA Championship. Currently listed at 444 yards from the tips, the new tournament tee will play between 472 and 483 yards and is designed to bring the original strategy of the hole -- as well as the creek running down the left side of the fairway -- back into play. To fly the bunkers down the right side, it will now take a carry of 300 yards.