News
With Phil, It's Complicated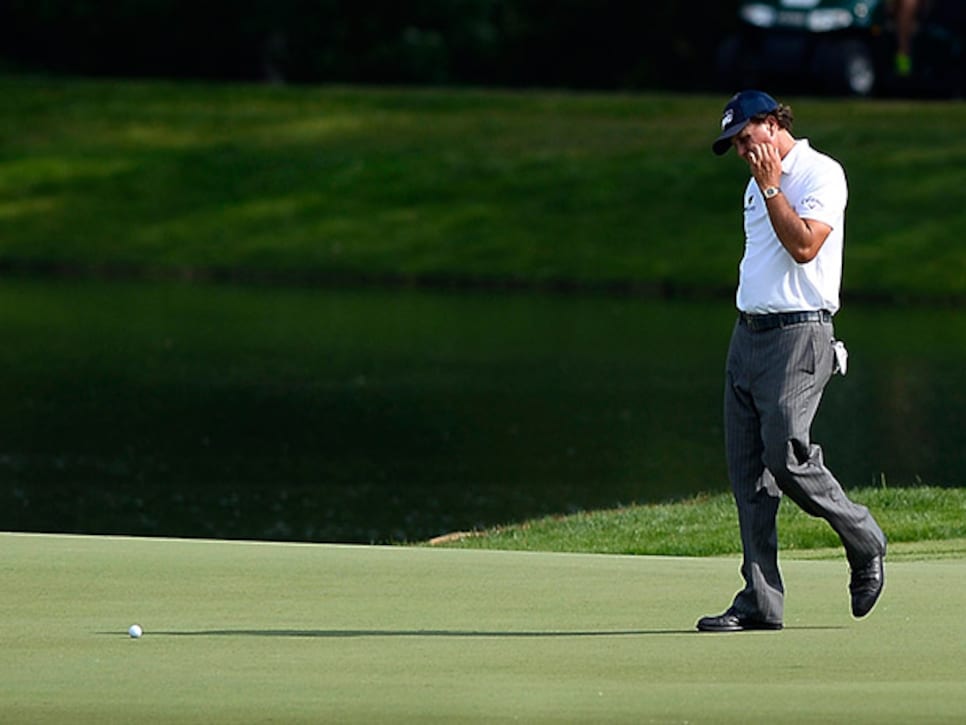 Getting closer? Phil Mickelson finished T-4 in Charlotte and looks forward to the U.S. Open.
When Phil Mickelson triple-bogeyed the 18th green at Quail Hollow on Saturday to turn an otherwise strong third round into a ground-losing 71, two questions quickly arose.
The first came from golf wonks. Had Mickelson, after missing the cut at the Players Championship, blown a big chance to build needed momentum as he readies for another legacy-trans-forming opportunity in the U.S. Open at Chambers Bay?
And the second came from many of those in attendance: Would Lefty still sign autographs?
Especially on a day when Rory McIlroy's 61 became the latest salvo by golf's new guard, it was tempting to characterize Mickelson's bad finish as damaging to his cause. Still, in golf it's best to avoid short-term conclusions. Lately, Mickelson doesn't trend as much as he suddenly spikes.
The answer to No. 2 was reaffirming. After driving into the water and then three-putting on the difficult par-4 finisher, Mickelson wore a tight smile—his public version of a frown—that left no doubt his chili was running hot. His normally affable caddie, Jim (Bones) Mackay, went straight to the parking lot rather than be part of a glum post-round scene. T.R. Reinman, Mickelson's longtime publicist, figured the Sharpie would stay holstered. "Triple at the last?" he winced. "I'm guessing no."
But after a couple of minutes in the scoring area, Mickelson appeared with his regular smile and walked out to the appreciative throngs leaning against the barricades, and for 15 minutes accompanied his right-handed signature with some eye contact and occasional conversation. "How about that?" said Reinman, quietly impressed by his man.
Mickelson's autograph session matters. Cynics used to assume he turned it into a ritual just to make himself look better compared to rival and habitual non-signer Tiger Woods. But even if that was part of the purpose, the sheer volume and consistency of the effort has had a much more important effect. In the last half dozen years, as golf—like so many parts of society—has realized how financial soundness can never be taken for granted, Mickelson's example of good behavior has filtered down to young players. The fact that so many believe golf is in good shape in large part because McIlroy, Jordan Spieth and Rickie Fowler are all attuned to fans and sponsors, is partly due to Mickelson's example, one that found its inspiration from Arnold Palmer's warmth and engagement during his farewell U.S. Open in 1994 at Oakmont.
"I just try to follow what Phil does, especially off the course," says Brendan Steele, who began playing practice rounds with Mickelson as a rookie in 2011. "He really does try to take care of everybody."
"He's just the best," said Susan Russell, 72, of Forest City, N.C., whose shoes Mickelson complimented as he signed. "He doesn't have to do it, obviously. Some of them sign but don't look at you. Phil does. He's very kind."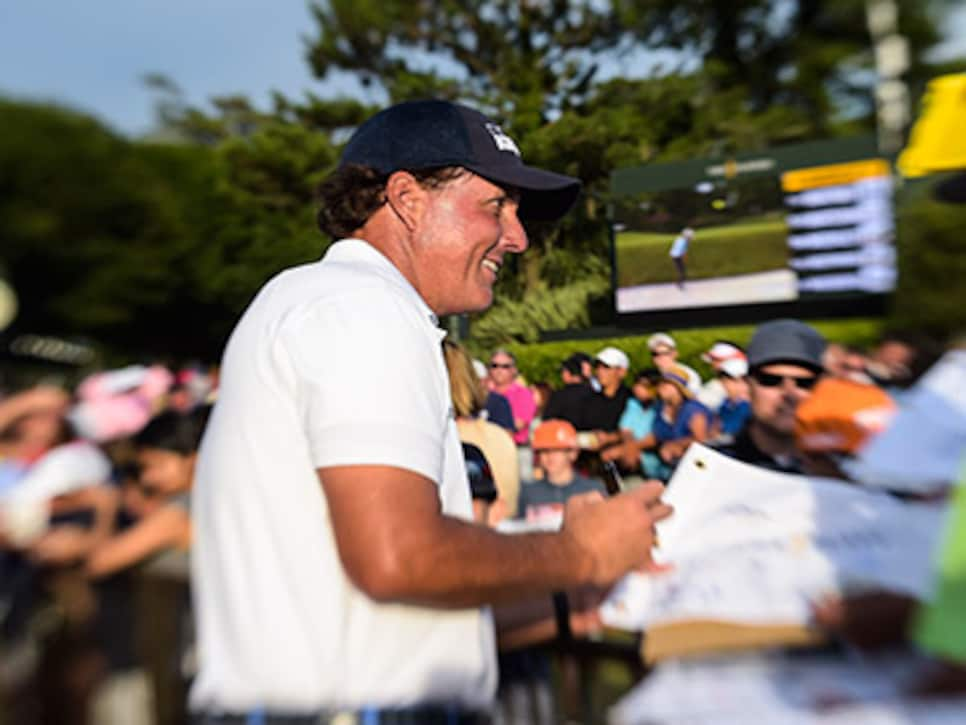 Still smiling: Mickelson's practice of signing autographs is noted by fans and other players. (Photo: Chris Condon/PGA Tour)
That goodwill is a big part of why Mickelson stays so prominently in golf's conversation, even as his name has been well down the leader board for most of the past two years. (Last year, only 16 of his 58 official rounds were in the 60s.) But his runner-up at the Masters, after the same finishes at last year's PGA and the 2013 U.S. Open, along with an epic victory at the 2013 British Open, was a reminder that even at 44, Mickelson is more than just a sentimental favorite.
He's definitely still capable, but it's complicated. It would appear that Mickelson has lost a bit of his fastball in the past couple of years. By 2012, his PGA Tour-measured average clubhead speed had dropped from 122.04 miles per hour in 2007 to 116.81, and then last year, to 115.62. Simply not enough for the big game Phil prefers to play. Moreover, the technical changes he began with Butch Harmon in 2007 seem stagnant, as his swing remains overly long, overly steep and overly wild off the tee. And perhaps the psoriatic arthritis Mickelson was diagnosed with in 2010 is a bigger issue than he lets on.
But he vowed to work out hard over the offseason, and so far this year, his average is up to an impressive 118.32 mph. Still, his out-of-nowhere, near-peak performances in majors demonstrate that Mickelson's most important battle is about motivation.
"I've been able to get some of my best golf out in [majors] when I focus in on them," he said at the Masters, where he tied with Justin Rose, four behind Spieth. "But I don't have a great answer for you why or how that is."
At Quail Hollow, Mickelson did mention that at the Masters he had received some valuable thoughts from Dave Stockton, his putting coach since 2009. The 73-year-old guru elaborated, in part to make the point that he would like to see Mickelson more often.
"I hadn't worked with Phil since before the U.S. Open at Pinehurst," Stockton said from his home in California. "I understand he's busy, but you need a checkup now and then. No one can see himself. He was making his path to success longer than it needs to be."
At Augusta, Stockton was waiting to play in the Par-3 Contest (open to all former major champions) and watched Mickelson on the practice putting green. "He was recoiling or stopping his putter on mid-range putts, and it was because his routine was all over the place. I texted him, I enjoyed watching you practice. He texted back, What did you think? We made a date for noon on Thursday before his first round.
"I told him to go back to looking at the hole like you're throwing a dart, set your feet, and go," Stockton said. "It was the same routine he's used very successfully in the past, but he'd forgotten. It took five minutes, and he had it." After Mickelson finished 11th in putting per green in regulation among those making the cut, Stockton said the overall increased focus from the new putting routine "smoothed out his whole game. He started seeing all his shots better. I think his mind is in the right place, and it bodes well for Chambers Bay."
As the U.S. Open closes in, expect Mickelson, just as he did before Merion and Pinehurst, to avoid discussions that will add pressure. Since he improbably won at Muirfield, the U.S. Open is more than just the place he has a record six second-place finishes. (His total of 10 runner-ups in majors is second only to Jack Nicklaus' 19.) A victory would make him only the sixth golfer to complete the professional career Grand Slam, joining Gene Sarazen, Ben Hogan, Gary Player, Nicklaus and Woods. It would also give Mickelson six majors, a total only 11 golfers have exceeded. Rare air.
Mickelson plans to skip Colonial and the Byron Nelson (each of which he has won), using part of that time to get his first look at Chambers Bay. Then he'll play at Memorial and Memphis.
Mickelson is expecting an Open course with links characteristics, a style of play that he has learned to love in recent years. He said he was pleased to hear the view of the USGA's Mike Davis that players who don't do extra reconnaissance will have little chance to win. "I hope that's the case," Mickelson said, "because it rewards the person who puts in that little extra effort."
There won't be any question about Mickelson's motivation at Chambers Bay, where he will turn 45 just before the first round. If it's right, he'll produce another sudden spike that might be enough.