News
Life On The Mend... Again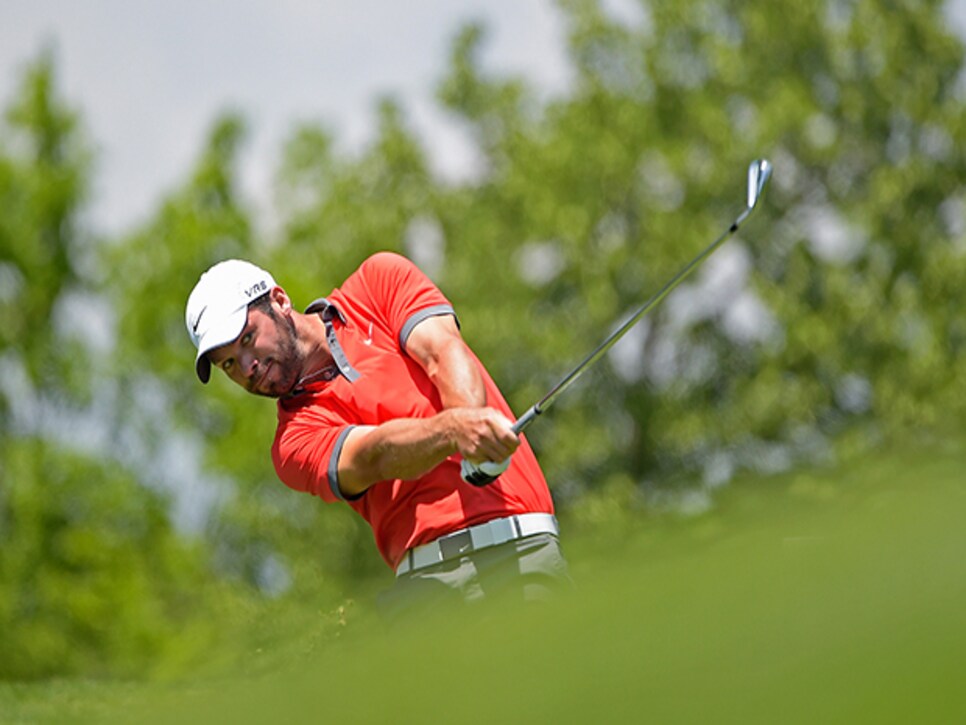 Paul Casey is growing tired of making comebacks. "It needs to be the last one, doesn't it?" the Englishman said with a smile on his bearded face during the recent U.S. Open. At 36, Casey has aged well despite personal drama and a series of injuries. He hasn't lost his trademark sense of humor.
The beard is not a post-divorce statement, just winter laziness that turned into a look. His fiancée, the appropriately named Pollyanna Woodward, didn't object, so Casey grew it out to varying degrees.
"Then it went to the point where I wasn't going to compete with Graham DeLaet," Casey said of the Canadian with the hockey beard. "It gets too gray. So it is sort of the Frank Nobilo [look], but slightly longer."
Casey met Pollyanna three years ago at the Abu Dhabi Grand Prix ball. The English television presenter was going through a divorce, as was Casey, so they had something in common. They talked for a long time, eventually started dating and became engaged last January. Casey's past -- a three-year marriage to American Jocelyn Hefner -- is no longer back-page material in the London tabloids.
"You know what, I don't dwell on that at all," he says. "If you met Pollyanna, you'd know she is one of the most positive people on the planet. She's got a perfect name for it. [The previous marriage] is done. I'm very much right now."
And right now includes the next phase of life. Instead of looking forward to the Ryder Cup in Sep- tember, Casey is more looking for- ward to becoming a parent. "Now we've got a little one on the way," he says, explaining they had girls' names picked out before learning it was a baby boy.
Longtime swing instructor and mentor Peter Kostis understands Casey better than anybody, to the point where Casey is referred to as Kostis' third son. The CBS analyst was there to aid Casey in 2004 after he said European Ryder Cup teams "properly hate" their American counterparts. Kostis was there through the golfer's divorce and, yet again, to help rebuild Casey's confidence following various physical ailments.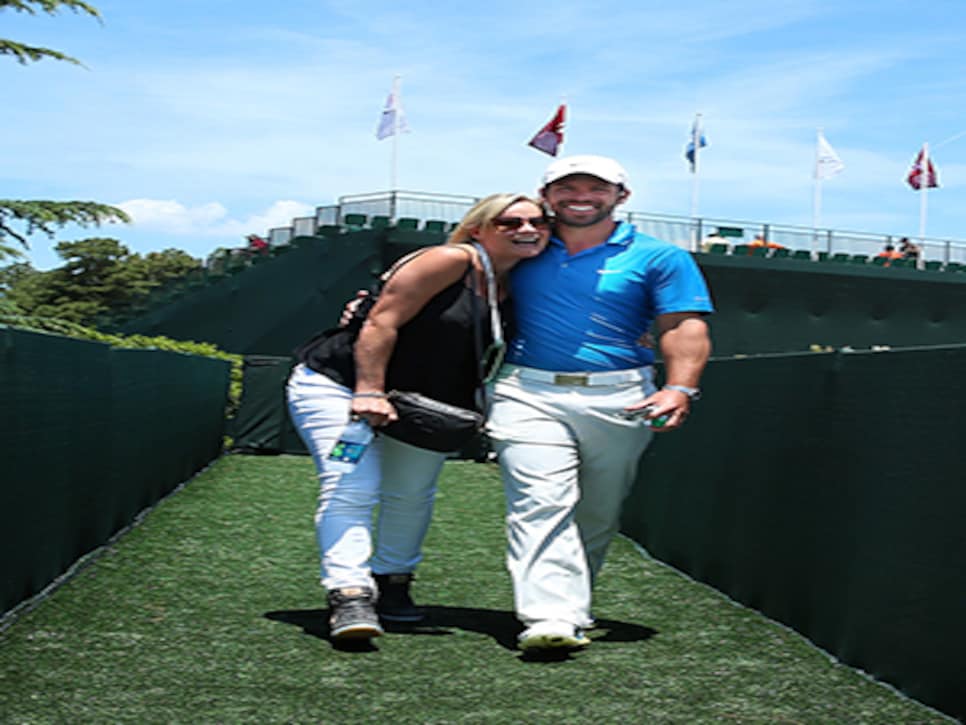 Kostis sees the combination of Woodward and fatherhood coalescing into the best golf of Casey's career. It started with Woodward, who on her Twitter profile writes, "In love with life & PC." One thing Casey needed in his life was positive energy.
Kostis could see the impact Woodward was having on Casey when he won last year's Irish Open for his first victory in 2½ years. Casey said it felt like his first win. "I think this new relationship means everything to him," Kostis said. "She's everything he needs . . . positive, funny, upbeat all the time, the soul mate he's needed."
The son will provide a different type of love and perspective, relieving some of the pressure that Casey has felt since turning pro. When Luke Donald became No. 1 and Justin Rose won the U.S. Open (and while they were both starring in Ryder Cup victories), Casey, arguably the most naturally gifted English golfer of his generation, was back in the shadows.
"He's had golf his entire life, expectations about golf his entire life," says Kostis. "When the baby comes, he'll be a lot more relaxed, a lot more focused and a lot more accepting on the golf course."
In spite of the setbacks, Casey has 12 European Tour wins, five more than Donald and six more than Rose. He climbed to No. 3 in the world in 2009 following victories at the Shell Houston Open and the BMW PGA Championship at Wentworth. Then came a wave of injuries, starting with a torn rib muscle in 2009, turf toe through most of 2011, followed by a dislocated shoulder suffered in a snowboarding accident in 2012. When I asked Casey which was harder, coming back from the Ryder Cup controversy or coming back from injuries and divorce, he didn't hesitate to answer.
"No, this," he said. "That's sort of apples and oranges, or apples and pears. They're slightly different to compare. This was a nice perfect storm because there was injury and a divorce. That was distracting -- very, very distracting. Everything is good."
There is still mental scar tissue to break through. Favoring the right shoulder, Kostis put Casey through a series of drills where he would actually throw his club on the practice ground at Whisper Rock GC. Some of that power and control has appeared in flashes this year: a 64 at the Zurich, opening rounds of 66-66 to lead the Memorial, and in spurts during his title defense of the Irish Open, where he couldn't close out rounds and finished T-33.
With a better understanding of life, weekends like the one he spent in Cork are easier for Casey to accept knowing the prize -- the birth of a son -- that's coming in September.
"To me that will be the most important thing that happens to me this year; even if I make the Ryder Cup, even if I win something else -- to me, that's what I'm looking forward to the most," Casey said. "It's like a guaranteed victory."
As an 18-year-old amateur, Aaron Baddeley beat countryman Greg Norman in the Australian Open. As a 33-year-old struggling tour pro, Baddeley kept defeating himself, constantly changing instructors. He went from childhood teacher Dale Lynch to David Leadbetter to Stack and Tilt guys Andy Plummer and Mike Bennett, then back to Lynch for his last victory at the 2011 Northern Trust Open. Last year, Baddeley left Lynch for the third time to work with Dion Kipping, his former caddie. Today, following a 2013 that was his worst season since 2004, he's with former tour pro Grant Waite and biomechanics coach Chris Como -- and he's finding positive results. His fourth-place finish at the Travelers Championship was his first top-10 of 2014 and only the seventh in 65 starts since 2012. "I'm getting really close to playing some really good golf," said Baddeley, who underscored the point with four rounds in the 60s at TPC River Highlands.
Working with instructor Darren May at The Bear's Club, Kevin Streelman had a first, a second and a third-place finish in 2013, earning over $3 million for the best season of his career. But after missing his fourth straight cut at Pinehurst recently, the journeyman ended up at Wayne DeFrancesco's doorstep in Rockville, Md. Introduced to DeFrancesco through a swing analysis on the club pro's website, Streelman turned the advice (keeping the club more in front of him) into a record seven-birdie finish and his second PGA Tour victory at the Travelers Championship. DeFrancesco watched from his hotel in Myrtle Beach, S.C., where he had hoped to compete in the PGA Professional National Championship before back spasms forced him to withdraw. "For him to win was kind of surreal," DeFrancesco said. "We spoke [Sunday] night; you could feel the smile on his face."