News
Wie Finds Her Comfort Zone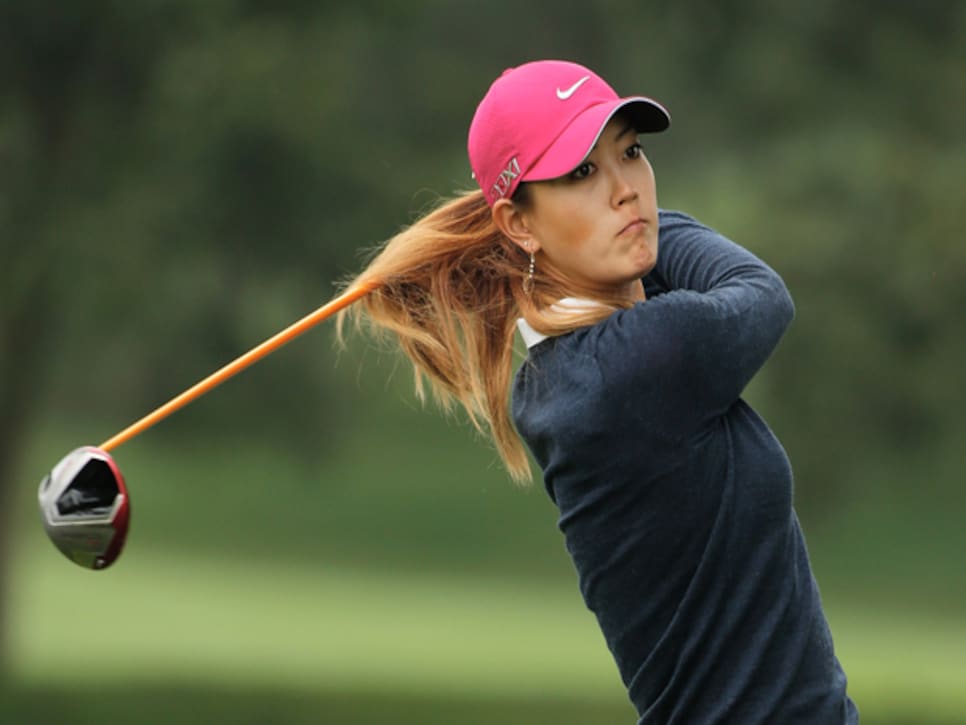 Scroll Michelle Wie's Twitter feed and you'll read repeated references to #juplife, her hashtag for living in Jupiter, Fla. There are photos of Wie eating a plate of ribs at Park Avenue BBQ & Grille in Tequesta; playing golf with Stacy Lewis, Belen Mozo, Jessica Korda, Meaghan Francella and Alison Walshe at the Medalist and McArthur GCs, or heading to the gym at PGA National before the annual pro-am hosted by Solheim Cup captains Beth Daniel and Meg Mallon in Boynton Beach.
Having moved to Palm Beach County two years ago, the Hawaii native and Stanford graduate says she feels at home. She has a dog beach for her beloved Pomeranian mix, Lola, a group of friends her age who don't judge her, and an overall sense of happiness in her still-young life. At 24, she is 10 years down the road from that fabled and still-debated appearance in the Sony Open, and the past decade has not always been kind. But Wie has hit the reset button and might be in love with golf again.
There were times when she hated the sport that made her rich, famous and a teenage lightning rod, but the energy level is back and she has a smile on her face as she heads to the Pure Silk Bahamas LPGA Classic, the first tournament of the year. She practices at The Bear's Club, and when we sat down last week she had just completed an 11-hour workday that began with a workout at 7 a.m.
"I feel the growing pains are kind of over," Wie said, sitting in front of an open fire in the club library wearing a bomber jacket. "I was out on tour when I was in high school and college, and that's when you're growing up and going through phases. I just feel settled. I'm grounded more."
Between playing her way into an LPGA event at age 12 and her current Rolex ranking of 61st, Wie has experienced injuries, an unsettled home base in Orlando and the college experience that many LPGA followers hoped would trigger a resurgence in her career. It didn't, but perhaps something has.
Her coach David Leadbetter noticed a change in Wie's attitude at the end of last year. Saying it was nice to be healthy, Wie played well down the stretch, went to Hawaii for a five-week vacation, and other than some practice swings in front of the mirror, didn't touch a club. Instead she did some mountain climbing, paddle boarding and power yoga before coming back to Florida refreshed.
"I was telling David it feels like my second career, or the second phase of my career," she said. "I can't wait to hit balls. I can't wait to play. I'm excited."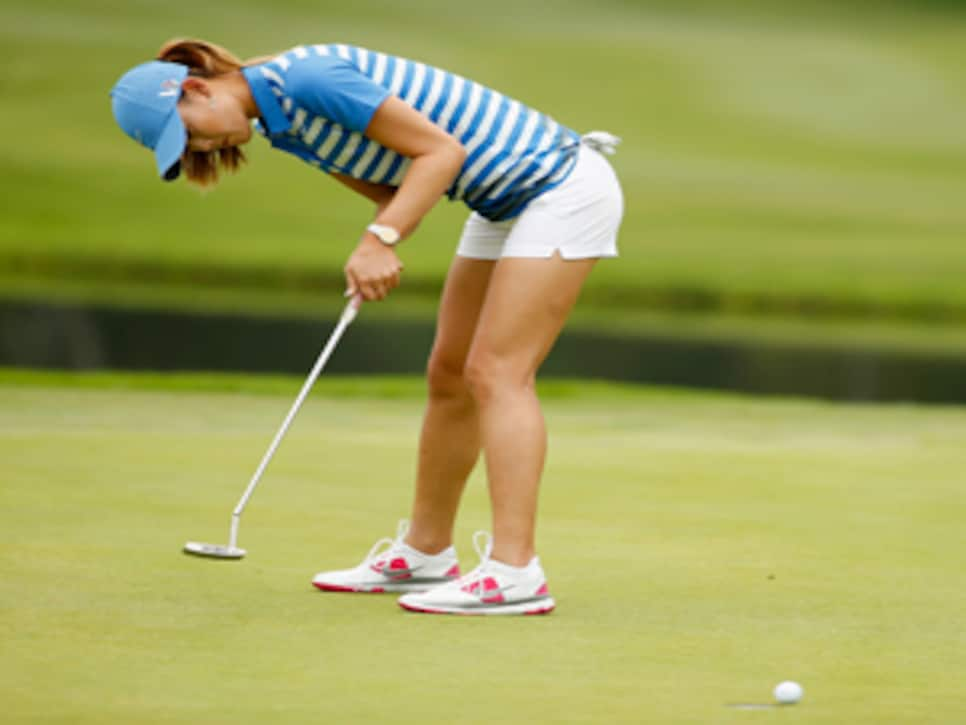 Leadbetter is cautiously optimistic. He has known Wie since she was 13 and has served as the buffer between the prodigy, the press, and her omnipresent parents, Bo and B.J. He notices more independence in Michelle. "I felt an energy level [from her] that I haven't felt in a while," said the instructor. "I think she's finding herself. Talent doesn't go away. Sometimes it can hide itself."
The highest Wie has been on the Rolex ranking was seventh in 2010, the year of her last victory. Since joining the LPGA in 2009, she has two wins in 117 starts. Leadbetter's theory is now that the heat is off Wie, there's still time for her to live up to expectations.
There should be, although Wie admits she feels old out on tour, especially because the LPGA keeps giving her pairings with Lexi Thompson, 18, and Lydia Ko, 16. When asked what she wants to accomplish over the next 10 years, Wie responds by saying she's done trying to map out the future.
"I realized you can't do that," she said. "That's like torturing yourself. Things happen. Obstacles pop up. I feel a lot happier and a lot more excited when I don't think about the future. Obviously, I have my goals. I'm just thinking about how I can get better every day. I'm focusing on right now."
As for do-overs, Wie says she doesn't second-guess playing against the men in four Sony Opens (2004-07) or two John Deere Classics (2005-06). But she wishes she hadn't played with a broken wrist and other injuries from 2007-2009.
"A lot of people ask me what regrets you have, what would you do differently?" she said. "I'm just grateful of all the life experiences. It was just me. I did it in public. I did mature a lot faster, but I was immature at the same time as well."
Does she feel like the 61st-best player in the world? "I don't even look at rankings," she said quickly. But does she believe she could become the No. 1 player in the world? "Oh yeah, for sure. ... But at the same time you don't jump from 61 to 1 in one day."
Wie is emphasizing "process" rather than numbers. She's focused on improving her driving accuracy and her putting, which has gotten better since she switched to her bent-over stance.
As for playing against the men again, Wie did not rule that out in an appearance on Golf Channel's "Morning Drive." She's been getting tougher exchanging trash talk in matches against Keegan Bradley, Camilo Villegas and Jamie Lovemark at The Bear's Club.
"Keegan has nothing on me," she said with a laugh.
The move to Florida's golf hotbed and the hiring of swing coach Sean Foley has not panned out for Lee Westwood -- at least not yet. The Englishman now based at Old Palm GC in Palm Beach Gardens came close to winning two of golf's biggest events in 2013, but just couldn't close like a former No. 1 with 37 career worldwide wins. Give Westwood victories in the BMW PGA Championship and the British Open -- both of which he led Sunday on the back nine -- and his 2014 season would begin with a different mindset. Instead he headed to the West Coast for appearances at the Farmers Insurance Open and the Waste Management Phoenix Open looking for his first victory since the Nordea Masters in June 2012. The biggest change in this year of transition is the return of longtime caddie Billy Foster. They reunited at the end of last year, with Westwood letting go of Mike Kerr, and Foster telling Branden Grace he would be making the switch.
Will Wilcox was the first Web.com Tour player to beat the system and make a big move before the reshuffle on Feb. 24. Ranked 49th in the final points race, after sitting out the Web.com Finals for what he described as "unfortunate personal things," the rookie turned a sponsor's exemption in the Sony Open into three straight weeks of competition on the PGA Tour. When Wilcox finished T-8 in the Sony, his top-10 did not apply at the Humana Challenge, since that event is, effectively, an invitational. But it did get him into the Farmers. The rookie played in the Humana on a sponsor's exemption, but he never recovered from his first-round 75 and missed the cut. After Saturday's 71 he texted, "I think I've got things figured out, I'm excited for Torrey."