News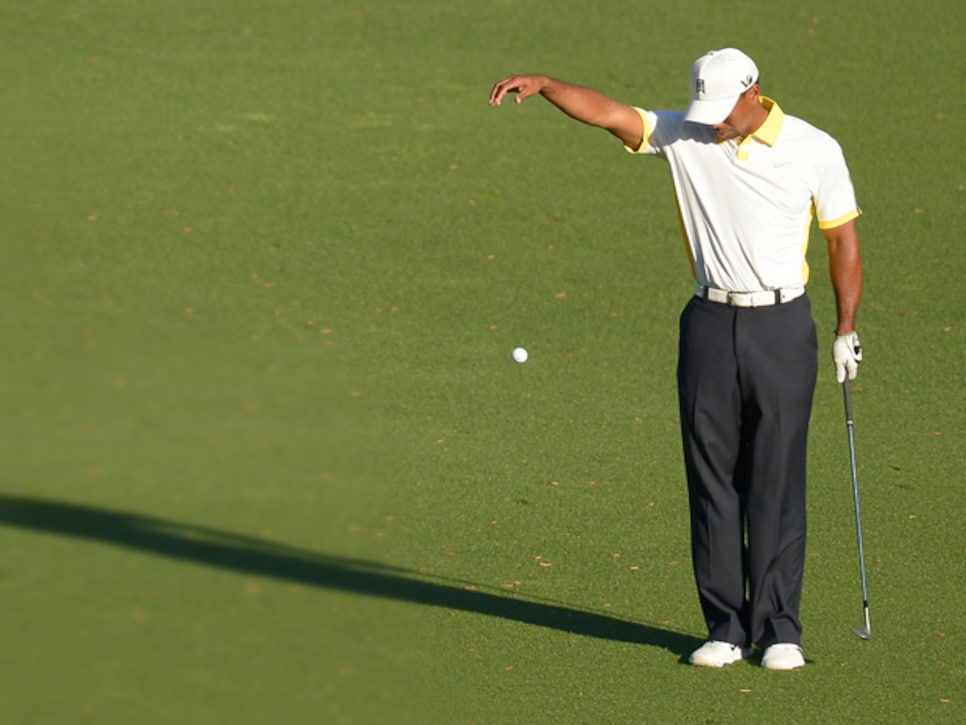 The drop heard round the world (eventually): Woods' improper relief after finding the pond fronting No. 15 Friday set off a controversial chain of events.
When a television viewer prompted a Masters competition committee to review Tiger Woods' now-infamous ball drop, the caller initiated what has become a standard modern-golf video review. The assessment in this case, unknown to Woods, allowed the four-time champion to go through a normal scorecard signing without a clue that anyone had questioned the drop. Committee chairman Fred Ridley's initial A-OK assessment, revisited when Woods admitted to taking a drop in a different location than the rules allowed, opened the door for the committee to later invoke an unusual disqualification reversal.
In other words, the caller unintentionally saved Augusta National and Woods from a disqualification unlike any other.
The Rules of Golf and their assorted interpretations arose again at a time of unprecedented rancor in the rules-making world. Set against the backdrop of the controversial proposed anchored-stroke ban, the provocative air surrounding the Woods ruling came a day after European Tour official John Paramor gave 14-year-old Tianlang Guan a deserved but unpopular one-stroke penalty for slow play. Those on-course incidents, mixed with behind-the-scenes politicking and another major won by a player using an anchored putter, exacerbate the already strained atmosphere in a behind-the-scenes power struggle over who shapes the game's future.
Masters week commenced when Augusta National chairman Billy Payne announced a bold and exciting competition borrowing liberally from the NFL's successful Punt, Pass & Kick youth program, in which qualifying children will get to test their skills on Augusta National's range and 18th green a day before next year's tournament week begins. For insiders, the sight of the club partnering with their bickering counterparts at the USGA and PGA of America seemed to ease some tension. At least until a reporter jokingly asked whether kids would be prevented from entering Drive, Chip & Putt if they used an anchored putter.
"[The anchoring issue] is pending before the USGA Executive Committee, and it would be inappropriate for me to comment one way or the other," USGA president Glen Nager stiffly replied from a podium where he sat with Payne and PGA of America president Ted Bishop.
"I think Glen and I were really kind of hoping that we could come here this week and maybe take a week off from the anchoring discussions," Bishop added, also without humor. The awkward reactions of both men suggested continuing tension over the PGA of America's high-profile disagreement with the proposed ban by the USGA/R&A, which might be announced as soon as April 23.
Actually, it was an early week confrontation that really had gossipers buzzing underneath Augusta National's big oak. After Bishop tried to initiate a friendly conversation with R&A chief executive Peter Dawson by contending his organization's position was "nothing personal," Dawson replied that it was "very personal" to the R&A and that the damage done by the PGA of America's opposition had made the fissure between the organizations "irreparable." Rather than respond, Bishop walked away.
The undercard: Before Woods' drop became the main event, slow play by teen amateur Guan drew several warnings and then a one-stroke penalty from veteran official Paramor (below). Photos: J.D. Cuban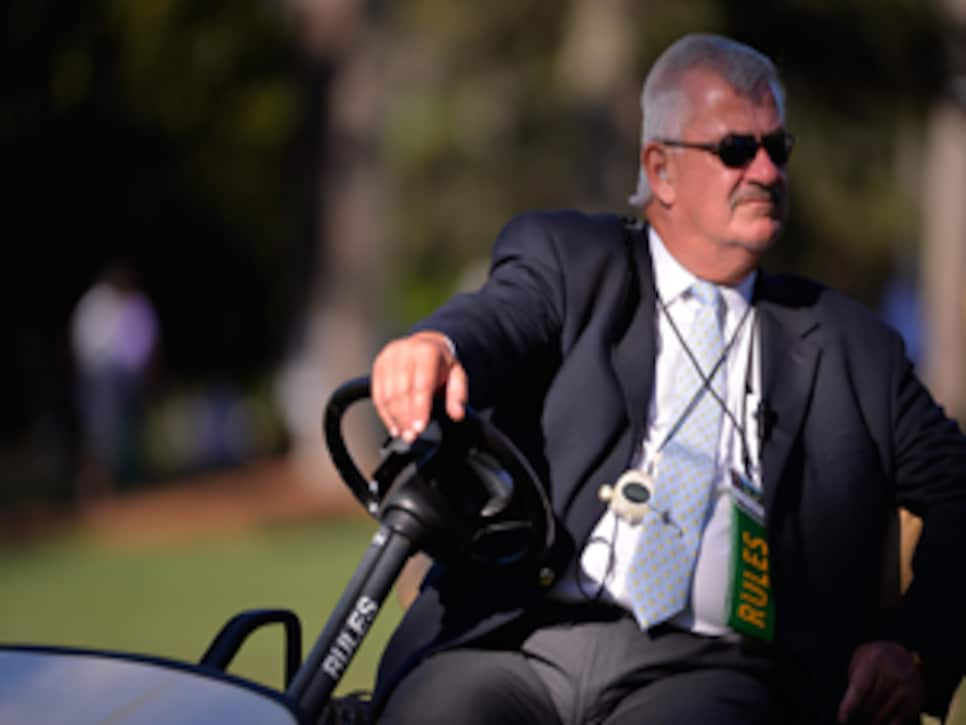 Wednesday brought Payne's annual press conference, and the always affable Masters chairman was ebullient discussing the club's addition of two female members, calling it "just awesome." Moments later he was asked about the proposed anchoring ban, a question anticipated for months after the club had declined to offer a public statement during the USGA and R&A's comment period.
"We are a golf club that puts on a tournament, so we wouldn't be presumptuous to say that we have that kind of influence," said Payne, no longer ebullient. Alternating his eyes between the assembled writers and his notes, Payne's carefully chosen words sounded intentionally vague.
"Given the fact that the ruling bodies have not yet declared a decision following that open comment period," he said, "I do think it would be inappropriate for us to express an opinion other than to say that we hope and believe that they can reach common ground so that golf will continue under one set of rules."
Payne's ambiguity was later clarified by rules officials familiar with the situation who were under the impression that Augusta National's refusal to issue a position was the result of last-minute politicking by USGA and R&A officials. Payne, a grow-the-game advocate, was reportedly swayed by the PGA of America's and the PGA Tour's case that anything that might cause even a few golfers to quit would be a mistake. Yet Payne's respect for the Rules of Golf and the club's highly successful Asia-Pacific Amateur partnership with the R&A also left him conflicted enough to wheel out the "common ground" pledge. It did little to pave the way for a peaceful solution to the anchoring conflict.
Even the feel-good story of Tianlang Guan was tainted by a rules controversy after the 14-year-old was penalized by European Tour official John Paramor during his second round. Although no one questioned the validity of the penalty because of Guan's excessive "times" and blatant refusal to speed up when asked on four separate occasions (see page 31), the specter of singling out the youngest player ever to compete in the tournament on a day he battled to make the cut caused a social-media eruption over the rules committee's sudden interest in policing pace of play.
Paramor was one of many visiting rules officials representing 14 worldwide golf organizations as part of Augusta National's eclectic competition committee. However, there are no walking officials inside the ropes at Augusta National, and though there are more than enough rules officials in town to cover the field, the club has long resisted cluttering up the aesthetic to a tournament presentation that only allows players, caddies and television inside the ropes. That minimalistic approach has long led to prominent rules officials privately predicting a rules mishap. On Friday of the 2013 Masters, when Woods did not have a walking official to consult, the predictions came true.
The Masters is the last major holdout not sending out walking officials. The R&A's Open Championship added them in 1990, the USGA's U.S. Open in 1991, and since 1996, officials walk with the last five groups on the weekend of the PGA of America's PGA Championship. Though the PGA's David Price is the most infamous example of an official not able to prevent Dustin Johnson from grounding his club in a hazard at Whistling Straits in 2010, Price was available to Johnson should the player have wanted advice.
There is no telling whether Woods would have consulted a walking official after the shock of his third shot on the 15th hole hitting the flagstick and bounding back into the pond. But faced with three drop choices, a walking official could have taken him through the options and reminded him to drop "as nearly as possible" to the spot from which the ball was last played. (A drop ending in his original divot would mean the ball was closer to the hole and would require a re-drop.)
"You know, I wasn't even really thinking," Woods said after Saturday's third round, the first time he answered questions about an 8 a.m. meeting that day with Augusta's Ridley. "I was still a little ticked at what happened, and I was just trying to figure, OK, I need to take some yardage off this shot, and that's all I was thinking about, trying to make sure I took some yardage off of it, and evidently, it was pretty obvious, I didn't drop in the right spot."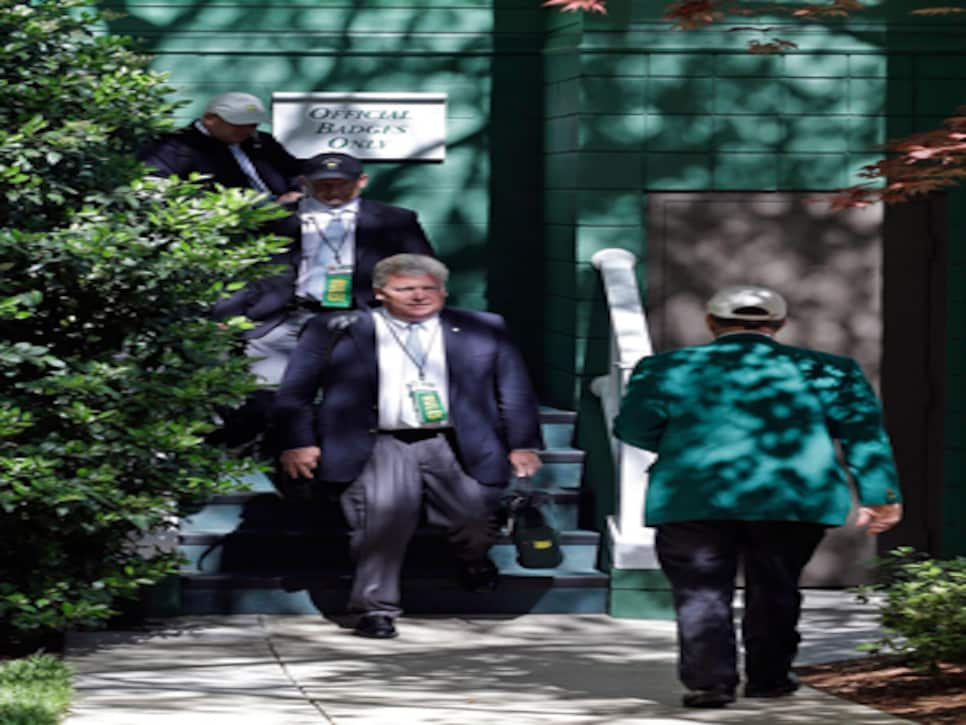 morning meeting with Woods where he learned his fate.
Photo: AP Photo/Darron Cummings
While Woods was on 17, a television viewer called someone on the Masters committee to suggest that Woods had taken an improper drop. That was passed along to Ridley, who reported viewing the replay while Woods was "somewhere on the 18th hole." With primary committee members Jim Reinhart of Augusta National and the PGA Tour's Mark Russell, Ridley decided that Woods had "proceeded appropriately and therefore would not be assessed a penalty." Ridley said the review was pushed along to ensure that Woods did not sign his card, but prominent rules officials at the Masters and via the Internet have expressed shock at Ridley opting not to consult with Woods before issuing a conclusion to the case and allowing the scorecard to be signed.
"Rules 101," says former USGA executive director David Fay of the option to consult with the player and video before the card was signed.
Other officials who were not willing to speak on the record for fear of upsetting the club, cited examples where players have been saved in recent years by a more cautious approach to television rulings, which in their eyes made Ridley's decision to let Woods sign his card an inexcusable offense.
Instead, Woods signed, then revealed to the media his effort to move "two yards" behind his original divot. At about 10 p.m. Friday, CBS' Jim Nantz notified the club that the network would raise the issue of Woods' drop during its 11:35 p.m. highlight show. Ridley returned to the club and viewed the replay. The next morning he met with Woods to let him know of the two-stroke penalty for an incorrect drop. In a creative bit of rules wrangling, the Tampa-based attorney and former USGA president decided to set precedent by invoking Rule 33-7, which allows for a waiver of disqualification for "exceptional individual cases."
"Evidently this is the Harrington rule, I guess," Woods said after his Saturday round. Actually, that was Decision 33-7/4.5, a two-year-old decision for select HD video-fueled instances where the player is unaware of a violation. That Woods still thought he was freed from disqualification by that decision proved surprising. Rules officials around the country immediately suggested Ridley was setting a dangerous precedent and casting a negative light on the rules to make up for the initial mistaken assessment.
"It takes a long time for the doubters amongst those that take an interest in golf and its rules to forget this seemingly biased ruling," wrote Dublin-based rules expert Barry Rhodes.
Asked if a walking official might have helped prevent the controversy, Ridley sounded like he was already considering the move for next year.
"We'll be looking at this situation, what could we do in the future, is there any different processes we could employ," he said.
Woods ended up missing the Scott-Cabrera playoff by four shots, meaning the penalty ultimately did not change the outcome. But in the context of the governing world, already on the defensive, the perception, according to Rhodes, is a problem.
"The most disappointing feature of this incident is that it could turn some people off the game because of the perceived complexity of the rules and the way in which they are administered," he wrote.
It's not what an already fractured sport needs.