News
My Town: Mark Gottfried's Gulf Shores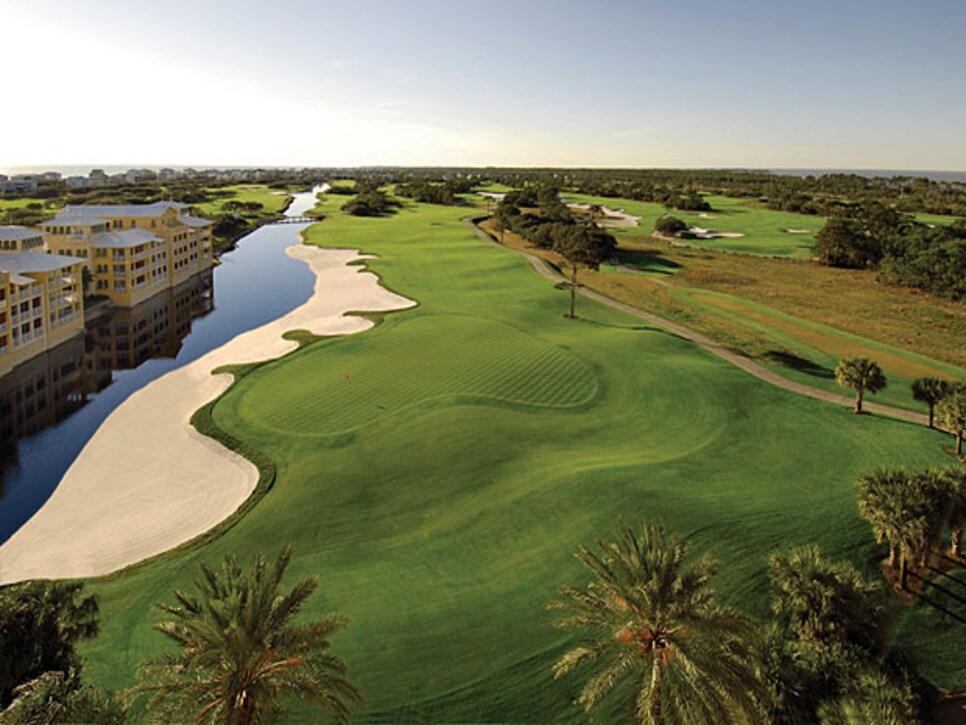 The 18th green at Kiva Dunes.
Mark Gottfried, fresh off his first season as N.C. State men's basketball coach, is ready to play golf after leading the Wolfpack to the Sweet 16 in the NCAA Tournament. "Since being hired April 5, 2011, I've maybe played 10 rounds, tops," Gottfried says. "I plan on playing at Pinehurst
and some other North Carolina courses this spring."
The 48-year-old will also tee it up in Gulf Shores, Ala., where since 2001 his family has owned a home in adjacent Orange Beach. The Gottfrieds summered there when he coached the Alabama hoopsters and, following Mark's 10-year tenure with the Crimson Tide, lived there year-round when he was an ESPN analyst from 2009-11.
to benefit Gulf Shores and Orange Beach. "We love the area," he says. "It's a great community that's taken a lot of hits, like the oil spill and hurricanes, so it's great to give back."
. Peninsula is a beautiful 27-hole facility where you need to hit it straight; there are more than 30 lakes as well as some huge bunkers and waste areas. I love that the three nines each provide totally different playing experiences. That, plus the customer service and facilities, make it a terrific place to hold a tournament.
has earned many honors over the years from golf publications for a reason. It has a great blend of relatively open holes and many holes requiring accuracy because of trouble, particularly water. The course is near the waterfront, so the wind can blow. When it does, the closing stretch can be really tough.
went through a complete renovation in late 2005, and it turned this layout, which was once private, into a fantastic, totally different experience.
Gulf Shores and Orange Beach are filled with great restaurants and bars that fit every taste and budget. I really like Cobalt, a new restaurant in Orange Beach, where every seat overlooks Perdido Bay and Perdido Pass. The menu includes unbelievable seafood, including grilled jumbo Gulf shrimp, yellowfin tuna, blackened red-fish and a daily fresh catch. Boats can even dock there if you want to arrive by water.
Orange Beach also has a great sports bar called O'Choppers Almost Irish Pub. I think it's the country's best sports bar. The atmosphere is super. They have delicious wings, TVs, pool and darts. You'll have a lot of fun.
There aren't a lot of hotels in the Gulf Shores area, so many golfers purchase packages that include condominium accommodations located on the beach or a course. There's one condo rental complex in particular, Turquoise Place Resort in Orange Beach, which is located on the beach. I would definitely stay there if visiting for a weekend. ... For those preferring a hotel, there is a new Hampton Inn & Suites in Orange Beach, also on the water, that's a good choice.
There are tons of activities on the Alabama coast. The area's white-sand beaches are incredible. If you're with your family, I suggest Waterville USA, a fun water park in Gulf Shores with arcades, go-carts, mini golf and the like. Also popular is taking a Gulf of Mexico fishing charter out of Orange Beach.
Another consideration is going to the "Pass," where Perdido Pass connects the waters of Perdido Bay and the Gulf. People hang out on the beaches, watch the seagulls and look over the water. The views are magnificent, better than anywhere else.