News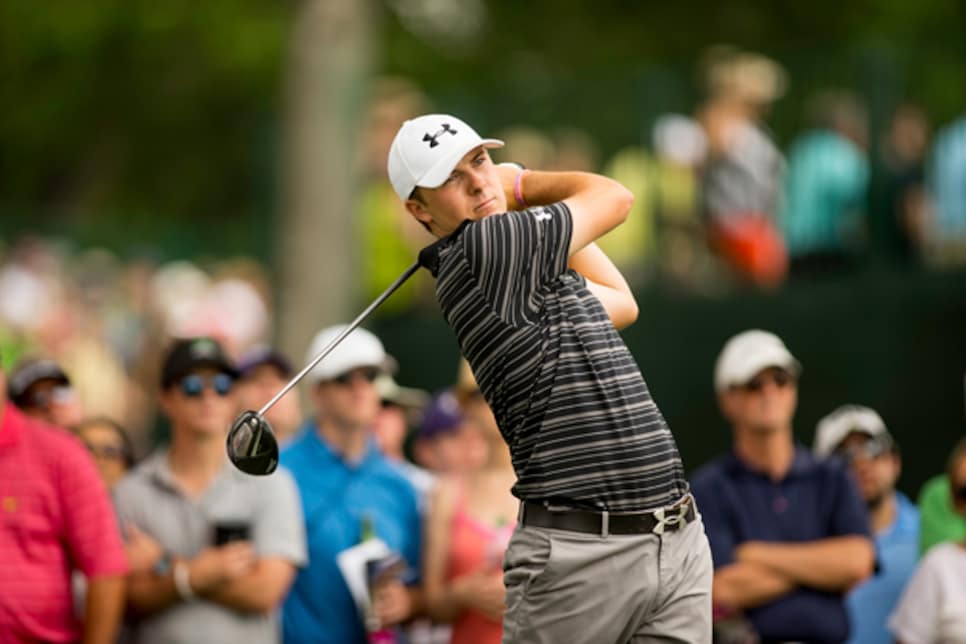 Money is no longer an issue for Jordan Spieth. Still, the PGA Tour rookie left Colonial CC Sunday night in a five-year-old SUV with nearly 100,000 miles on the odometer and drove back to his apartment overlooking downtown Dallas to celebrate his latest embarrassment of riches. A new ride will come in due time. As one of pro golf's more valuable young commodities, the 19-year-old is waiting on a potential car endorsement deal before writing a personal check.
The Crowne Plaza Invitational is the latest reward for the big gamble Spieth took when he turned pro last December and ventured into the world of tour golf without any status anywhere. With a T-7 at Colonial, his fourth PGA Tour top-10 in 2013, Spieth nudged past the $900,000 mark in earnings. Frankly, he is now focused on winning and getting into the top 50 of the World Ranking more than he is on the money list.
"I would just say, honestly, I have a ton of inner confidence," Spieth said as he drove across the Metroplex on I-30. "Turning pro when I did, when I did not have a card, there were a lot of voices saying, 'wrong decision.' But I did it for a reason. I had a plan leading up to it. I knew I'd get enough starts, enough opportunities. That kept me calm earlier this year."
What also kept Spieth calm was an endorsement deal he signed with Under Armour that bankrolled his travels -- a not-so-small detail given that an arduous early schedule had him playing nearly every week. He opened the year with a nondescript start on the West Coast, built some momentum with back-to-back top-10s on the Web.com Tour in Panama and Colombia, then got things truly rolling in early March with a T-2 at the PGA Tour's Puerto Rico Open.
Seven days later at the Tampa Bay Championship, Spieth locked down special temporary membership on the PGA Tour with a T-7 at Innisbrook. He celebrated that night at Roy's in Tampa with his caddie, agent and father, knowing the limit on his sponsor's exemptions was off. Step one of his plan had paid off.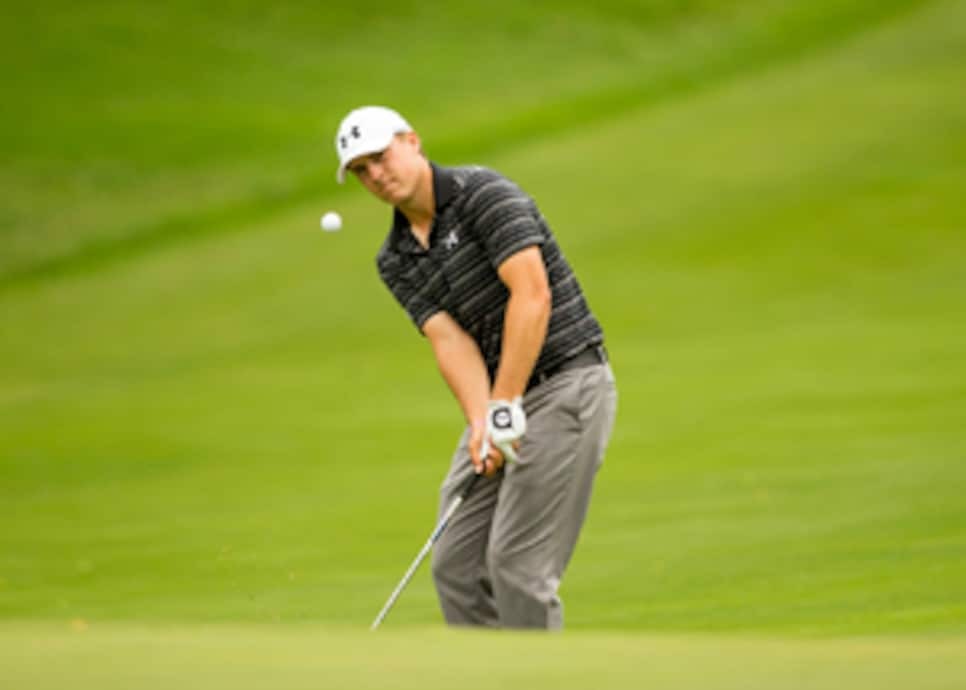 Step two was locking down full exempt status for next season, which he essentially did three tournaments later after a T-9 at the RBC Heritage. What was so impressive about Spieth's run is that he had never seen any of the courses where he recorded the top 10s. "There was a lot of luck involved, and I also found the right golf courses at the right time," he said. "Tampa, Hilton Head, here at Colonial are narrow, tight, ball-striker courses. I happened to go in with enough confidence."
Spieth's ball-striking stats explain his success. After his latest top-10 at Colonial -- which helped him get into this week's Memorial -- the teenager sat 10th in total driving and ninth in the all-around ranking. Sectional qualifying for the U.S. Open comes June 3 in Dallas, which could mean 288 holes of competitive golf over a three-week period, including last week's British Open qualifier in Big D, in which a T-22 finish failed to earn him a spot in the field at Muirfield.
If Spieth were eligible for FedEx Cup points, he would be ranked in the top 60. His World Ranking is 141st, up from No. 809 at the start of 2013. "My expectations have changed," he said. "Down the stretch [at tournaments] I'm not worried about seventh-place finishes, like I was in Tampa. I can be more aggressive, which may have hurt me this week, but that's part of learning how to win."
At Colonial, Spieth finished 10 under par, four strokes behind winner Boo Weekley. The youngster bemoaned a one-stroke penalty assessed when a ball moved from a spike mark on the sixth green Friday and three strokes wasted being overly aggressive after tying for the lead early in Saturday's round.
"I look back on this week and easily there were four shots out there that I could have saved," he said. "But the way I can play now kind of frees me up."
Playing free is a trait Spieth first showed on a big stage as a 16-year-old in the HP Byron Nelson Championship in 2010 when he talked about winning, and contended into Sunday, his 16th-place stealing thunder from the 22-year-old winner, Jason Day. He was paired in the final round with Ryder Cup captain Corey Pavin, who sounded like he could have used more of the kid's attitude at Celtic Manor four months later. "He didn't seem afraid of anything," Pavin said that day. "To play that free out there at that age was impressive."
Spieth is impressive not only for his golf, but his maturity in dealing with fame and the pressures of being a teenaged tour pro. University of Texas men's coach John Fields knew this when Spieth committed to play for the Longhorns after winning two U.S. Junior titles. Leading Texas to the 2012 NCAA title as a freshman and taking the medal for low amateur in last summer's U.S. Open at Olympic Club were two more indications Spieth wouldn't be in Austin for long.
Still, as Jordan's father, Shawn, said Monday morning, there was some risk involved when Spieth turned pro despite failing to advance through the second stage of PGA Tour Qualifying School as an amateur. Six months later, with his grandparents and sister in attendance at Colonial, and crowds bathing him in local support, Spieth acted like he owned it. He threw out the first pitch at a Texas Rangers game the previous Tuesday and hosted every- body at his apartment for pizza and the Miami Heat-Indiana Pacers game on TV after the final round.
"It's a little different to go to his place as opposed to everybody over [at our home]," admitted Shawn. "He kids around that we were parents of a college dropout. Now we're proud parents of a college dropout."
As a redshirt freshman at Texas, Beau Hossler stays back and practices when the team travels to tournaments. A competitive gauge of all that work he's put in will come when the 18-year-old competes in his U.S. Open sectional qualifier in Newport Beach, Calif., June 3. Hossler is trying to advance through the 36-hole qualifier for a third straight year. He captured the attention of many last summer at Olympic Club when he briefly held the lead during the second round. Although he was eventually overtaken by Jordan Spieth for low amateur honors, Hossler's T-29 finish got him a much appreciated exemption through this year's 18-hole local qualifying. "To be honest, local is almost as difficult to go through as sectionals," he said. "So many guys can shoot three, four, five under and are not able to back it up. The sectionals eliminate guys that can't back it up." Since the passing of instructor Jim Flick last November, Hossler has worked with Adam Porzak, an assistant captain for Hossler when he played on the Junior Ryder Cup team. Porzak works half the year in the San Diego area, not far from Hossler's Rancho Santa Margarita, Calif., home.
Nobody will ever truly replace Jackie Burke as patriarch at Champions GC, but Charlie Epps has been hired to help lead the Houston club. As its new director of golf, Epps will still be able to work with Angel Cabrera, who has a U.S. base in Houston. Epps, 68, leaves Redstone GC and spent 15 years as head pro at Houston CC, becoming a golfing fixture in the city. "Jackie told me he was running out of road," Epps said. "But he's active on a day-to-day basis. I just saw him give a chipping lesson. He's here. It's his life. It's been his life since he was 34 years old. He's lived it every day."