News
My Town: Jonathan Byrd's Sea Island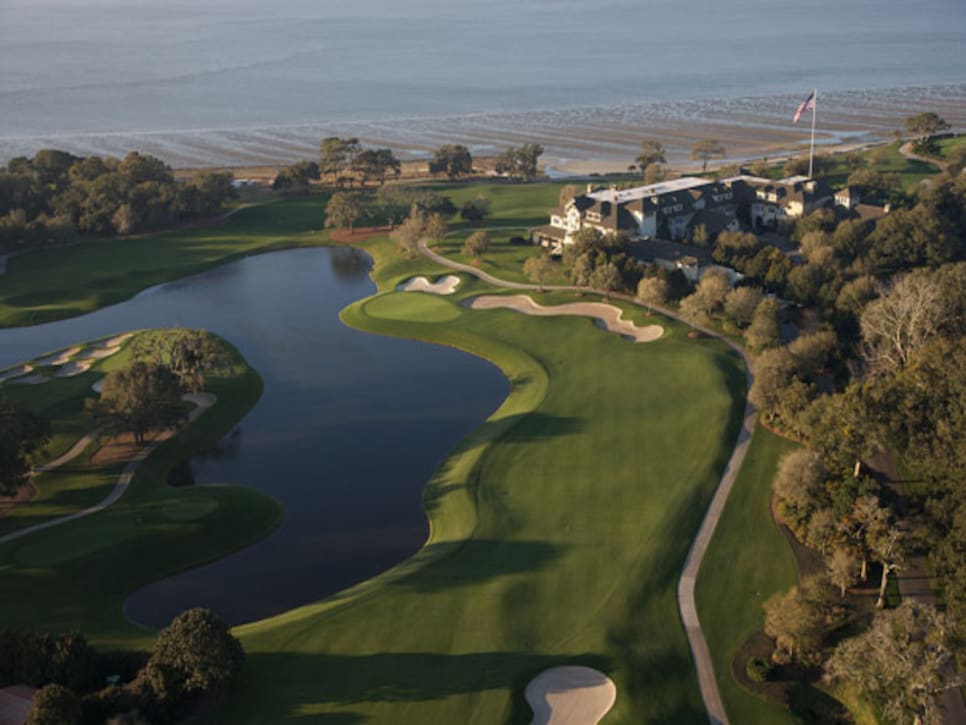 The Seaside Course at the Sea Island Resort
Jonathan Byrd moved to Sea Island, Ga., in 2002, a compromise location of sorts between him and his new wife, Amanda. "We bought a condo right after we got back from our honeymoon," Byrd, 33, recalls. "She's from Fort Lauderdale, I'm from Columbia, S.C., so Sea Island was a place where we could live in between our families. I went to Davis [Love III] and asked him about Sea Island. I had been there a couple of times in college. He gave me a few recommendations and showed me around, and we kind of fell in love with it."
Sea Island is part of a group of barrier islands along Georgia's southeast coast known as the Golden Isles, which includes Jekyll Island, St. Simons Island and Little St. Simons. Byrd is among a growing contingent of PGA Tour players who have moved into the affluent community located within 80 miles from either the Jacksonville or Savannah airports--and 165 miles southeast of Augusta.
In actuality, Byrd's mailing address is in neighboring St. Simons Island, but together they make up part of the same picturesque golf destination.
, on the north end of St. Simons. It's always in perfect condition--tour condition with consistent fast greens. You can work on every part of your game. It's open and gets kind of windy, but it's forgiving. You can't lose a lot of balls, which makes it enjoyable, and a good player can make a fair amount of birdies.
After that, any of the Sea Island Resort courses are going to be good. You have all kinds of variety there with the three: Plantation
and Retreat. All have held tournaments of one sort, and they can appeal to any kind of player. The Seaside Course (pictured above) is the second oldest of the three and hosts the McGladrey Classic, one of the fall events on tour. It's not real long (7,055 yards, par 70), but it is tight and requires a lot of accuracy, a really good design by H.S. Colt and Charles Alison.
It depends what kind of mood you're in. If you're looking for a low-key kind of place, Southern Soul Barbeque is my favorite. It has a cool atmosphere, great vibe and great food. The building is modeled like an old gas station. It was featured on "Diners, Drive-Ins and Dives" on the Food Network.
For seafood, I like to go to Crabdaddy's. And if you want to go the upscale route, a white tablecloth kind of place, I'd suggest Halyards or Delaney's Bistro and Bar. You're going to get a real nice meal in either restaurant, anything from steak to seafood.
One more place I like is Tramici. It's a family Italian place, and my wife and kids and I go there a lot.
The top two spots--other than my house of course--would be the Lodge at Sea Island Resort or the Cloister. We're talking about five-star, five-diamond lodging. The Cloister has a Mediterranean-style look to it. It's a very elegant place.
If you're looking for a more affordable route, then go to the King and Prince Beach and Golf Resort, which is a nice place near East Beach not far from the village. It's a great place with lots of amenities.
If you're coming with your family, there's no better atmosphere than the Cloister Beach Club at Sea Island. You have the beach, obviously, but also a pool, playground and plenty of places to eat. If you want a more educational choice, there's Fort Frederica, where you can get some history of the island and the area. The ruins of the fort are there, dating back to the 1700s.
If you're traveling with your wife and she's not a golfer, there are some nice shopping opportunities. There are great stores in the village, and there's a place called Redfern Village, which has a lot of boutique shops and gift shops that draw plenty of people.