News
Increased Driving Distance Stats Call For Perspective, Not Panic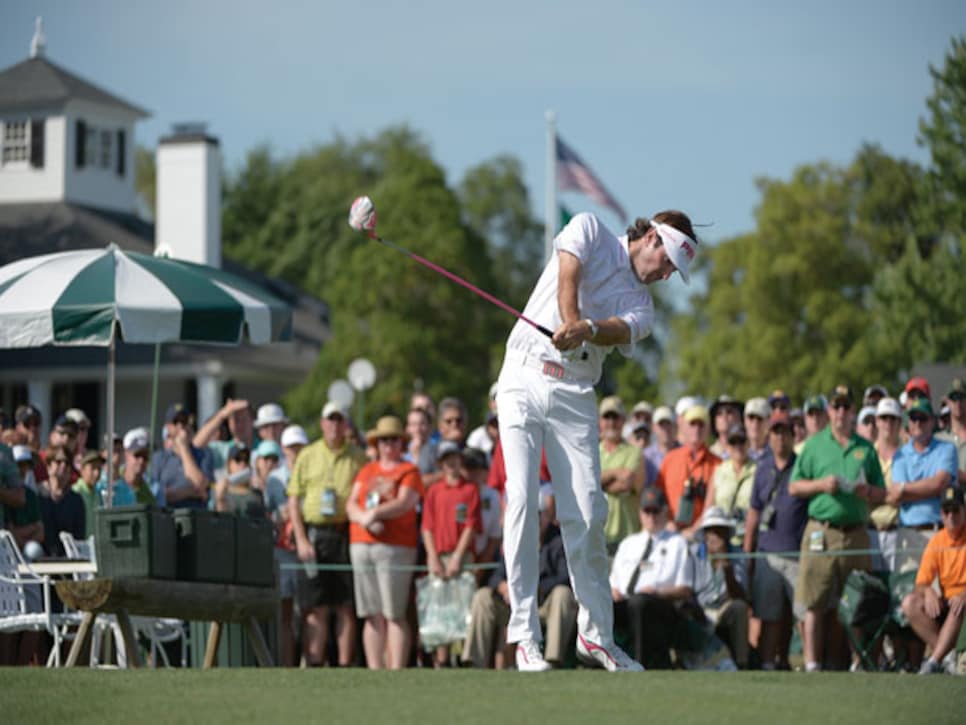 Mixed Signals: For every winning bomber like Bubba Watson (above), there are examples like Luke Donald.
In a world of 24-hour news cycles and tweeted, 140-character journalism, it is easy to fall victim to overstatement and sprints to judgment. Case in point: recent driving distance data on the PGA Tour, which has triggered degrees of concern that include claims of impending crisis. It's a situation that needs perspective on the current numbers.
The year-to-date driving distance average on the PGA Tour is 287.0. That number is 0.3 yards behind last year's pace at this time. This is meaningful because of the way it contrasts with last year's average of 290.9 yards, the first time that number climbed above the 290-yard barrier, which also represented a 3.6-yard increase over 2010.
It was the largest such increase since the early 2000s, when the pro game was transitioning to multi-layered balls and 400cc-plus drivers. Especially coming after the period from 2005 to 2010, when the number actually decreased from 288.4 to 287.3 yards, the most recent gain drew the attention of those who believe relentlessly increasing distance at the pro level will make the game montonous -- similar to when tennis was dominated by the quick points of the serve-and-volley style -- and that the players with the greatest skill won't be adequately rewarded.
It's clear golf's ruling bodies have been concerned about the ball for some time. The USGA and the R&A announced they have been studying golf balls of reduced distance for at least the last seven years, although none of that preliminary research has been published. USGA senior technical director Dick Rugge explained in August 2010 why no data has been made public: "We understand there will always be a measure of interest in research projects undertaken by the USGA," said Rugge. "We also understand that untimely and inaccurate publication of our research data can lead to conclusions and expectations that are both wrong and potentially confusing to many of the USGA's constituents, including golfers and the golf industry. Weighing the importance of getting good data vs. satisfying some people's curiosity is a slam dunk."
There are, however, some numbers that are available and worth pondering.
First, and this might be most important, the average year-over-year increase in driving distance average on the PGA Tour since the statistic first was compiled in 1980 is 1.11 yards. Unless something particularly unusual takes place in the middle of the summer, the year-end PGA Tour driving distance average in 2012 likely will be within that same level of increase. This is a statistic that can be looked at two ways. For those who don't object to gradual distance increases, a yard a year seems unremarkable. For those who do object, a nearly 35-yard increase in the average over the last 32 years is remarkable enough to demand action, certainly before another 10 years go by and the increase jumps to 45 yards.
Second, in the three decades of PGA Tour statistics, driving distance averages have fluctuated. Mostly they have increased, but they have also decreased year-over-year eight times.
Third, PGA Tour driving distance has increased by more than three yards in a single year only four times since 1980. Three of those came between 2000 and 2003, resulting in an eye-catching 13.2-yard gain. It's worth remembering that in the middle of this run the USGA and R&A released a Joint Statement of Principles that included the warning "any further significant increases in hitting distances at the highest level are undesirable."
The fact is, driving the ball farther than most of the competition is not a guarantor of success. The top 30 in the current FedEx Cup standings have a combined driving distance average that is 2.0 yards greater than the current full-tour driving distance average. However, more players ranked outside the top 100 in driving distance have won tournaments than those ranked in the top 50.
In other words, in the great debate over distance, for every bomber like Bubba Watson and Rory McIlroy there are singles hitters like Zach Johnson and Luke Donald, and a whole lot of tweeners like Jason Dufner and Hunter Mahan. There are other inconsistencies to consider as well. Driving distance on the LPGA Tour is about seven yards more than it was a year ago, but that's only after a relatively small sample of events. Meanwhile, driving distance year-over-year on the Champions Tour is about seven yards behind last year's pace.
So the question remains: Is there something significant taking place?
It might still be too early for answers, but to me, the most important piece of data is this: I recently played nine holes, shot 42, didn't drive a single green or reach a par 5 in two. Neither did the other three people I played with. On a lovely, 6,119-yard course where the longest hole is 532 yards, downhill, none of us felt compelled to take a run at the course record—which was set more than 20 years ago and still stands at six-under 66.
I hope there are no decisions that make my home course play any longer or harder. I know I'm not alone in that wish, whether the bombers on the PGA Tour are eventually curtailed, or not.
Price: $120 (11 loft/bounce options from 48 to 62 degrees)
Tiger Woods used a 60-degree version of this wedge for his pitch-in on the 16th hole during the final round of the Memorial. The club features a greater number of grooves placed closer together to enhance spin.
Coming into the Memorial ranked 102nd in three-putt avoidance (averaging more than two three-putts per 72 holes), Tiger Woods made a slight alteration to his Nike Method 001 putter. Feeling the face was slightly open, Woods had Nike techs bend the putter slightly closed prior to the start of play at Muirfield Village GC. Woods only had one three-jack during his win. ... Other players making putter changes at Memorial and doing well were: Matt Every, who finished sixth using an Odyssey ProType Tour Series #7, and Vijay Singh, who after a one-week experiment with a Yes! Sally putter, returned to his Never Compromise X-Ray mallet at Muirfield Village and finished T-16. Every ranked 31st and Singh 25th in strokes gained/putting for the week. ... Thongchai Jaidee won the ISPS Handa Wales Open using a new set of Callaway RAZR X MB irons. Jaidee hit 73.6 percent of his greens in regulation, seventh best in the field.