News
Options Are On Players' Minds Heading Into Olympic, Lytham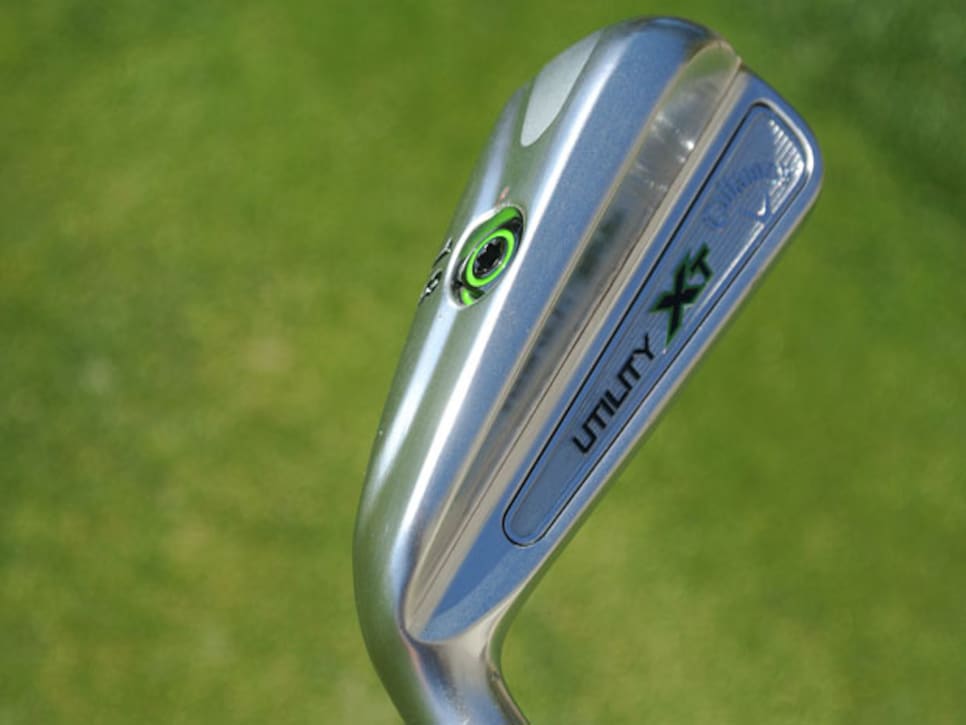 Inspired by earlier work with Mickelson on hybrids, Callaway's new design should be more stable on mis-hits.
Callaway had a new club available for its tour staff during the PGA Tour's Texas Swing -- a prototype utility iron available in three lofts (18, 21 and 24 degrees) that no fewer than eight players, including Ernie Els, J.J. Henry and Phil Mickelson, put in play. Although the clubs debuted in Texas, they were used with an eye on California, specifically the upcoming U.S. Open at Olympic Club.
"Everyone seems to struggle with a 2-iron, but also with the 3- and 4-irons as well," said Roger Cleveland, Callaway's chief designer who created the club. "At Olympic Club there will be a number of doglegs where players want to hit it in the 260-270 range, and no farther than that. Players can sling their driver around corners, but the rough will be extremely penal. So if they hit it 320, it better be curving the right way. This utility iron should really help them in those situations where they want to hit it that desired distance." Cleveland also added that he anticipates the utility iron to be a valuable asset during the normally windy conditions at the British Open at Royal Lytham & St. Annes because the clubs make flighting the ball easier.
Gearing equipment for courses used at major championships is nearly as old as the game itself. During a practice round prior to the 1902 British Open at Hoylake, Sandy Herd played with amateur John Ball. Herd noticed that Ball was not only using a Haskell rubber-center ball instead of a guttie, but was consistently outdriving him. Herd, reluctantly, went into the pro shop at the end of the round, bought some of the newfangled spheres and went on to win that year's Open by a stroke over Harry Vardon and James Braid.
There's also the well-known tale of Gene Sarazen's invention of the modern sand wedge. While being taught by Howard Hughes how to fly a plane, Sarazen took note of how a plane's tail adjusted downward during takeoff, spawning an idea. Sarazen reached out to his equipment company, Wilson, and had them send him half-a-dozen niblicks (the equivalent of a 9-iron). Using solder, Sarazen experimented with different amounts on the sole of the clubs until he found one he believed would easily extricate the ball from sand. Sarazen took the club to the 1932 British Open, being careful to keep the club under wraps for fear it would be deemed illegal before play began. Sarazen used the club with the added mass during his win at Prince's.
More recently, many players shuttle hybrids and long irons in and out of the bag and/or use different grinds on wedges at majors. But the poster child for utilizing clubs designed specifically for a major championship setup is Mickelson.
Lefty's major tournament tweaking first came into view at the 2006 Masters where he employed a dual-driver strategy hoping to work the ball both ways without altering his swing. That move paid off as Mickelson won his second Masters. A couple months later he added a 64-degree wedge for the U.S. Open at Winged Foot GC and used the club expertly during his runner-up finish. Less successful was his use of a specially designed strong-lofted 3-wood (essentially a 2-wood) during the 2008 U.S. Open at Torrey Pines. Undeterred, Mickelson was back at it at the 2009 U.S. Open at Bethpage, sporting a prototype Callaway hybrid he helped design (his name is on the patent) with relief (less material) on the heel and toe areas to allow the club to get through the rough more easily.
Cleveland said what Mickelson wanted with that hybrid helped inspire him to create the new utility iron. "These irons won't play quite as well as a hybrid out of the rough, but they will be better than a [normal] iron and more stable than a hybrid on mis-hits," Cleveland said.
Made with a hollow forged construction and a high-strength steel face that produces high ball speeds, the utility irons feature removable weights (from 2 to 8 grams in 2-gram increments) on the sole that allow players to make swingweight adjustments for their specific shaft and grip variations. The clubs boast a shallow face height with a deep center of gravity for a higher launch angle than traditional irons.
"I didn't expect the guys on tour to gravitate much to the 24-degree version," said Cleveland. "I thought that loft would address the needs of the LPGA and Champions tour players, but the guys on the PGA Tour were also replacing their 4-irons with it at the Byron Nelson. Ernie Els played with all three of them and asked me, 'Where is the rest of the set?' "
History says more players will ask for them to be built for Olympic.
True Linkswear Stealth __
A limited number (400) of Stealth shoes (in two colors) are being made available with 50 percent of the proceeds benefiting charities (One Divot and Evans Scholars) associated with the Hundred Hole Hike. Another model, the phx (500 pair) also is being offered.
So, would you take a 900-mile trip just to grab a different putter? If you're Colin Montgomerie the answer is yes. After a final-round 81 at the BMW PGA Championship at Wentworth, the former Ryder Cup captain drove to Scotland to fetch his old Odyssey White Hot #4 blade-style belly putter (he used a mallet-style Odyssey #7 at Wentworth). "I left Wentworth at 2 p.m., was home at 8 p.m., had tea with the family, left at 11 p.m. and got here just after 6 a.m.," said Monty. "Here" was Walton Heath for U.S. Open qualifying on May 28 -- and Monty's 68-72 came up short of earning a berth at Olympic Club. ... Averaging 31.32 putts per round on the European Tour (1.7 putts more than in 2011), Alvaro Quiros switched to an Odyssey Metal-X D.A.R.T. putter for the BMW PGA. The increased head weight and shorter length (34.5 inches) helped: Quiros finished T-10. ... Despite a second-round 66 at the Senior PGA Championship, Hale Irwin sent his TaylorMade Rossa Modena 8 Kia Ma putter to the bench, opting for another Modena. "I went with a different putter, one that's a little heavier," Irwin said Saturday. "But I think I'll go back to the old one and take the lead tape I put on it off and make it lighter and see what happens." Irwin returned to his original Modena Sunday and shot 68 en route to finishing third.