News
Stadium Course Yields Lighter Driver Traffic During Tour Event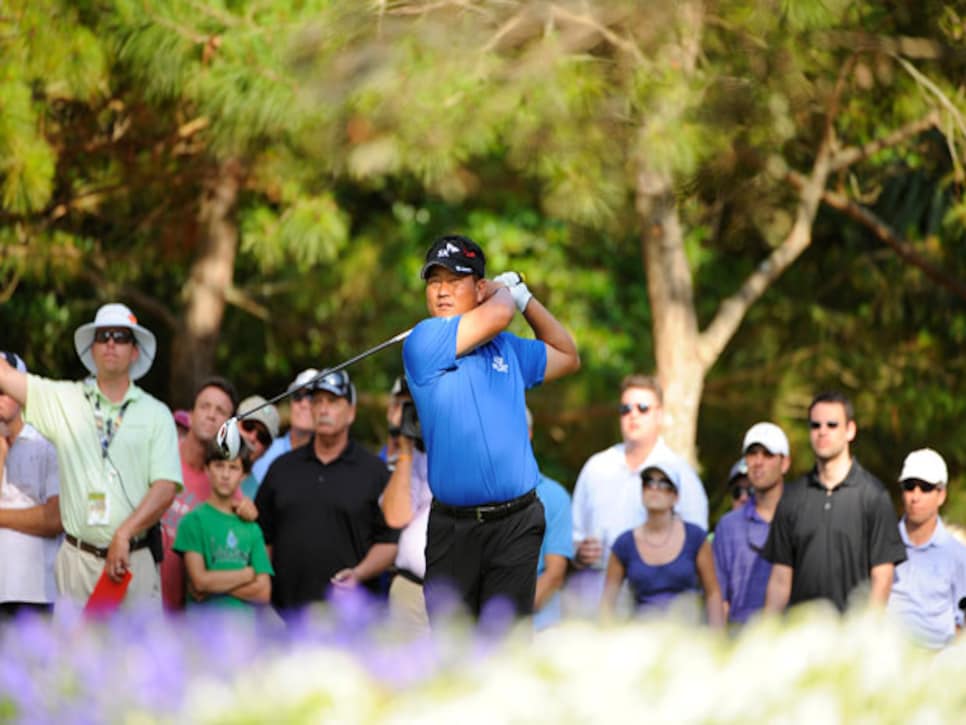 Power Outage: Choi won the 2011 Players hitting 18 drives less than 260 yards and just three more than 300 yards
In 2002 Pete Dye told Golf Digest, "I wish Tiger Woods could be forced to hit his driver 14 times a round. The distance he gets with his 2-iron is impressive, but the risk of a bad shot is cut in half. There's so little suspense to it." Given that statement it's interesting that Dye's most well-known design--TPC Sawgrass' Stadium course--saw many players avoiding the big stick off the tee at the Players.
"I think that great courses give driver as an option a number of times," said Phil Mickelson. "I don't think truly great courses take driver out of your hands every single hole. There's greatness in decision making off the tee-- having options to hit driver but with penalty, having options to hit less than driver, irons or hybrids, fairway woods with slight penalties, as well. … Here at the Players, there's probably about half the holes you're going to want to hit driver."
The stats support Mickelson's statement. Although driver isn't totally taken out of the hands of those playing TPC Sawgrass, its importance has lessened. Since 2006 when such numbers became available, the field has averaged 284.6 yards off the tee at the Players compared to the tour average of 288.2. Further, before this year's champion, Matt Kuchar, you have to go back to Mickelson in 2007 to find a winner who has hit more 300-yard drives during the week than tee shots of less than 260 yards (Lefty had 15 and 11, respectively).
In the last five years including this year's Players, Sergio Garcia, Henrik Stenson, Tim Clark, K.J. Choi and Kuchar have won the tournament striking a combined 31 tee shots more than 300 yards (or roughly what Bubba Watson does on a bad week) while hitting 52 tee shots less than 260 yards. In other words, keeping the ball in play is Job One at TPC Sawgrass, evidenced by the fact that four of the last nine Players winners have led the field in greens in regulation (Kuchar was T-3) and three of the last eight have led in driving accuracy.
It's not just the bombers dialing it back, either. Even relatively short hitters such as Luke Donald hit fewer drivers than normal. Although Donald noted during his pre-tournament press conference that, "I'm still going to hit eight, nine drives out there, so a decent amount," the math shows that means he's hitting something other than driver five or six times a round.
Part of the reason players are able to use less club off the tee to keep the ball in play while still obtaining enough distance to tackle the 7,215-yard TPC Sawgrass layout is a change in philosophy regarding the 3-wood, both in terms of design and use. Driver technologies such as springy faces, higher moment of inertia (which produces better results on mis-hits) and longer shafts have trickled down to fairway woods, making them easier to gain distance with off the tee. Additionally, many on the PGA Tour now view the 3-wood solely as a "second driver" as opposed to a true fairway wood, thus having them opt for less loft. At the Players nearly half the 3-woods in play (74, including Kuchar's) had lofts under 15 degrees, including 43 fairway woods with lofts under 14 degrees. A second driver indeed.
Not everyone pulls back on their tee shots at Sawgrass. Hunter Mahan, for one, still believes the big stick can be a big advantage at the Players. "If you get the driver going and hit it long like Phil or Tiger or J.B. Holmes and bomb it out there, you can make some of these par 5s really short," said Mahan. "It's nice to have some short irons or mid-irons into these par 5s and maybe make a couple eagles." Unfortunately for Mahan, he shot 74-76 and missed the cut.
The Players at TPC Sawgrass is known for producing fireworks. It's just that the bomb off the tee isn't one of them anymore.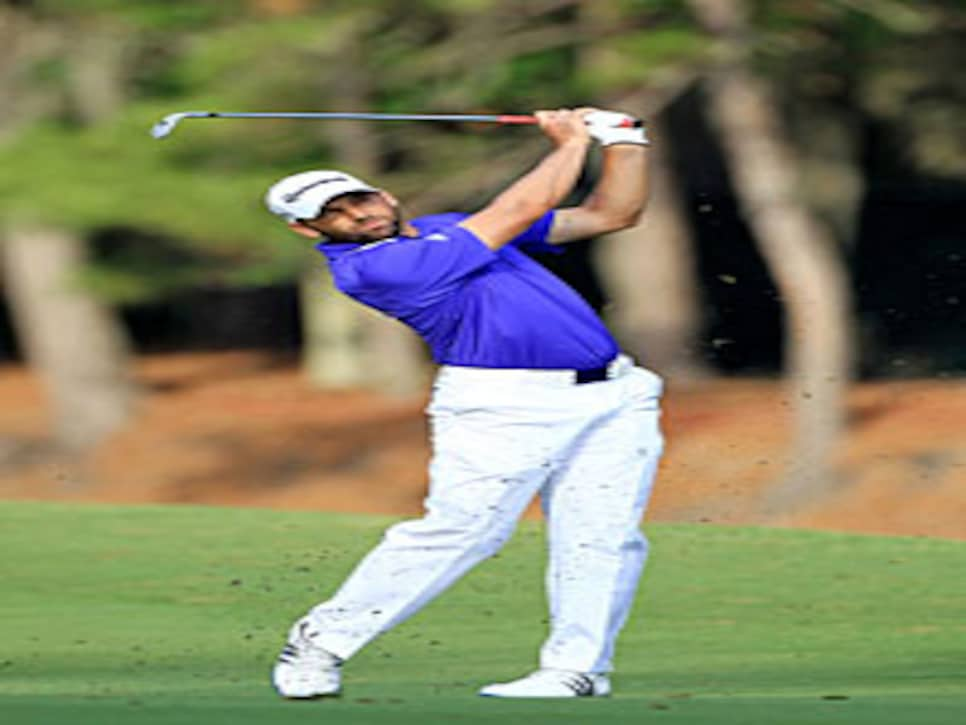 Sergio Garcia // Weight watching __
Former Players champ Sergio Garcia made a substantial change to his TaylorMade Tour Preferred MB irons and TaylorMade ATV wedges at TPC Sawgrass. Installing Nippon NS Pro steel shafts meant TaylorMade techs also had to insert precise counterbalance weighting in the butt end of each shaft. The re-shafted irons were ready Tuesday and went in play Thursday. Although Garcia finished T-56 at the Players, he ranked T-12 in greens in regulation.
Garcia first used the counterbalance weights at the 2010 Valero Texas Open after TaylorMade techs Googled "golf counterbalance" and located a company that offered weight plugs that could be inserted into the shaft, giving Garcia the feel he preferred while also providing a lighter swingweight. Prior to that Garcia had placed small pieces of lead tape underneath his grips to counterbalance the weight of the clubhead.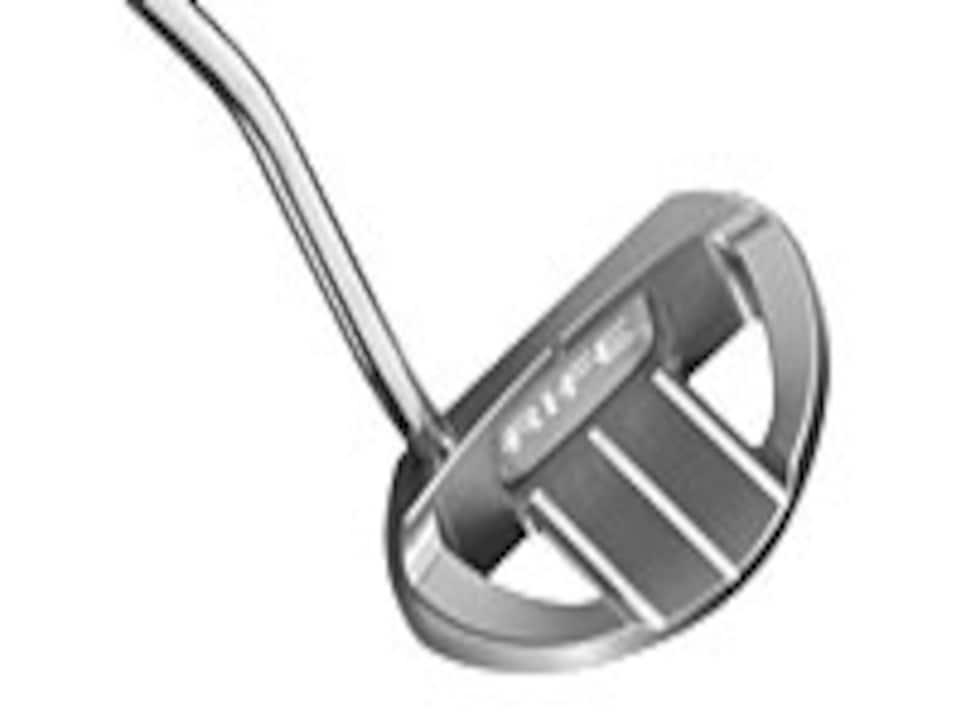 Price: $220 (Lengths: 39, 41, 43 inches)
Matt Kuchar used a custom version (44.5 inches, 5 degrees loft) of this stainless-steel putter to win the Players. The standard model has 2 degrees loft and a 400-gram head. A three-line center cavity provides a strong alignment aid.
Saying "My knee is finally healthy enough to take the pounding," Tiger Woods has worn metal spikes the last two events (Quail Hollow and Players) in his Nike Free-inspired TW '13 shoes. The spikes are Champ's Pro Stinger, a hybrid spike with three plastic prongs and a single metal spike in the center. ... It's not often a player will swap out a single club from his iron set, but that's what Phil Mickelson did at the Players. Lefty said he was hooking his Callaway RAZR X MB 9-iron and wanted a replacement, which went in the bag. Mickelson also switched putters Friday at the Players (he did the same at the Shell Houston Open), using an Odyssey #9 style (with a slightly larger flange) instead of his prototype 8802-like gamer. Despite only taking 28 putts Friday, Mickelson went back to his gamer for the weekend. The change to the #9-style semi-mallet was to help with his alignment because the club has a sightline on the flange.