News
When It Comes To Finding The Right Long Putter, Avoid Shortcuts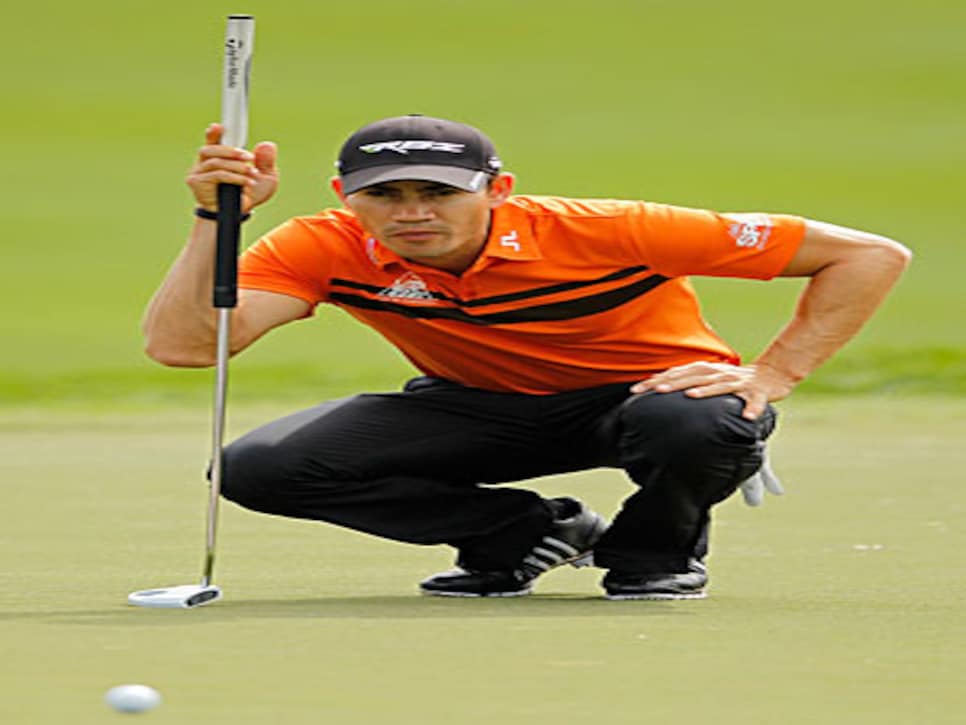 Long Pause: Villegas' trial-and-tweak fittting process should be a lesson for amateurs. Finding the right stick takes some effort.
Last fall, as the belly putter craze was in full swing, golfers came into golf shops determined to buy an extra-length putter. "It was pretty remarkable," said Leigh Bader, co-owner of Joe & Leigh's Discount Golf Pro Shop in South Easton, Mass. "They would simply say, 'I want to buy a belly putter.' It didn't matter what type or what length."
The latter part of that statement is particularly alarming. Fitting is a critical aspect of purchasing any piece of equipment, but is especially important for those using belly putters.
Tour pros know the value of having the proper length with a belly putter, but even they sometimes require a few tries to get it right. Camilo Villegas, for example, experimented with the belly putter earlier this season and changed lengths five times in a six-week stretch.
"It's not as easy to find the correct length as you would think because some players will position the butt end a couple inches either side of their belly button while most go directly above it," said Mike Fox, TaylorMade's global product category manager for putters and wedges. "But the easiest way to know if you have the right length and lie angle is if the sole of the putter is flat on the ground and your eyes are positioned just inside the ball."
Fox, who estimates 15 percent of TaylorMade's 2012 putter sales will be in belly and long putters, said fitting the belly putter is even more important now because of the increased consumer interest. As such the company has developed an adjustable-length fitting tool that it will ship to 3,000 retailers. The device allows for putters to be fit between 39 and 46 inches in quarter-inch increments. The company will have all those lengths available via custom order.
Earlier this year Ping also noted the importance of fitting belly putters and introduced an adjustable-length belly putter with its Nome mallet model, with which the shaft could be altered by sliding it like a telescope and then locking it in place anywhere from 37.5 inches to 46.5 inches.
"Length is important in fitting, whether it's a long putter, a belly putter, or a standard length putter," said Dr. Paul Wood, research engineering manager for Ping. "We've done some great research in the last few months that shows if you get fit to the right length putter, you can improve your dispersion on the greens by 20 percent. That's a big jump."
Still, many players either fail to get fit or try to self-fit. For those insisting on the latter instead of having a trained set of eyes do it, here are some hints. The putter might be too long if the toe is raised off the ground or your arms aren't hanging freely. The putter might be too short if your weight is toward your toes or you feel slightly hunched over the ball.
"Fitting players into a belly putter is pretty challenging," said Austie Rollinson, principal designer for Odyssey. "With a standard-length putter it's only touching your body in one place--the hands. With a belly putter and a long putter it's touching in two places. And so the relationship between those points has to be right. Where you anchor it and how tall you are will affect what length you need. So it takes not just getting fit properly, but actually using it and trying it for a while and finding the best setup. It's important to know that coming out of the golf shop you may not have the right specifications for you. It may take going back and getting that extra fitting after the fact to get it to the right specifications for your stroke."
That might be especially true for those who bought off the rack last fall.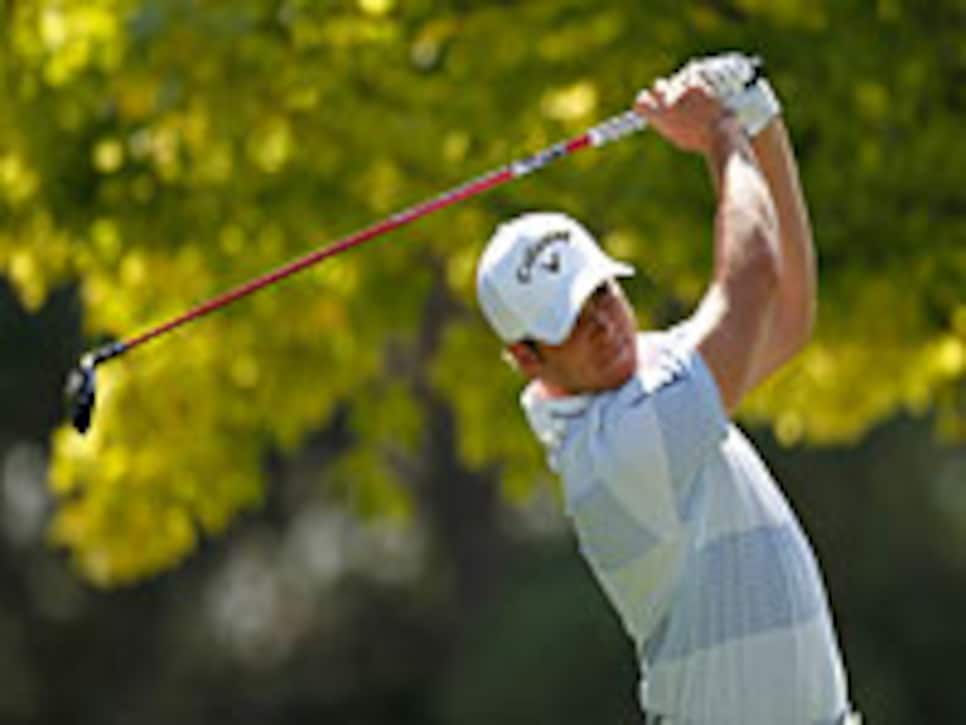 Luke List // Open face finds fairways__
Although he led the Nationwide Tour in driving distance, accuracy had become a bit of a problem for Luke List. In fact, coming into the South Georgia Classic, List had hit only 53 of his last 108 fairways (49.1 percent over three starts) to bring his season average to 49.07 percent (ranked T-135) while missing two of three cuts.
That led List to text Callaway's Nationwide Tour rep on Tuesday before the South Georgia Classic seeking advice on how best to modify the face angle to combat misses to the left. At the course the rep made a slight tweak to the adjustable hosel, opening the face angle 1 degree--and the results were significant. List not only won the event, but hit 64.3 percent of his fairways, T-39 in the field. The tour's longest hitter also saw no dropoff in his power as he averaged 329 yards, including a 346-yard average over the final two rounds.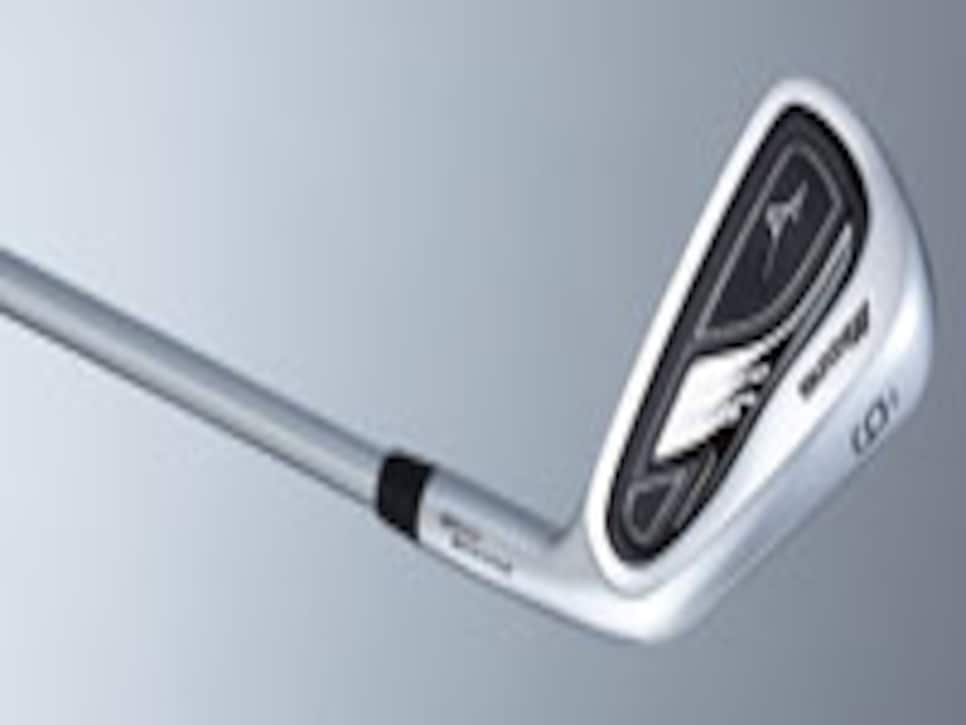 Price: $800 (Set of eight, steel)
Stacy Lewis used these irons, made from forged carbon steel, in winning the Mobile Bay LPGA Classic. The clubs feature a milled cavity that creates a thin face for enhanced ball speed. Modal analysis was used to determine the optimal sound and feel.
Not all players opt for the latest driver models. At the Zurich Classic of New Orleans, David Toms went back to his 10.5-degree Cleveland Launcher DST and found plenty of fairways, ranking T-6 in driving accuracy during a T-45 finish. ... True Temper remains the dominant choice for iron shafts on the PGA Tour, but KBS had four players in the top 10 in New Orleans using its shafts-- Ernie Els (Tour X model), Ryan Palmer and Steve Stricker (Tour) and Justin Rose (C-Taper). ... Brendon de Jonge switched driver shafts, using an 85-gram Aldila's RIP in his Titleist 910D3 driver. Although 106th in driving distance coming into the Zurich at 284.9 yards, de Jonge finished the week in New Orleans T-49 in that stat at 286.3 yards. He finished T-18. ... Even though players sign equipment endorsement deals, some pacts only require players to carry 11, 12 or 13 of the company's clubs. That might help explain why Cobra front man Rickie Fowler (who finished T-10 at the Zurich Classic) changed to a Ping i20 3-wood in New Orleans. ... Hank Kuehne's TaylorMade TP MC irons are bent 2 degrees weak, but he had a set of conventional-lofted MCs built as a backup set in New Orleans.