News
Restoring Iconic Brand's Clout Is Job One For New Callaway Boss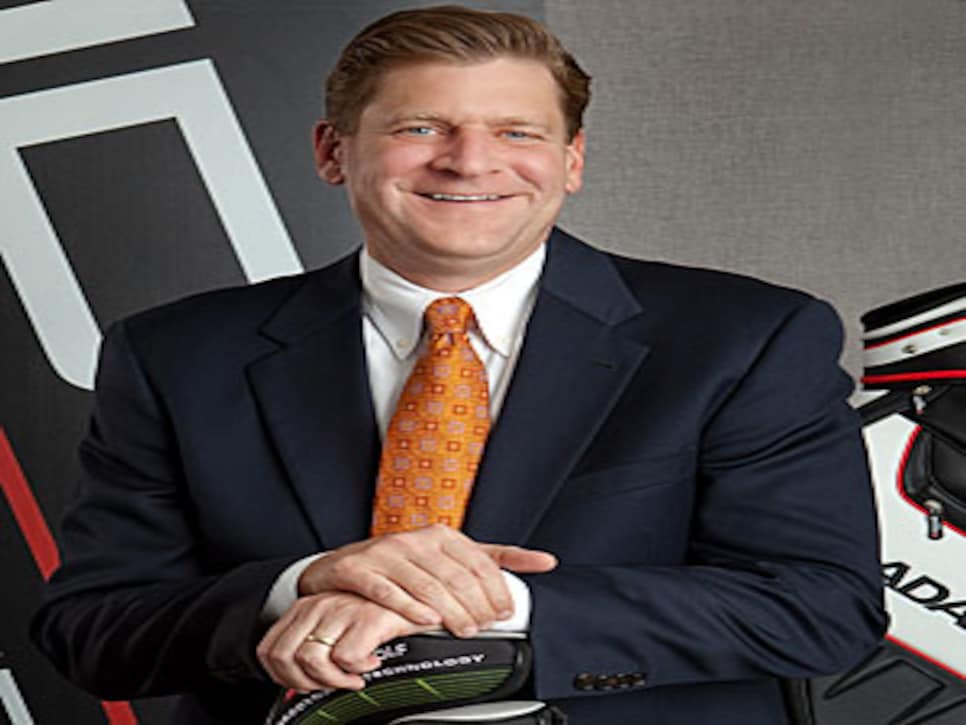 Callaway's New Guiding Hand: Brewer says company is a strong brand, but lacks momentum.
As Callaway Golf's new CEO, Chip Brewer brings not only 14 years experience with Adams Golf (including the last 10 as president and CEO), but also a passion for the game and an understanding of Callaway equipment that many in the industry believe the brand needs. A low single-digit handicap, the 48-year-old Brewer is as comfortable talking golf-club R&D as he is the bottom line. Brewer spoke with Golf World about taking the helm at the iconic brand, how being a passionate golfer is a requisite for equipment CEOs and why golfers still associating Callaway with Big Bertha isn't necessarily a good thing.
Golf World: What does this opportunity mean for you?
Chip Brewer: This is a dream job. Callaway is an iconic brand that has magnificent potential, scale and opportunity. I have a personal affinity for the brand. Prior to joining Adams Golf I played with Big Bertha and Great Big Bertha drivers, Odyssey putters and at one point Big Bertha irons. I've been around the game, caddieing and working in a golf shop. Callaway was the brand. It's my job to make that true again.
GW: How tough was it to leave Adams?
CB: I definitely shed a few tears and had some lumps in my throat the last few days. I put a lot into the company and built a team that had success. Leaving was difficult. But you wouldn't want it to be any other way. The opportunity here is so great, it more than balances it. But it is a little bittersweet.
Golf World: What did you learn during your time at Adams that will be most helpful now?
CB: During the first four years we got our butt kicked, so I learned how to take a beating pretty well.
Golf World: Sometimes you learn more getting your butt kicked.
CB: I learned it wasn't fun, and I wouldn't want to repeat that. But I learned that if you build an effective team, you'll have success--and that will be a key ingredient at Callaway as well. Then it is up to that team to go through a process of brand building, product excellence and creating relationships with the trade and media that create advocates for the products and the brand.
Golf World: Has your impression of Callaway changed over time?
CB: Callaway was the clear leader in the industry for many years. Unfortunately, they've lost some of that. To the consumer it is still a fantastic brand. But it doesn't have the positive momentum it did, and it doesn't have the defined leadership position in several categories it did. It's our job to fix that.
Golf World: Is that harder to fix today than it was, say, 10 or 15 years ago when the game still had some growth?
CB: Perhaps. But that part doesn't intimidate me. If we could do that at Adams and now have the brand strength and resources of Callaway, I like our chances.
Golf World: Did you ever meet Ely Callaway?
CB: I didn't. I got into the industry in late 1998 and Ely was still around, but I never met him. He was clearly a legend and larger than life. As I looked at this opportunity and researched it, he obviously was a remarkable man. The success he had and chutzpah he showed was impressive.
Golf World: Do you think that attitude, that chutzpah, would be successful today?
CB: Absolutely. You look at who is successful today and those attributes are there. [TaylorMade CEO] Mark King is incredibly successful and his middle name could be "Chutzpah." Wally Uihlein has been incredibly successful, and there's a lot of confidence and capability there. To a degree, those qualities may or may not be required, but I think they're helpful. This business requires a leader with an ability to connect with people and promote the brand.
Golf World: A lot of people believe being a passionate golfer is a requirement too. Do you agree?
CB: If you thought about it academically, you'd say no. But on the [manufacturer's] side of the business, it has a perfect record. The only [CEOs] who have been successful are passionate golfers. So I'll go with yes on that one. I'm not bright enough that I can bet against those odds.
Golf World: Let's try some word association: Callaway Golf?
CB: Bertha. It may seem odd, but I've seen the research and that word is still front of mind for many.
Golf World: Is that a good thing that we're still thinking of a club that was introduced two decades ago?
CB: To be direct, probably not. Callaway is a great brand, but it has lost some leadership positions over the years. We have some work to do to change that.
Golf World: Because you are a good player will it be difficult to stay away from the test center? Have you seen the facility yet?
CB: I haven't, but I can't wait. It's going to be hard not to spend too much time out there. I've seen my schedule for my first week, and I'm all meeting'd up with no time at the test center scheduled, but we're going to revisit that shortly. I can't wait to see the facility and hit the product. I'll have some new clubs in my bag real soon.
TaylorMade Rocketballz Hybrid __
Price: $180 (Lofts: 19, 21, 24, 27 degrees; Tour model: 16.5, 18.5, 21.5 degrees)
Thin walls and a crown that gets as slim as 0.4 millimeters move the center of gravity in this hybrid low and forward while a slot in the sole promotes face flexibility for enhanced ball speed.
Former Honda Classic champ Y.E. Yang made a fairly dramatic change to his putter at PGA National. Yang requested his TaylorMade Ghost Manta putter be extended from 35 inches to 38 inches and wanted a substantial amount of weight added as well. To accomplish that a steel butt extension was used to add the length and a 130-gram Super Stroke long putter grip added heft. The final pieces to the puzzle were 40 grams of lead tape on the sole and another 30 grams of lead tape under the grip. ... Davis Love III had a new Scotty Cameron by Titleist Newport 1.5 in play at PGA National. Love found his stroke was closing too much at impact so instead of changing the stroke, he changed putter styles (from a Cameron 009). As a result, Love aimed a touch more right, but the ball came off straight instead of left. ... The normally windy conditions at PGA National had some players opting for lower-lofted drivers at the Honda Classic. Among the 21 players using drivers with 8 degrees of loft or less was Brian Harman, who put a new 7-degree TaylorMade RocketBallz Tour driver in the bag. ... Sang-moon Bae made a shaft change in his irons. Bae wanted to hit shots higher with less spin and switched from Dynamic Gold S-400s into KBS Tour stiff shafts. After a practice round he found his shots were higher, and he was able to draw the ball more easily.