News
Mahan Learns There Is More Than One Way To Improve Alignment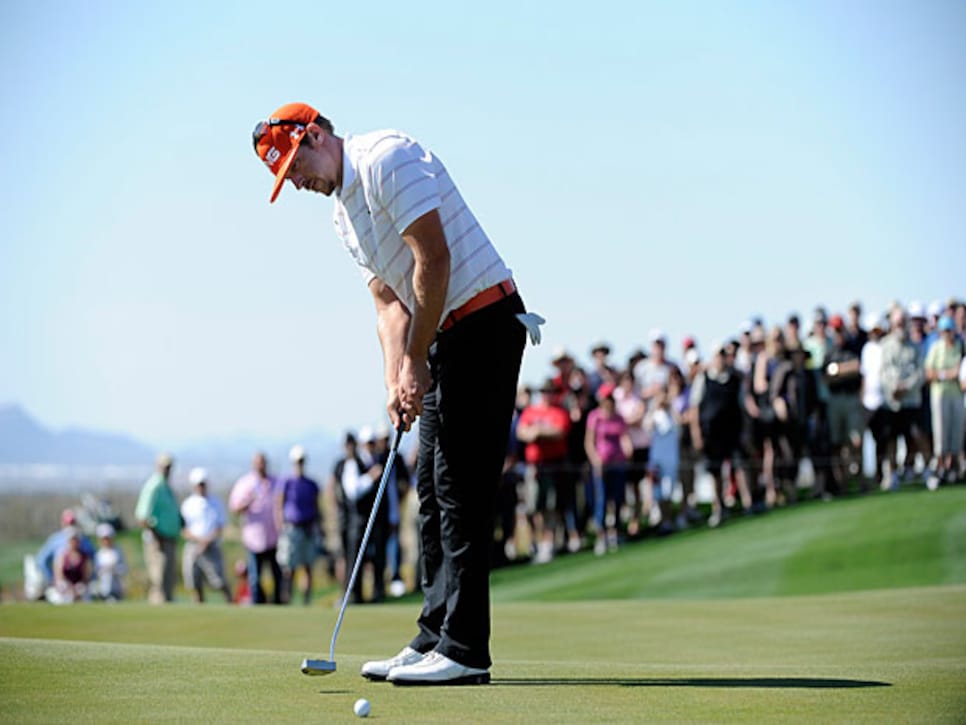 Point And Shoot: Mahan got back on track with his less offset putter.
Dissatisfied with his putting during the Northern Trust Open, Hunter Mahan placed a call to Matt Rollins, Ping's PGA Tour rep, and asked him to bring a laser device used to check alignment to Tucson prior to the WGC- Accenture Match Play Championship. The following day Mahan and Rollins worked with it (the device shoots a laser in the area the player believes he is aimed at) and discovered Mahan was aiming a couple inches left of his intended target.
Normally when players struggle this way, they will seek a putter with a distinct alignment aid to alleviate the problem. Mahan, however, focused on hosels, experimenting with different configurations before settling on Ping's prototype Nome mallet--a putter with a face-balanced head. After Mahan used it for nine holes of practice, the club went in the bag.
"I was using a putter with more offset [Ping Anser2 Milled]," said Mahan, who made 25 birdies over his last 61 holes. "This one has a little less, and it's helping me aim better." That better aim stayed with Mahan throughout the week as he won the title, dispatching Rory McIlroy in the final.
Trying to putt with poor alignment is like driving at night without headlights--it makes the task more difficult, if not downright impossible. Mahan's success underscores there's more than one way to achieve proper alignment. Every player is different. "Some players can [get back on track] with just a real conventional type shape," said Austie Rollinson, principal designer for Odyssey. "Others need a little help and that's where you might need a bold alignment feature on the top."
Although alignment aids have been part of putting for years, most early attempts were rudimentary, consisting of a single dot or line, or in some cases drawn by hand. In the 1970s when the Bulls Eye and Ping Anser were among the more popular models on tour, players would tap the face with a coin to find the sweet spot and then use a file to carve a small single line on the topline. Today, sightlines are more sophisticated, but the idea remains the same--to help golfers focus on them without distraction.
"Fifty years ago a single white line was a good alignment aid," said Dr. Paul Wood, research and engineering manager for Ping. "It still is, but everything else is to avoid distracting away from the alignment aid. So all the little lines, all the little radii, are to avoid taking your gaze away from the alignment aid."
Others opt for contrast, such as TaylorMade's black lines on its white-headed putters, a concept equivalent to black lettering on the white background of a speed-limit sign. "A strong contrast between the head and the face is important," said Sean Toulon, executive VP of product creation for TaylorMade. "It's easy for your eye to see exactly where they're aimed."
Titleist's Scotty Cameron knows regardless of what type of alignment feature is used, it only works if it fits a player's eye. "There are some things that we know, such as the bigger the head, the longer the lines need to be," said Cameron. "But some players don't like lines, so we have putters with no lines, some with lines and some with dots. It's personal. We have guys that say, 'That line looks crooked when it's aimed proper.' It's not unusual for a player to be lined up properly and not like the way the putter looks at address."
To combat that, Cameron often works on the toe of the putter, perhaps rounding it or, instead, designing a topline with a bit of a flare to make it look pleasing. "I'm cheating the eye, so the putter looks good to the eye, but has the proper lie angle and thus the proper alignment," said Cameron.
Which is essentially what Ping did with Mahan and his putter. They discovered a hosel configuration that Mahan could line up properly. "I feel confident when I get on the green I'm going to make it," said Mahan. "It's a good feeling."
It also kept Rollins' phone from ringing Sunday night.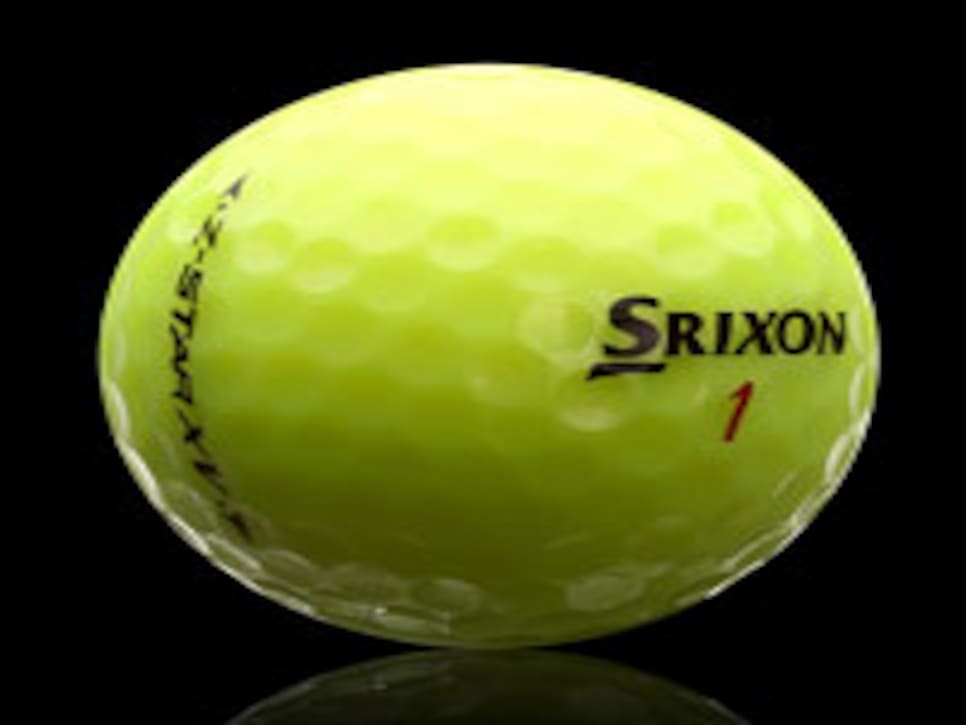 Srixon Z-Star XV Tour Yellow __
At the Mayakoba Classic, three Srixon staff players--Skip Kendall, Gary Christian and Robert Gamez put the company's Z-Star XV Tour Yellow model in play (Charlie Beljan also used a yellow ball but it was the Z-Star Tour Yellow model).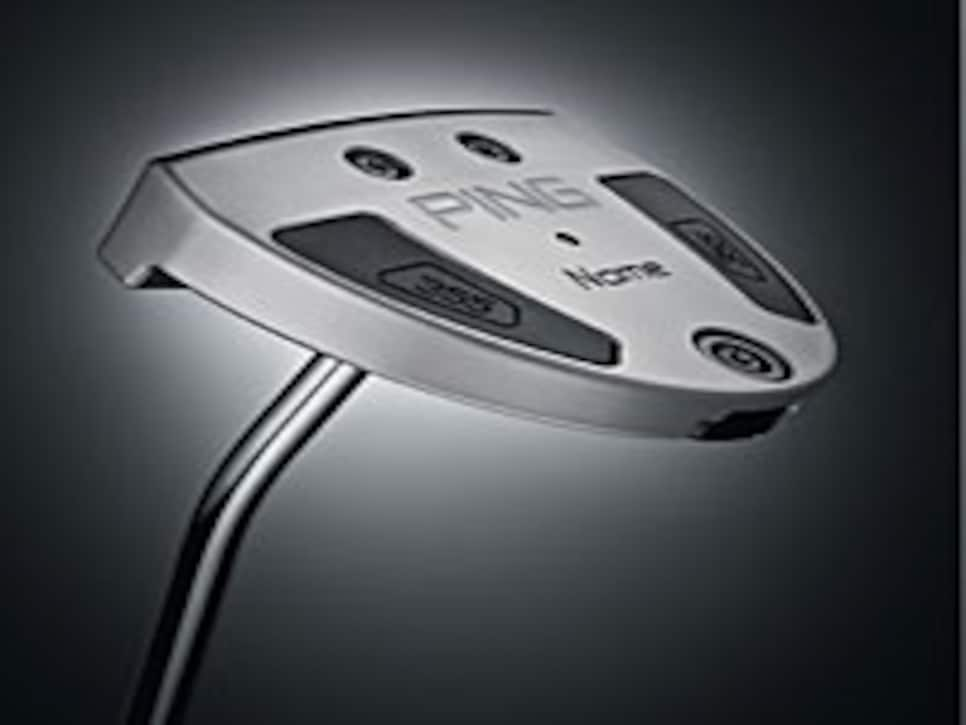 Price: $270 (Weight: 355 grams, standard length; 405 grams, belly length)
Hunter Mahan used the standard-length mallet to win the WGC-Accenture Match Play Championship. The putter features a head milled from a high-grade aluminum and finished with a durable nano-nickel coating. Tungsten sole weights are employed to raise the moment of inertia for more stability on putts struck off center. Three shaft-bend options fit three stroke types (Straight, Slight Arc, Strong Arc). Lie angle can be custom ordered in a 4-degree range from 2 degrees upright to 2 degrees flat. The Nome will go on sale April 1.
Sang-Moon Bae brought a pair of Callaway 3-woods with him to the WGC-Accenture Match Play Championship--a Diablo Octane Tour and RAZR X Black--and had each bent to 14.5 degrees. He then tested the clubs on the range and the course before putting the Diablo Octane in the bag. Bae reached the quarterfinals. ... Mitsubishi's new Kuro Kage shaft was in Rickie Fowler's 15-degree Adams Super Hyrbid XTD at the Match Play. ... K.J. Choi, who has made several changes to his iron set in the last year, was at it again at Dove Mountain, where he switched to Cleveland's 588 CB model. ... Alvaro Quiros had all his Callaway clubs re-gripped prior to the Match Play--twice. Quiros, who is known for his strong sense of feel, felt the initial re-gripping was a touch off and asked to have them re-done. ... Charles Howell III changed from a belly-length putter to a 35-inch Odyssey ProType 2-Ball at the Mayakoba Classic. He finished T-16.