News
Putter Switch Raises A Question: Can An Insert Really 'go dead'?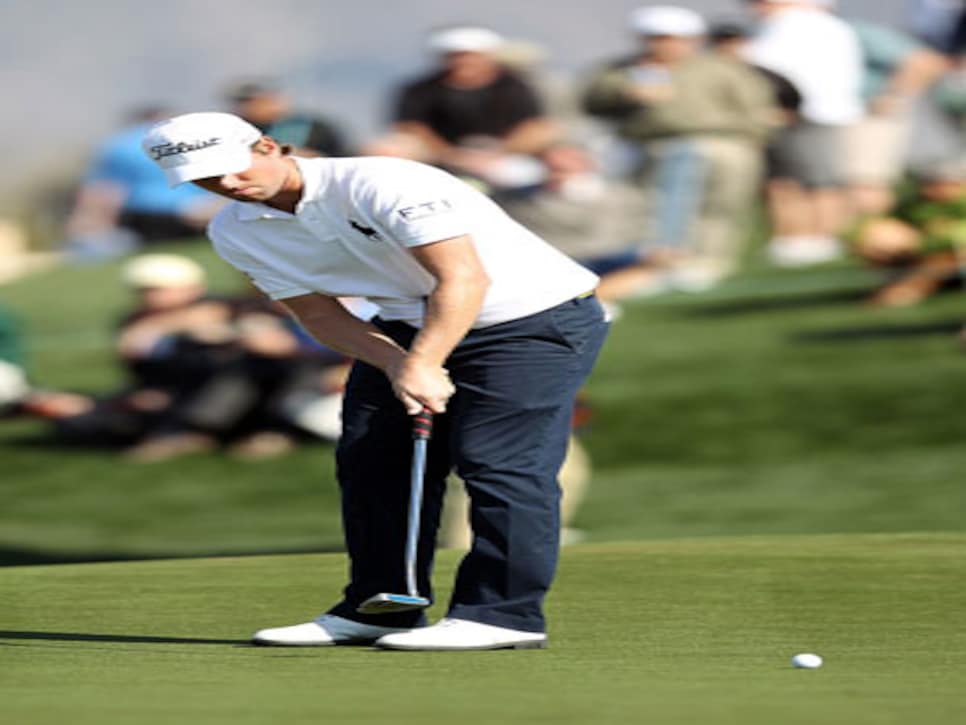 On The Rebound: A switch to a new putter gave Simpson's game on the greens new life.
During his press conference after the opening round of the Waste Management Phoenix Open, Webb Simpson was asked about his putter. After responding with the make and model (a belly-length Ping Craz-E), Simpson said: "It's the second Ping I've used in 7½ years. The only reason I really switched from the first one is because the insert was kind of getting dead on me."
A putter insert can "go dead?" Never heard that one before.
According to Matt Rollins, PGA Tour rep for Ping, Simpson came to him at Kapalua last month and mentioned his putter didn't feel the same as it had last season. Simpson assumed something was wrong with the insert, but Rollins inspected the club to see if anything had come loose or if there was anything else wrong with it and couldn't find any issues.
Still, to make sure Simpson was comfortable with his putter, Ping built him a duplicate, which Simpson received at the Sony. Simpson said it felt great, solving the "problem," although Rollins said he has never come across a putter insert going "dead." Some putter R&D experts, however, say it can happen—albeit usually only under the most extreme conditions.
"Over time polymers will harden, get denser and sometimes even crack," said Austie Rollinson, principal designer for Odyssey. "It's all about the quality of the material being used. If it gets hard, it's not as resilient so you can lose some rebound as well as feel. So it can happen, but it would be highly unusual."
Bret Wahl, TaylorMade's R&D senior director for putters, irons and wedges, says the likelihood of such an occurrence depends on the material. For instance if the insert is made from aluminum, such as with TaylorMade's AGSI insert, over extended use the beams in that design could become fatigued and slowly crack at the sharp edges created by the blade used to make the insert. "I have never seen nor heard of this happening to our insert, but it is a fact that these beams deflect and, with enough ball impacts, that could degrade the metal enough to affect performance," said Wahl. "That said, the insert would likely need to experience hundreds of thousands of hits before this process even begins."
Polymer inserts, Wahl said, can be prone to UV and environmental degradation, such as when an old vinyl dashboard on a car cracks after years of neglect. A putter's polymer insert could begin to "dry out," which could affect the resiliency, performance and feel. Composite inserts, meanwhile, could experience fatigue that would eventually lead to cracking in the resin that could begin to break some of the carbon fibers and lead to performance loss. Still, although possible, the fact is that such occurrences would come only after many years and, even at that, would be somewhat unusual.
More likely what Simpson (and others) experience is simply the result of them having superior feel. Much like how Ted Williams could tell when a bat was a quarter-ounce too light or too heavy or how Bill Bradley knew if the basket was a half-inch too high or too low, professional golfers can detect the slightest change in the feel of their clubs, especially the putter.
"One thing that can happen is face wear," said Wahl. "We've all seen the tour player irons and how they wear a quarter-sized spot on the club face. The same thing happens to putters. Take a look at Steve Stricker's and Brandt Snedeker's polymer inserts on their putters. Those guys have worn a dimple in the insert. This will most definitely affect the response of the putter. Some may not mind it, but others may perceive the change as getting dead or just simply being different."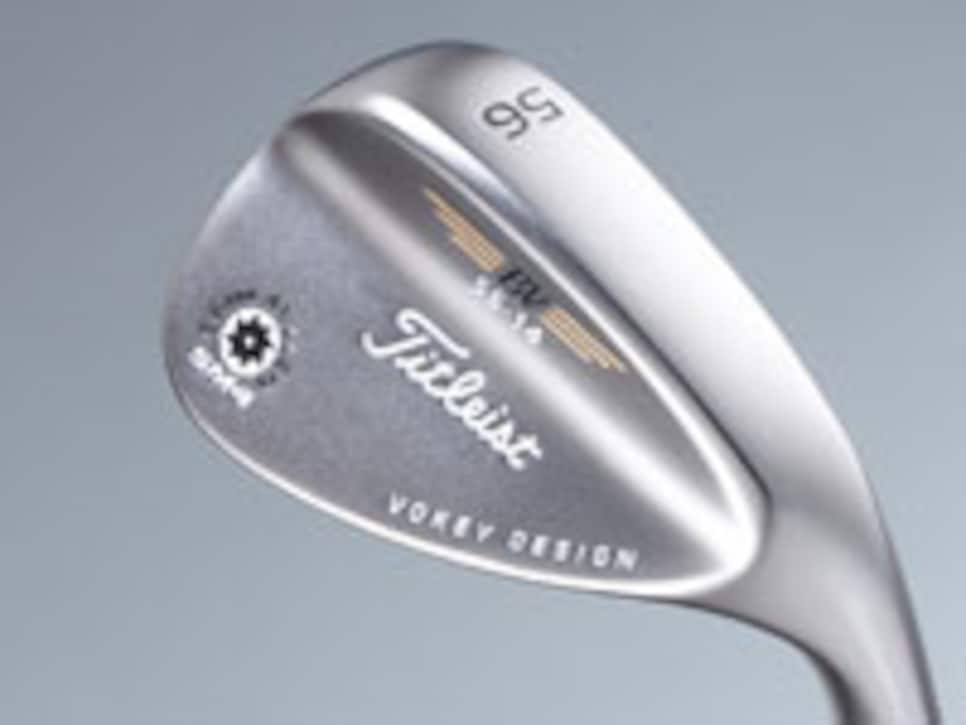 Price: $130 (21 loft/bounce combinations from 46 to 64 degrees; three finishes)
Kyle Stanley had a 60-degree SM4 in play at the Waste Management Phoenix Open. The new wedge includes more aggressive grooves (and more of them: 17, up from 14). Five sole grinds offer plenty of options.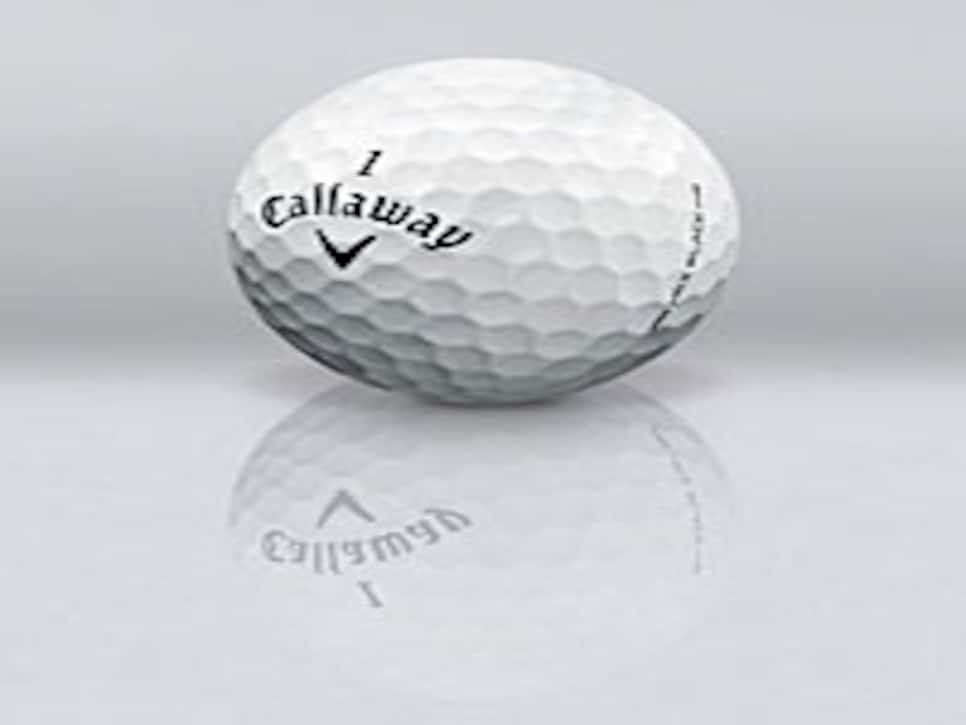 The latest tour-caliber ball from Callaway is a five-piece construction (two cores, two mantle layers and a cover) designed to produce a high level of spin separation (the difference between the high spin generated on short approach shots and the lower spin off the driver). The soft inner core helps reduce spin off the tee for more distance, while the high compression outer core is designed to create higher spin closer to the green for more control with irons and wedges. The cover is made from a proprietary formula using a thermoplastic urethane blend that offers enhanced durability.
Tour players are an exacting bunch, and Trevor Immelman spent time with Callaway tour reps at the Waste Management Phoenix Open working on getting his irons to come out of the ground more quickly. Callaway built the former Masters champion a new set of RAZR X muscleback irons without grinding off the back of the sole. As a result, his shots came out a little higher and his divots were smaller, indicating the club was coming out of the ground more easily (i.e., digging less). Immelman finished T-12 at the WMPO. ... A couple of TaylorMade staff players changed into Ghost putters in Phoenix. Dustin Johnson used a prototype Ghost Itsy Bitsy Spider (similar to what Jason Day currently wields). Johnson has traditionally been a blade user, but he was pulling his putts. Johnson's new putter (35 inches, 2.5 degrees loft) had a pair of 4-gram weights to help counteract the pull. Y.E. Yang also changed the weight in his Ghost Manta mallet, having the 5-gram sole weight removed and a heavier 25-gram weight inserted, boosting the swingweight to E6 to get the desired feel. ... Jerry Kelly changed to Aerotech's Steel Fiber shafts in his Cleveland 588 MB irons at TPC Scottsdale. The shafts are the same as Matt Kuchar uses and weigh 95 grams as opposed to the 125 grams of a typical steel iron shaft. ... Spencer Levin finished third at the WMPO after making a driver change, using an 8.5-degree TaylorMade Burner SuperFast 2.0 with an Aldila RIP 60 shaft.