News
Stanley's Torrid Torrey Run Began With Early Week Trip To Spin City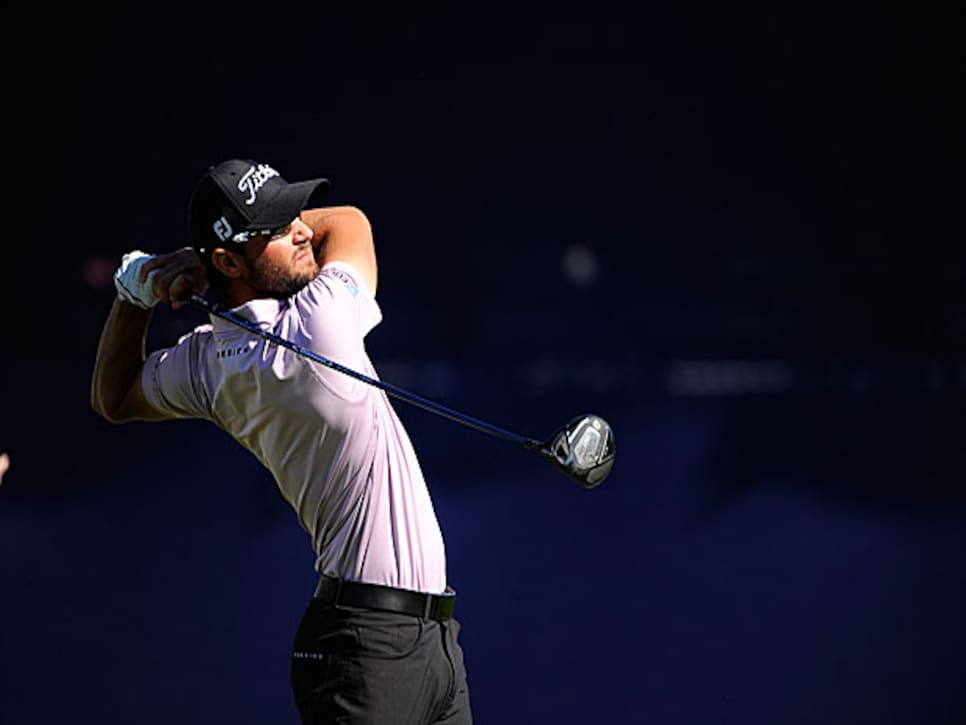 Finding Yards: By adding a degree to his driver loft, Stanley regained lost RPM and finished second in driving distance in the San Diego event.
Golf is often a game of tradeoffs where making one change can necessitate another. Kyle Stanley found that out during an instruction session at Titleist's Test Center in Oceanside, Calif., prior to the Farmers Insurance Open.
Stanley had an alignment issue with his driver. He was repeatedly setting up open, and he wanted to get back to square. However, after making that seemingly simple adjustment, his driver spin rate dropped to less than 2,000 revolutions per minute. For Stanley, whose spin rate averaged more than 2,600 for the 2011 season, that meant his tee shots were falling from the sky faster, resulting in a loss of distance. As such, Stanley, who had a relatively low launch angle of 10.5 degrees in 2011, upped the loft on his Titleist 910D3 driver from 7.5 degrees to 8.5 degrees. The result was a spin rate in the more desirable 2,400-rpm range. Stanley finished second in the Farmers field in driving distance at 314.4 yards.
Stanley's experience is not unlike what everyday golfers go through when being fit for a driver. Fitters search for the combination of launch angle and spin rate that optimizes distance. The old saw is that high launch, low spin is the key to distance. As Stanley found out, without the high launch, low spin is instead a distance killer.
Many fitters contend that while launch angle is a more important ingredient for fast swingers, getting the right amount of spin has an even greater effect on those with slower swing speeds. As Stanley discovered, although there is such a thing as too little spin, generally a ball with less spin will fly through the air better. Conversely, a ball with too much spin will "balloon" or rise too fast, thus losing its forward momentum. Those who remember the days of persimmon drivers and balata balls recall tee shots that started out low and then climbed into the air--the "aircraft carrier shot" as it was called. Although cool to look at, that shot was highly inefficient because the ball would rise to its apex quickly and then fall at a very steep angle. In other words, it didn't stay in the air very long and then rolled little when it landed. Not a great way to gather extra yards.
The importance of achieving the right amount of spin can be illustrated by the players at the top and bottom of the PGA Tour's driving distance chart for 2011. Ranking first was J.B. Holmes at 318.4 yards. However, Holmes' distance was mostly due to his physical prowess as he also possessed the fastest swing speed on tour at 124.76 miles per hour. Holmes' launch angle was high at 12.3 degrees, but he was missing the low spin aspect, spinning the driver at a somewhat inefficient 2,714 rpm. For Holmes, a reduction in driver spin would likely bring him even more yards.
Although he ranked last in distance at 269.8 yards, Brian Gay found a combination that helped him get the most out of his 103.46 swing speed (which also was last on tour). Gay launched the ball at 11.76 degrees and spun it at 2,457 rpm. That combination was good enough to rank Gay T-29 in driving distance efficiency (distance divided by swing speed) last season.
So what would Gay need to do to reap more yards? Most likely a slight boost in his launch angle would help. To achieve that without changing his swing would require either a slightly softer shaft or an increase in loft on his driver. However, both those "fixes" would also likely add spin, which is something he wouldn't want.
As we said, golf is a game of trade-offs.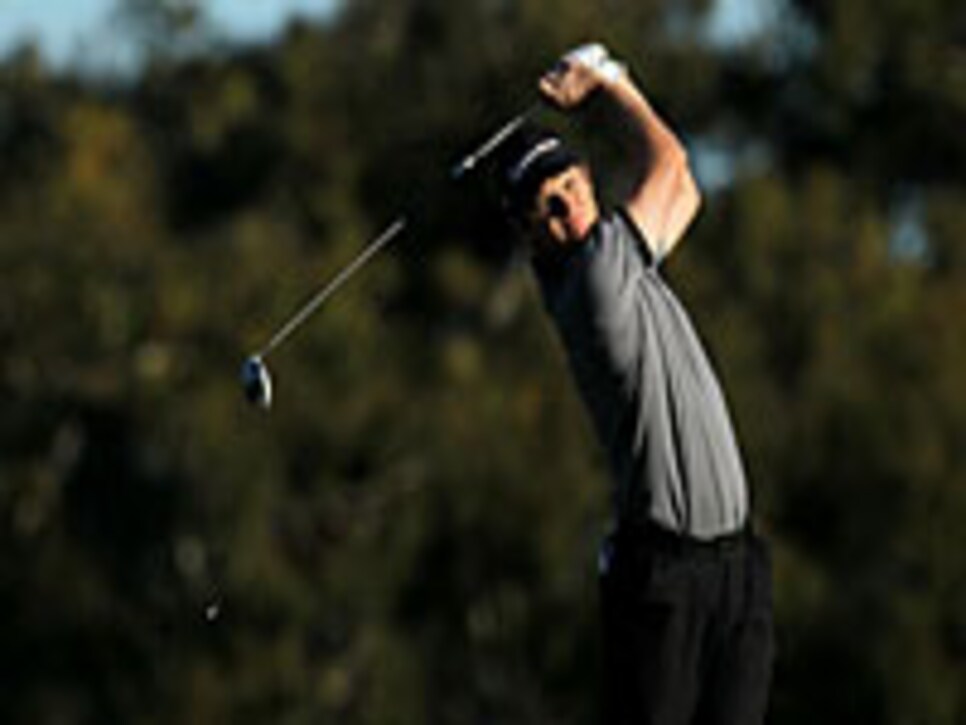 Justin Rose // Fitting Leads To Penta TP 5__
Getting fit to the right ball is perhaps the most under-utilized aspect of equipment fitting, but it is one tour pros take seriously. Some players strive for a ball that gives them extra yards while others, such as Tiger Woods, emphasize how a ball reacts around the greens. Virtually all seek distance control and a ball that has a feel they like.
For Justin Rose the key to his testing of TaylorMade's new Penta TP 5 was shots in his scoring zone, in particular those from 125 yards and in. At TaylorMade's Kingdom fitting facility in Carlsbad, Calif., last week, Rose worked with the ball on those shots and noticed an increase in spin and a softer feel from his previous TaylorMade ball. Those attributes caused him to switch to the Penta TP 5 for the Farmers Insurance Open.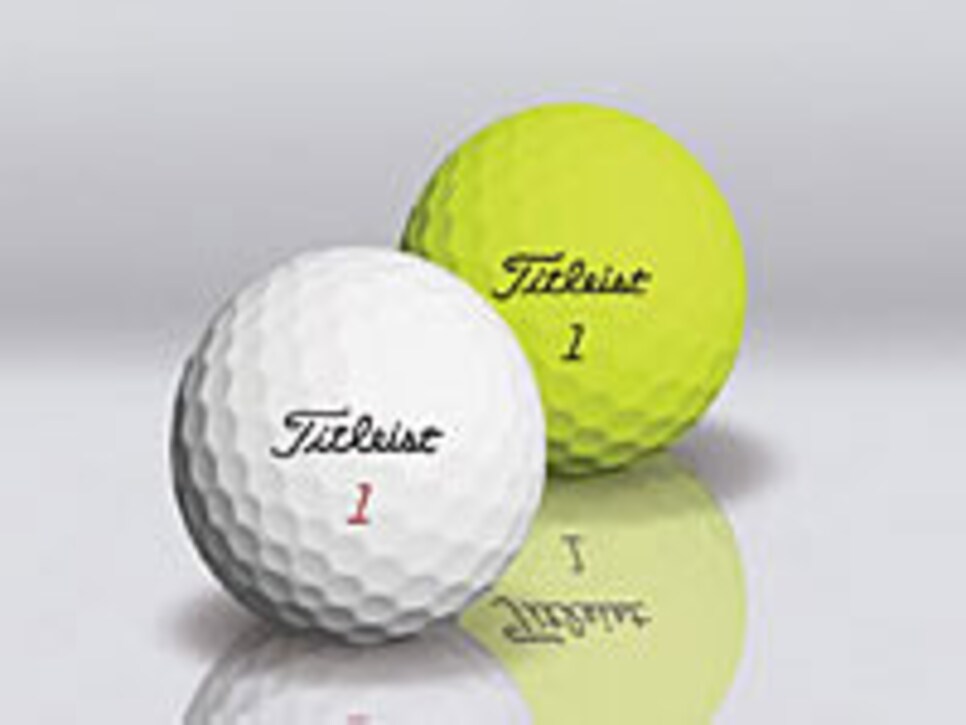 Titleist NXT Tour / NXT Tour S __
Upgrades to the NXT Tour include a new dual core for enhanced distance and a spherically tiled dimple design for better aerodynamics. The Tour S model has a soft, single core for soft feel in a distance ball. The Tour S also comes in a high optic yellow model.
Not everyone is jumping on the belly-putter bandwagon. In fact, Charley Hoffman is jumping off. At the Farmers Insurance Open, Hoffman went back to a conventional-length putter. "If you don't have much feel and you've got your line perfect, [the belly putter] is great," said Hoffman. "I guess it was an experiment. I'm a guy that gets over it and sort of feels the putt in the hole. So the two together didn't work. For me as of now, it's not the right fit." ... Jamie Lovemark added 3/4 of an inch to his Nike Method 001 putter at Torrey Pines. Although he missed the cut, the extra length seemed to help on the greens as Lovemark had but 55 putts over two rounds. ... It's not often you see the world's best player (and one of the best bunker players) change his irons and wedges, but that's what Luke Donald did at the Abu Dhabi HSBC Golf Championship. Donald put Mizuno's new MP-59 irons in play as well as the company's MP R-12 wedges. Donald finished T-48. ... Graeme McDowell broke his old Callaway FT-3 driver on the 17th hole of the first round in Abu Dhabi and used Cleveland's new Classic driver the rest of the way in finishing T-3.