News
When A Can't-Miss Kid's Journey Takes Longer Than Expected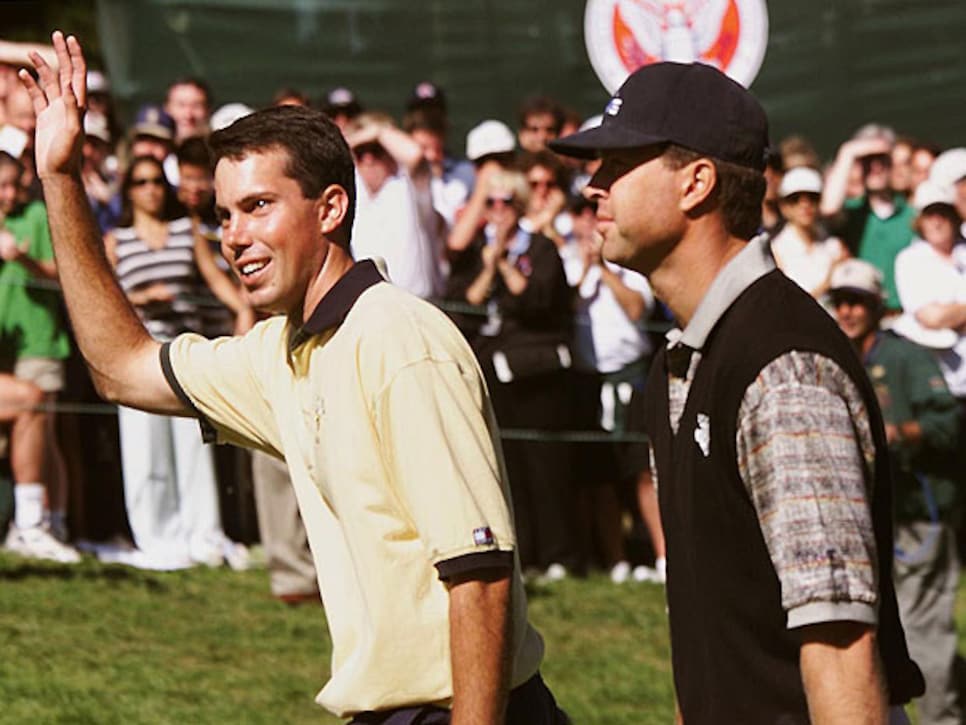 Matt Kuchar (left) walks with Bob Tway at the 1998 U.S. Open, where he was the low amateur.
On the afternoon of Nov. 19, 2005 Matt Kuchar stood a few yards from the scoring tent at Lake Jovita CC with his arms folded, his seemingly ever-present smile nowhere to be found. He had just shot 73 on the final day at the second stage of PGA Tour Qualifying School and missed advancing to the final stage by one stroke.
He was polite to everyone who approached him, shaking hands with other players and wishing them luck, occasionally forcing the Kuchar smile. "I guess I've got a lot of work to do," he said with a shake of his head. "It's been a tough couple of years. But I still think I can play good golf again."
The man who had been dubbed "Smilin' Matt" as a kid had become "Baffled Matt."
Seven years earlier, Kuchar had been considered a can't-miss star. He had won the 1997 U.S. Amateur as a Georgia Tech undergrad then impressed everyone at both the 1998 Masters (T-21) and U.S. Open (T-14), charming crowds with his friendly demeanor while playing spectacular golf for someone who wasn't yet 20.
Sponsors' dollars would no doubt fill his bank account had he turned pro right then, but Kuchar decided instead to return to school. He wasn't certain if he wanted to make a living playing golf, which is why he remained an amateur the summer after his 2000 graduation. Six months in an office, however, changed his mind, a decision seemingly justified when he claimed his first PGA Tour win 14 months later at the Honda Classic. Stardom appeared to be a sure thing.
Except it wasn't. By 2004 he was 139th on the money list and 159th a year later--which is what sent him back to the second stage of Q school. One of his fellow competitors at Lake Jovita was Ty Tryon. Three years earlier, Tryon and Kuchar had appeared in a now-famous PGA Tour PSA dubbed "The Young Guns." Tryon was the kid who made it through Q school while still in high school. Kuchar had taken the opposite tack, waiting patiently to turn pro. And yet, they both landed back in the same place.
Kuchar's career has now come full circle. Seven years after being labeled a star, he flunked Q school's second stage. Almost seven years after that, he became the Players champion with a final-round 70 that was good enough on a day when none of the leaders could pull off anything spectacular.
As is often the case in golf, Kuchar had to hit bottom to start back in the right direction. He went to work with a new teacher, Chris O'Connell, in 2006 and began to remake his swing. He won on the Nationwide Tour that year and finished 10th on the money list, which got him back to the PGA Tour. The grinding continued until he won late in 2009 at Turning Stone, beating Vaughn Taylor in a six-hole playoff that carried over into Monday for his first win in more than seven years. Then, in 2010, came the breakout year predicted for him as a teenager: a win at the Barclays, a spot on the Ryder Cup team, the money title and the Vardon Trophy.
Last month he had a real chance to win the Masters before he bogeyed No. 16 during the final round. His eventual T-3 was only his third top-10 in a major and the first time he had seriously contended on Sunday. Now, he has a Players title and an understanding that, at 33, he might be coming into his own as a player.
Kuchar's smart enough to know that the Players is a lucrative win ($1.71 million) but not one that a tour pro necessarily wants as his biggest moment in the game. Even though the tour awards as many FedEx Cup points to the Players champion as it awards to a major champion, no one disputes there's a gap between them. In fact, it is worth noting that the last four winners at TPC Sawgrass--Sergio Garcia, Henrik Stenson, Tim Clark and K.J. Choi--have done almost nothing since their victories.
That doesn't seem likely to happen to Kuchar. He's too steady and too consistent. Johnny Miller noted that Kuchar's been a "top-10 guy" for some time now. And yet, if anyone knows that success and adulation don't guarantee anything going forward, it is Kuchar. He's seen the view from near the top and from near the bottom.
Which is why he'll have a special appreciation for the view from the very top.