News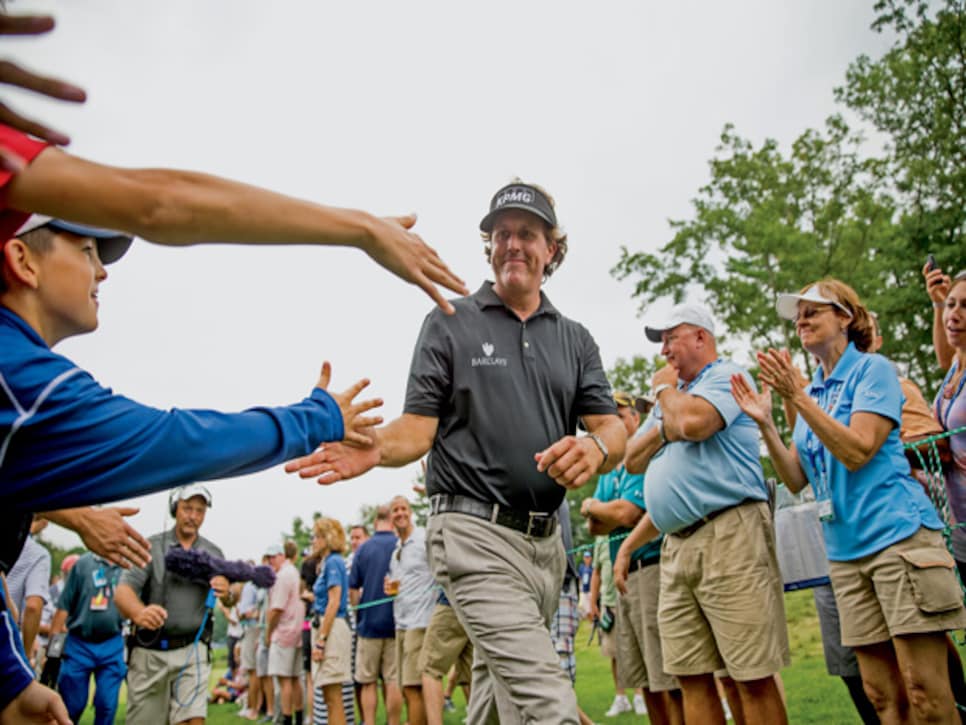 With the 2013 PGA Tour season coming to an end at the Tour Championship, the intriguing task of deciding who should claim the player-of-the-year award fell plainly into the hands of tour members with three realistic candidates to choose from.
Phil Mickelson, Adam Scott and Tiger Woods.
Woods' name will probably be called when the vote is revealed Sept. 27. It shouldn't. Mickelson should be the choice, in a photo-finish over Scott.
The reason it should be Mickelson over the World No. 1 is simple: If you were to administer truth serum to Woods -- or to any player on tour -- and ask "Whose year would you most like to have had?" the answer would not be Woods'.
Why? Essentially because he didn't win a major. Even though there is no mathematical formula that proves one major is equal to or greater than five regular tour wins, the simple fact is that it is. It's worth more financially because it guarantees endorsements and appearance fees for years to come. More important, it makes a player part of golf history. By the way, Ben Hogan's sole victory in 1950, his U.S. Open triumph at Merion, got him voted (by writers then) PGA Player of the Year over Sam Snead, who won 11 events but no major.
The clout that a major generally carries can be seen in its impact on golfers being deemed Hall of Famers or not. Fred Couples is in the Hall of Fame only because one of his 15 victories was the 1992 Masters. Jim Furyk will be in the Hall of Fame because one of his 16 wins was the 2003 U.S. Open. Davis Love III -- 1997 PGA Championship among his 20 victories -- will also be there some day.
There are exceptions that prove the rule, notably Andy North and John Daly, who won two majors apiece but not enough else in their careers to get the votes needed. Colin Montgomerie got in without a major because he won the European Order of Merit eight times and because of his extraordinary Ryder Cup record. That event, not the Players Championship or anything else, is the fifth major.
Woods won five tour events but was a factor on Sunday in just one of the game's four marquee events -- the British Open -- and on that day he faded badly. Meanwhile Mickelson played a historic round at Muirfield to win by three and claim his fifth career major, the second-most won in the Woods Era. Mickelson was also T-2 at the U.S. Open, won in Phoenix and finished first at the Scottish Open.
A number of players have said they wouldn't factor in Mickelson's win at the pre-British Open event in Scotland because it isn't a PGA Tour event. That's silly. The point is to judge who, among PGA Tour players, had the best year. In a close vote, the Scottish win should factor for Mickelson.
Scott won the Masters in a dramatic, rain-soaked playoff with Angel Cabrera. He finished T-3 at the British Open and T-5 at the PGA. Even before he won the Barclays in August he commented that he thought Woods might willingly exchange years with him in order to get major No. 15.
He was right then -- and even more so now.
There are those who will argue that Woods deserves extra credit for winning the Players and two World Golf Championships. Wrong. There are the four majors and there's everything else. Have you ever heard someone describe Jack Nicklaus' career by saying, "He won 18 majors and three Players?" Or Woods' résumé by saying, "He's won 14 majors and two Players?" Of course not. The Players and the WGC events are played primarily for money, not history. The same is true of the FedEx Cup playoff events, which is why Henrik Stenson is a non-factor in this discussion.
This vote will be close and many players will split between Mickelson and Scott. That's why Woods will probably win.
But here is one non-voter who would pick Mickelson.