News
Rice Should Be A Good Fit For An ANGC Intent On Growing Golf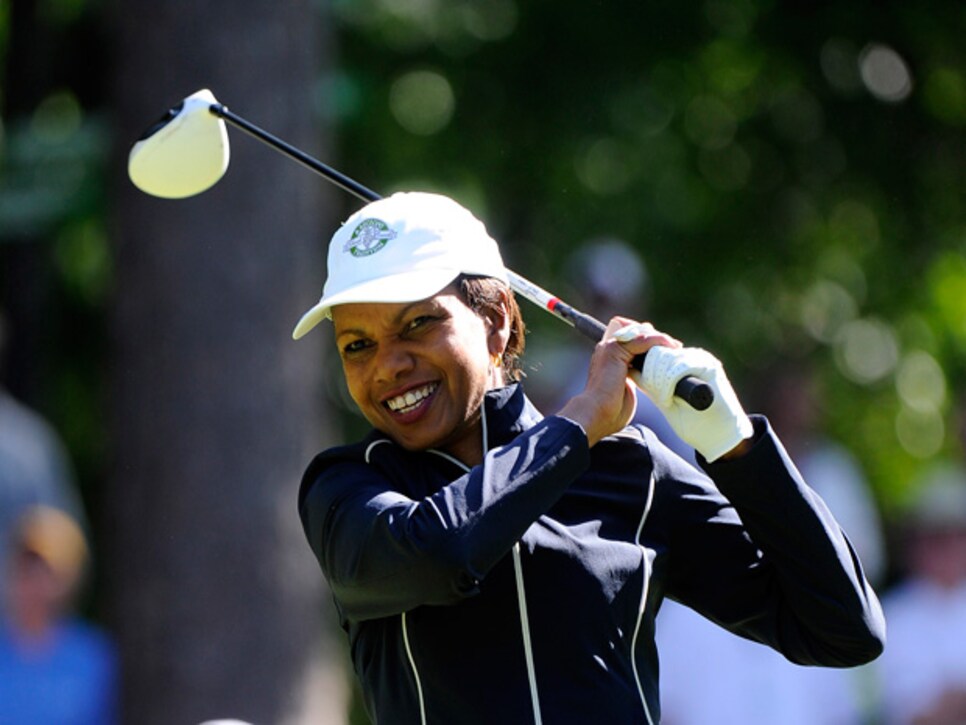 "For a black woman descended from slaves, who grew up in Birmingham, the most segregated big city in America at the time, golf is instead just yet another obstacle to defeat."
So Augusta National, a course with no ladies' tees, has finally admitted some lady members. The announcement that Darla Moore and Condoleezza Rice were being measured up for green jackets was welcome if not especially earth-shattering news. It had probably always been a question of when, not if.
Moore is a partner in the private investment firm Rainwater Inc., founded by her husband Richard Rainwater. As for Rice, she is now -- with the possible exception of Bill Gates -- the most famous member of the 80-year-old, old boys' club. She was National Security Advisor for the first term of George W. Bush's presidency and Secretary of State for the second, and one of the primary architects of the invasion of Iraq.
For Augusta National she was a natural choice. She had played at the club as a guest several times, shooting 98 the second time out thanks to a good run around Amen Corner. She was on display at the Masters in 2009, blogging about her experiences for The Daily Beast. In 2010 she was named to the USGA Nominating Committee and has served as honorary chairperson to the Regions Tradition Champions Tour event -- largely ceremonial posts but nevertheless signs that she was interested in being taken seriously as a serious, clubbable golf person.
She joined Shoal Creek, in her native Birmingham, Ala., in 2009, a hugely symbolic moment for a club that created such racial controversy in 1990. But she refused to make a definitive social or political statement about it; such diplomacy must have been a pleasing bellwether for Augusta National. Indeed, Rice's prepared comments this week about her newfound status as an Augusta member were similarly vanilla in flavor: "I have long admired the important role Augusta National has played in the traditions and history of golf. I also have an immense respect for the Masters Tournament and its commitment to grow the game of golf, particularly with youth, here in the United States and throughout the world." Always the politician.
Rice last year for Golf Digest, in her corner office at the Herbert Hoover Memorial Building at Stanford, where she was the former Provost and is now a poly-sci professor. She was charming but businesslike, not especially introspective or reflective, tough when it came to negotiating how much time she could spare, always in complete control. I asked her about Augusta National, and whether she felt it had any obligation to set a better example to the world by becoming a mixed club. This is what she said: "No, I actually don't. These are issues for the membership. I've got a lot of good friends at Augusta who are really good people. And it's really up to them. I don't obviously believe that you can have racial discrimination. That seems to me is something that is not only illegal but immoral. But there are women-only associations and men-only associations, and these are things that we need to leave to people to sort out. The face of America is changing, the face of golf is changing. All of this will change. You know, who would have thought that we'd be sitting here in 2011 and we'd have a black president and a female Secretary of State at the same time. Or that in 2001 we'd have a black Secretary of State and a black National Security Advisor at the same time. America's changing."
Predictably she had no comment then on being suggested as possible first female member of the club, though perhaps there was just a hint of a glimmer in her eye.
Rice took up the game at the age of 50, a few months into her job as Secretary of State, introduced to it by her cousin's husband. Not the ideal time to take up the game, but she was nevertheless hooked. Golf was never a relaxation for her, a mere pastime, an escape from the pressures of politics. "I don't like anything that's just an escape," she said. For a black woman descended from slaves, who grew up in Birmingham, the most segregated big city in America at the time, golf is instead just yet another obstacle to strategize over, outwit, attack and then mercilessly defeat. With the resolve, hard work, fierce intelligence and aggressive style of play that are inextricably part of her DNA, she has already got her Handicap Index down to 12.1, well on her way to her goal of single figures. Not achieving that goal is not an option. And she has plenty of places to play. Besides Augusta, she is a member of Stanford GC, Cypress Point, San Francisco GC, Shoal Creek and the CC of Birmingham -- no wonder she had no interest in being Mitt Romney's running mate.