News
Nothing Tops Golf And 1912 As The Best Birth Year For Any One Sport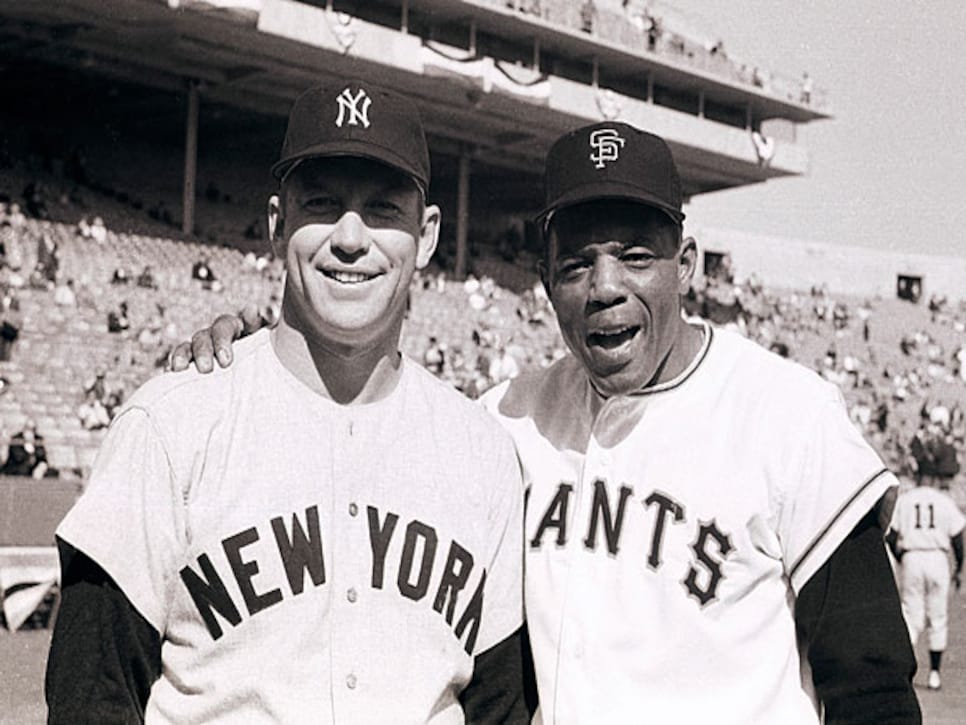 Mantle and Mays were among four of baseball's most prodigious home run hitters born in 1931.
It might not have been a great year for luxury liners, but for golfers, the stars certainly aligned in 1912. As we celebrate the 100th anniversary of the births of Ben Hogan, Sam Snead and Byron Nelson, we quite naturally began to wonder if 1912 was the greatest birth year for one sport. The odds are certainly long that three of the 10 greatest players in any sport were born in the same year, and after extensive searches through the Internet and other reference materials, we've determined that our trio is unique, though baseball, basketball and even golf fans of a more recent vintage might argue for their year.
It's hard to dispute our notion that Hogan, Snead and Nelson are among the 10 greatest golfers of all time. In Golf World's Nov. 19, 1999 issue we ranked them as the third, fourth and seventh best players of the 20th century. Nothing that has happened since then would drop any of them from our list. But if you are a proponent of sheer volume trumping our trio, you need look no further than 1957. The roll call of multiple major champions born that year includes: Seve Ballesteros, Nick Faldo, Bernhard Langer, Mark O'Meara, Nick Price and Payne Stewart. Add Nancy Lopez and you have seven superstars, but none is among our top 10 in that 1999 list. Next is 1949, with Tom Watson, Tom Kite and Lanny Wadkins. Still, 79 wins and 10 majors fall far short of the 198 and 21 produced by Bantam Ben, the Slammer and Lord Byron. So the year 1912 stands supreme in golf annals. How does it compare to other sports?
Baseball has the most candidates, notably 1931, which saw the birth of four of the 25 players who have hit 500 or more home runs. Of that foursome, however, only Willie Mays and Mickey Mantle are mentioned with the game's absolute best. Ernie Banks and Eddie Mathews, although among the greatest shortstops and third basemen of all time--Banks was included in baseball's 30-player All-Century team in 1999--don't provide a third candidate as strong as Nelson. Other notable years include 1887 (Walter Johnson and Grover Cleveland Alexander, two of history's greatest pitchers, and Eddie Collins, who was one of the first players to amass 3,000 career hits) and 1934 (Hank Aaron, Al Kaline and Roberto Clemente).
Football's best years pale compared to golf and baseball. Arguably, the greatest linebacker (Lawrence Taylor) and defensive back (Ronnie Lott) of all time were born in 1959, but there's no third. Same for 1938 with defensive end Deacon Jones and center Jim Otto. Four members of the famed 1970s Pittsburgh Steelers were born in 1952 (Mike Webster, Lynn Swann, John Stallworth and Jack Lambert) and perhaps the three greatest Baltimore Colts were born in 1933 (Johnny Unitas, Raymond Berry and Lenny Moore). Still, they all fail to match our trio for historical greatness.
Hockey also has a great trio from the same team. Wayne Gretzky, Mark Messier and Paul Coffey of the Edmonton Oilers 1980s dynasty were all born in 1961. The Great One and Messier make many top-10 lists, but Coffey, a hall-of-famer and record-setting defenseman, falls short. We couldn't find any records of track and field, soccer, tennis or other individual sports with three of its greatest players born in the same year.
That leaves us with basketball, and perhaps our biggest challenger. Michael Jordan, Hakeem Olajuwon, Charles Barkley and Karl Malone were all born in 1963. No less an authority than ESPN's Bill Simmons puts Jordan and Olajuwon in his Pantheon (the 12 greatest NBA players), but he leaves Malone and Barkley in his second tier (albeit in the top 20). We'll still take our trio, but four of the top 20 is the next best thing.