News
My Town: Joe Steranka's Palm Beach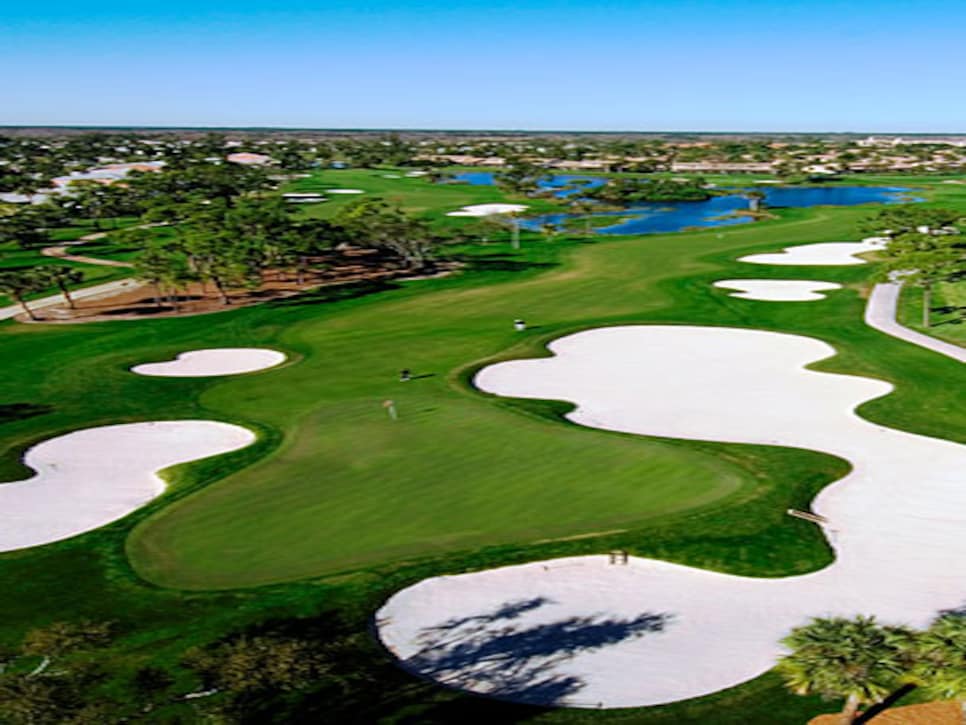 The 13th hole on the Champion Course at PGA National.
At the risk of being too dramatic, or sounding like some kind of old-timer, Joe Steranka can't help but think about how much the Palm Beaches area of Florida has developed since he first came to work for the PGA of America.
"I got here in 1988," recalled Steranka, 53, who started as the association's director of communications before rising to CEO in 2006. "It was a young community with a nice small-town feel. Interstate 95, the main north-south highway near the coast, still had a gap just north of Palm Beach Gardens."
What hasn't changed is how much of a hotbed it is for golf, with courses abounding up and down the coast. Along with the weather and the water, golf has defined the area and provided much of its cosmopolitan charm.
"It's a great mix of sophistication and resort casual," Steranka said. "We have professional golfers now who make their homes here. But you're just as likely to see Jack Welch in short-sleeves in a restaurant as anybody in a coat and tie."
, but I think it stands on its own merits. The great players in history have played this course and made it famous. When you're watching it host the Honda Classic, you can appreciate how challenging a finish the Bear Trap (holes 15-17) really is.
is a par-3 course Raymond Floyd redesigned a few years back. It has four holes on the Intracoastal Waterway and five on the ocean. You can breeze around 18 holes in two hours and have a lot of fun. It's a little-known treasure.
recently as well, and it has several holes along the Intracoastal that are pretty impressive. And I'd be remiss if I didn't mention PGA Village
, which is a little more than an hour north in Port St. Lucie. It has a Pete Dye and two Tom Fazio courses, plus golf history buffs will enjoy the PGA Museum that's on the property.
On Highway 1 in Juno Beach is the Reef Grill. It used to be called Captain Charlie's Reef Grill. It's legendary. You can get a whole slew of appetizers from T-Wa shrimp and ahi tuna roll to tripletail snapper with beans and rice. It also has an extraordinary wine list.
Cafe Sapori is an Italian restaurant in West Palm that's very good. The veal Milanese is unbelievable.
For a more casual setting, there's Guanabanas on Highway A1A in Jupiter. It has some seafood and Mexican dishes, with outdoor seating. They also have live music on the weekends.
If you're just looking for a place to watch a game, there's Duffy's Sports Grill, which has more than a dozen locations.
Walton Street Capital bought PGA National from the original developer and has put more than $20 million into renovating it. It's a great destination. The ibar just off the front lobby is an iconic gathering place now, especially during the Honda Classic. The Ironwood Grill has great food. And the pool and spa are two of the best in the area.
Jupiter Beach Resort & Spa is on the ocean and is a fantastic spot that offers all the classic resort amenities. ... For an off-beat B&B, there's the Sable Palm House. It's in Lake Worth, off the Intracoastal, and provides a very romantic setting.
Art Fest By The Sea is held in March. They close down Ocean Blvd., in Juno Beach and line it with artisans and sculptures. In the May there's Sunfest, which is a combination of the best art and music that's held in West Palm Beach.
Some non-seasonal spots include the Flagler Museum, where you can learn about the history of the area and how it developed into a cosmopolitan setting. There's also the Norton Museum of Art, where many leading artists from all over the world exhibit their work.