News
Lyle Set To Assess His Game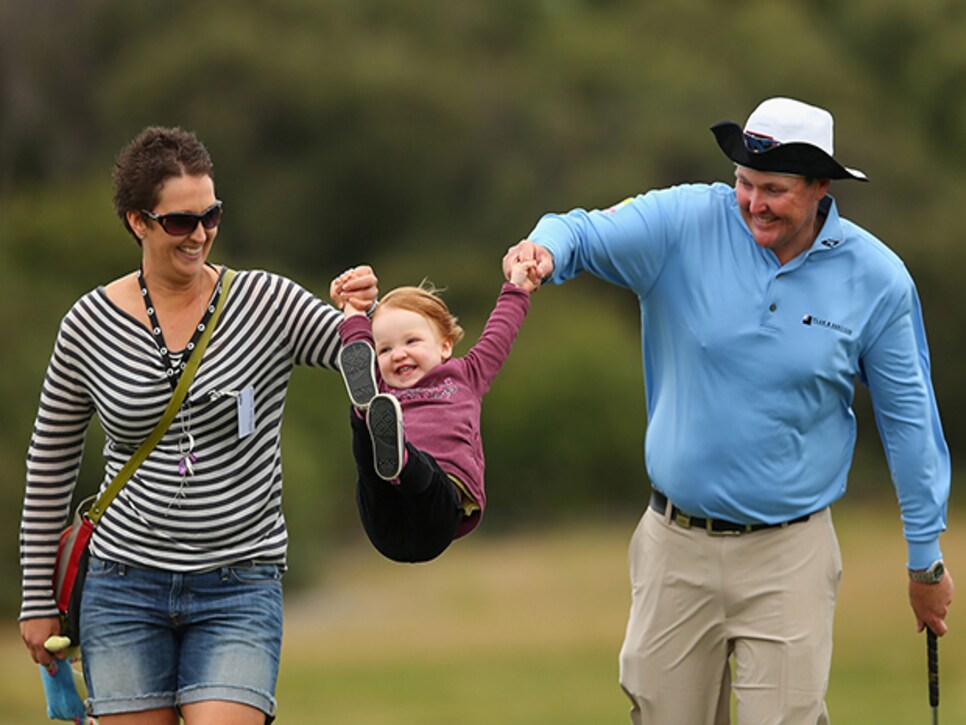 Jarrod Lyle's plans for late July included taking delivery of his RV and getting on the road for Kansas City with wife Briony and daughter Lusi along for the ride, cancer in the rear-view mirror.
Two years after going through cancer treatment for the second time, eight months after an emotional return to the game at the Australian Masters, Lyle has fought off doubts about whether he wanted to play competitively and is staging a comeback.
"I'm back to where I was," Lyle said when we sat down recently at a restaurant near his home in Orlando. "I'm ready to play golf again."
The plan is to play three Web.com Tour events in a four-week span starting July 24 at the Midwest Classic in Overland Park, Kan. That will give Lyle a gauge of where his game and body are heading into the 2014-2015 season. These "rehab events" will not count against the 20 PGA Tour starts he gets in order to make $283,825 as part of a medical extension that was granted in 2012 when he was diagnosed with a recurrence of acute myeloid leukemia.
"I don't know if I have what it takes to play golf out on tour, but I have got a lot of guts and determination to get back out there and do it," he said.
Prior to the Australian Masters, Lyle didn't know if he wanted to be a pro golfer again. He felt guilty seeing Briony raise Lusi while he went through cancer treatments, and wanted to spend all his time with them, instead of pursuing his career.
Briony stepped up. "We were just in limbo," she said. "I was at the point something had to give. Either he was going back to work, or he was going to stay home with Lusi and I go back to work. Having three of us around the house day in and day out seemed pointless."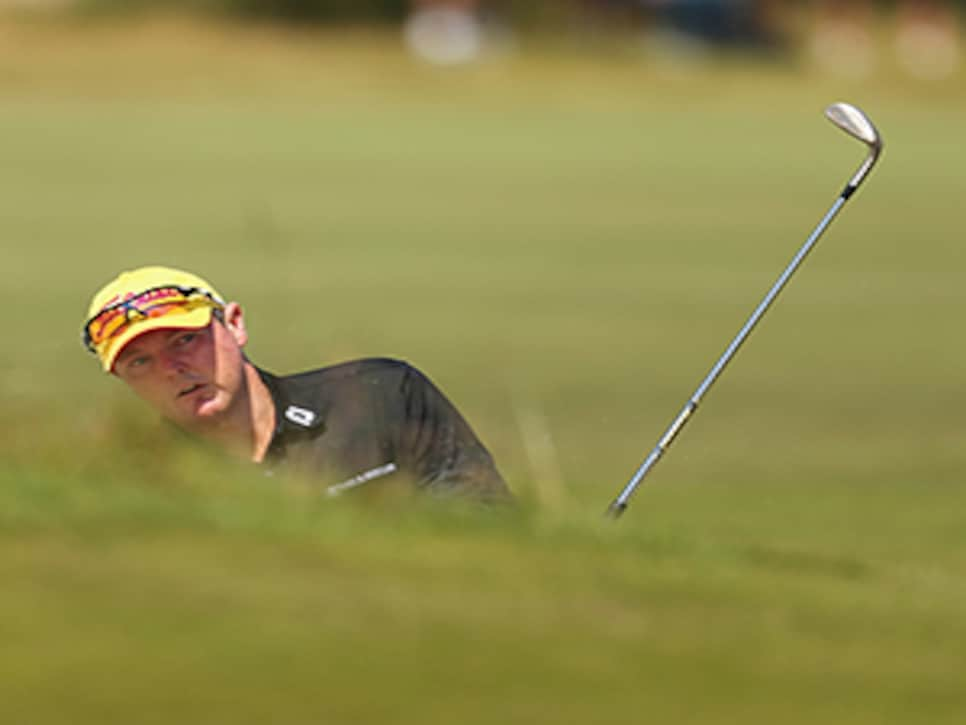 That tough love resulted in Lyle coming back on Nov. 14 at Royal Melbourne GC, 45 minutes from Royal Melbourne Hospital, where he began chemotherapy and received donor blood transplanted from umbilical cords shortly after Lusi's birth. Briony was induced so Jarrod could hold his daughter before starting his treatments in March 2012.
Lyle's worst doubts came when he was undergoing treatment. Because it was his second time around with cancer, Lyle knew the odds of being cured were longer than when diagnosed as a teenager. The dosages were stronger, as were the reactions in Lyle's body and his mind. Radiation treatments prevented Lusi from sitting on his lap.
Briony gave Lyle something to look forward to when he woke up, bringing Lusi and smoothies to the hospital. The more this went on, golf went further and further down Lyle's list of priorities, until it disappeared. He had other things to fight for, like his wife and daughter. That's what kept him going, not a return to golf. Were there moments in 2012 and 2013 when Lyle thought he wouldn't make it out of Royal Melbourne Hospital, let alone live to play Royal Melbourne for the Australian Masters?
"Every day," he said. "I'd sit there and think about my golf and say, 'I may never get out of here. Full stop. That was the reality of it.' " The reality, though, is that Lyle was a golfer. That's what he had done since childhood, growing up in Shepparton, Australia, an agricultural and manufacturing center 120 miles from Melbourne in northeast Victoria. As his hematologist told GolfChannel.com, "It's difficult to take golf out of the man."
It was also difficult to take Lusi out of his sight. She was there, riding in the golf cart with Lyle, when he made the drive to his home course in Torquay in February 2013 to play his first nine holes since treatment. She was also there, inside the ropes, when Lyle made that walk to the first tee in November at the Australian Masters. As he prepared to tee up his ball, Lyle heard Lusi's voice break the silence by saying, "Daddy."
"I don't think I've ever hit a harder golf shot than that first one back," Lyle said. "That was hard work just to tee it up. You watch amateurs have a hard time getting the ball on the tee [in a pro-am]. That was me, trying to get the ball on the tee again."
There is some shakiness involved in Lyle's return to the PGA Tour. Since November, he has been working with swing instructor Sandy Jamison and on his fitness. Playing on adrenaline, he played the weekend in the Australian Masters, but missed the cut in February at the Victorian Open.
"That was Step 1," Briony said. "Now let's get to Step 2, Step 3, let's keep the ball going. I think I pushed him to get back into the Web.com, as well, otherwise another 12 months go past, and we wouldn't know where he's at."
Briony also grew up in Shepparton, but didn't connect with Jarrod until he pulled into a gas station where she was working. Going back home, to lead a normal life, was an acceptable option.
"The reality is, his heart would not be into it, and that would be the end," she said. "To me there's absolutely nothing wrong with that, but as a family we have to know that sooner rather than later. It's a demanding lifestyle. If you're going to play golf, play golf. If not golf, let's do something else. No big deal."
It is a big deal that Lyle is playing golf again -- for his family, and himself. He was coming off a T-4 finish at Riviera in the Northern Trust Open when the leukemia returned in 2012. His summer series includes a trip back to Knoxville, Tenn., where he won on the Web.com Tour in 2008.
"I'm ready to go back out and see everybody, and compete against everybody," Lyle said. "I don't want to sit down in 10 years' time and say, 'I wish I had given it another try.' "
Tom Watson's hopes for a U.S. Ryder Cup team-building trip to Gleneagles before the British Open at Hoylake collided with the realities of players' schedules. In the end only Keegan Bradley, who moved up to 16th in the Cup standings with a T-4 at The Greenbrier Classic, and Jim Furyk, currently No. 6, joined Watson at the venue where this September's matches against Paul McGinley's European squad will be held. Phil Mickelson, Rickie Fowler and Jimmy Walker instead competed in the Scottish Open, while Jordan Spieth and Zach Johnson teed it up in the John Deere Classic. Brendon Todd, now No. 11 in the U.S. Ryder Cup standings, told Watson he would be better served getting to Royal Liverpool early. There he could prep for the major that offers double points as he tries to make the team. Tiger Woods, a potential pick, also arrived at Hoylake over the weekend.
Brandt Snedeker won the FedEx Cup in 2012 and followed up last year with two victories and over $5.3 million in earnings -- but that wasn't enough to save the job of swing instructor Todd Anderson. When Snedeker's numbers went down in the first half of 2014, Anderson was out, replaced recently by the legendary Butch Harmon. A sign this was coming: Snedeker visited Harmon in Las Vegas before the U.S. Open. After his return visit on July 8, Snedeker made it official, making "one of the hardest phone calls I've ever had to make," to Anderson, his teacher since 2005 and presently No. 8 on the Golf Digest list of 50 Best Teachers, seven spots behind Harmon. "Every month I wait, I'm not getting better," Snedeker said on his way to the British Open, adding, "My wife told me on the way to the airport today that I was like a kid on Christmas."