News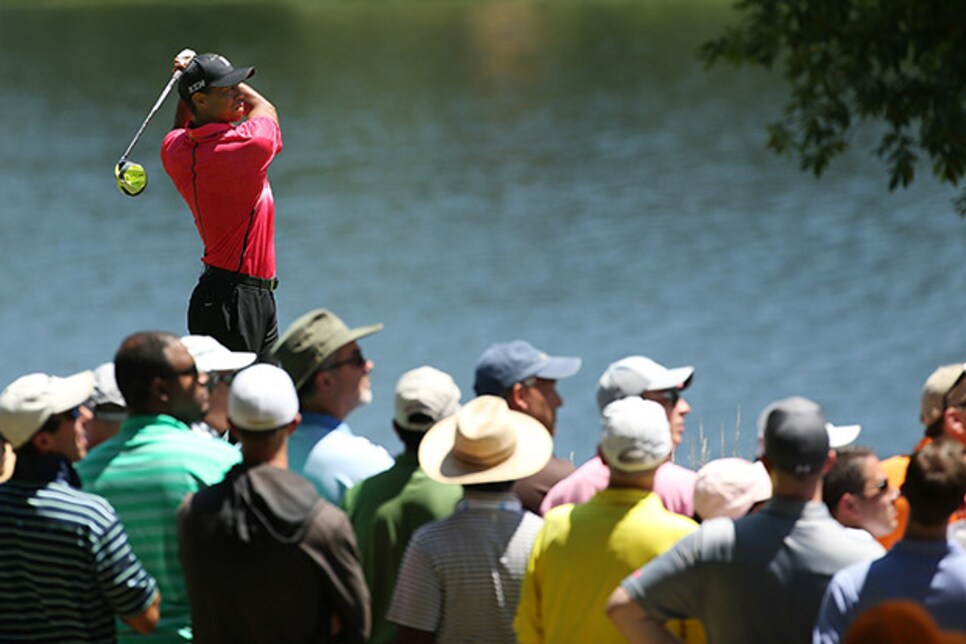 To borrow from screenwriter William Goldman's iconic comment about Hollywood, when it comes to Tiger Woods, nobody knows anything.
There are three reasons for this. First, it's golf, which no one has ever figured out. Second, much if not all of the pertinent information is possessed by Tiger Woods, who doesn't over-share. And, third, unless you count Bobby Jones retiring at 28, we have never seen a truly historic player fall so far, so fast, so early.
Whether Woods' decline is permanent remains the question, although after he missed the cut by a mile at St. Andrews the issue for many seemed settled. But either way, the Tiger Saga remains fascinating and mysterious. For now, here's what I see.
Although it might be more orthodox technically than it has ever been, Woods' overall action no longer has the flow and rhythm of his youth and prime. It's more compact, and the transition is more abrupt, with a hard thrust toward the hitting area. The microsecond at the top of the swing is no longer the moment of surety it used to be.
Even with injuries and age, Woods is still a physically impressive athlete, with speed, flexibility and grace. He isn't consistently among the longest hitters, but when he lets the driver go, few players outdrive him (he ranked second in driving distance at the Quicken Loans National). It seems his determination to keep his length is what causes him to swing so hard and to retain the much-criticized dip in his swing with the driver—a move that many teachers say is the cause of his wildness off the tee, but which Woods stubbornly believes allows him to "use the ground" for power. Woods still hits many superlative shots, especially with his irons. He can still putt. But increasingly mixed in are an alarming amount of shocking misses—wide blocks, diving snipes, short pop-ups, heavy chunks—that ruin rounds mentally and on the card. No tour player is good enough to win tournaments with such shots in the bag, or in the mind.
Although his work ethic and desire have come under question, outwardly, Woods seems as focused and competitive as ever. Also over the past five months of mostly poor play, he has shown a marked improvement in smiling and acknowledging the crowd.
All the injury and swing-theory jargon he has used to obfuscate answers about his poor play—"changed release points," "deactivated glutes," "a baseline shift," et al—is, in its way, a show of mental strength. Observers might want self-effacement and vulnerability in their champions, especially their damaged ones. But to be a golf champion, publicly admitting weakness is counterproductive.
Woods resists doing so in the same way he competes: greedily and mercilessly, conceding nothing. In his version of events, he always grants himself every possible positive. Lately, he has been harkening back to winning five times and being PGA Tour player of the year in 2013, as well as saying he was in the hunt at Augusta in April (where he was 12 back after 36, 10 back after 54 and finished 13 back to tie for 17th) and at The Greenbrier, where he finished T-32. He's also been trading on his most prized possession and last resort—his record—by repeatedly reducing any of his current difficulties to "I've been there before," as if he will naturally emerge to win majors in bunches again. He spins and stretches for the purpose of brainwashing us as much as himself, and don't expect him to stop.
It is this area that will determine whether Woods can make it back. As much as Woods says it's about physical things (recovering from injury and owning swing changes), I believe that his real issues are mental.
There is no doubt he can produce shots of the highest level when he's right. But since 2010, he has stopped being able to do it when he really wants to or, more significantly, when he has to. It's the quality that most made him great, and why he currently isn't.
The most obvious measure is his performance in majors. His third-round 68 at Augusta this year was the first time since the 2011 Masters that he broke 70 on the weekend in a major.
These days when the tension is high, Woods simply doesn't play as well. His first-tee jitters are well-documented. He was under enormous pressure at St. Andrews—where he had won British Opens by eight and five shots and where he knew his performance would be seen as a referendum on his future—and he didn't handle it, unnerved after two badly missed shots on the opening hole.
Last week in Virginia, where Woods was the tournament host, was a respite from the cauldron of scrutiny and expectation he faced at the Old Course. Still, he got off to a shaky start, three over par after four holes, and looking like another 80 was possible. But he got dialed in with his short irons, and brought it back to 68 at Robert Trent Jones Golf Club.
It set him up for a nice groove Friday, and he responded with an impressive 66, which put him within two of the lead, in genuine contention for the first time since 2013. But Saturday, he again didn't handle it, shooting a 74 that included three shocking misses while getting lapped.
Woods began Sunday nine back and freewheeled to five under through 10 holes, bringing him within four of the lead with eight holes left. But he immediately missed a three-footer for par and hit his next drive into a water hazard. After his closing 68, which left him T-18, he casually noted that he "had total control of the golf ball, which was nice."
Woods also denied he had been tense on Saturday. "No, I felt very comfortable out there," he said. "I've been there so many times."
Ultimately, as much as it flies in the face of results, Woods knows he can say what he wants because decline is harder to track in golf than in other sports. Whereas in most other sports losing a step announces that time is up, players lose a step every week in golf. Then invariably, at all ages, they get the step back, often at a major championship.
But when Woods says what he is going through is simply a repeat of a well-worn pattern ("I know what I'm doing out there"), he goes too far. Nothing from his pre-2010 career comes close to this year, which began with horrendous chip yips, included the highest rounds of his career and has landed him at 266th in the world. It strains credulity to think his path is simply the necessary way to improvement, getting worse to get better. Without anyone saying so, there's an intuitive understanding that the problems are far more deep-seated. If Woods overcomes them, it will be monumental. And that—not whether he will figure out his swing—is why he's such a magnet.
Is Tiger Woods done? He was widely pronounced so after St. Andrews. My instinct is still to wait. It might be a holdover of having witnessed so many incredible feats by Woods, but I have the strong sense that even into his 40s he will refuse, with all his disquieting will, to surrender. Which augurs for his somehow finding a way to a miraculous comeback.
The PGA Championship at Whistling Straits, where Woods finished T-24 in 2004 and T-28 in 2010, figures to be his last event until December. Which could result in the thing Woods most needs: A long, thoughtful break.