News
Moments Of Clarity Were Revealed In The Various Events Of 2012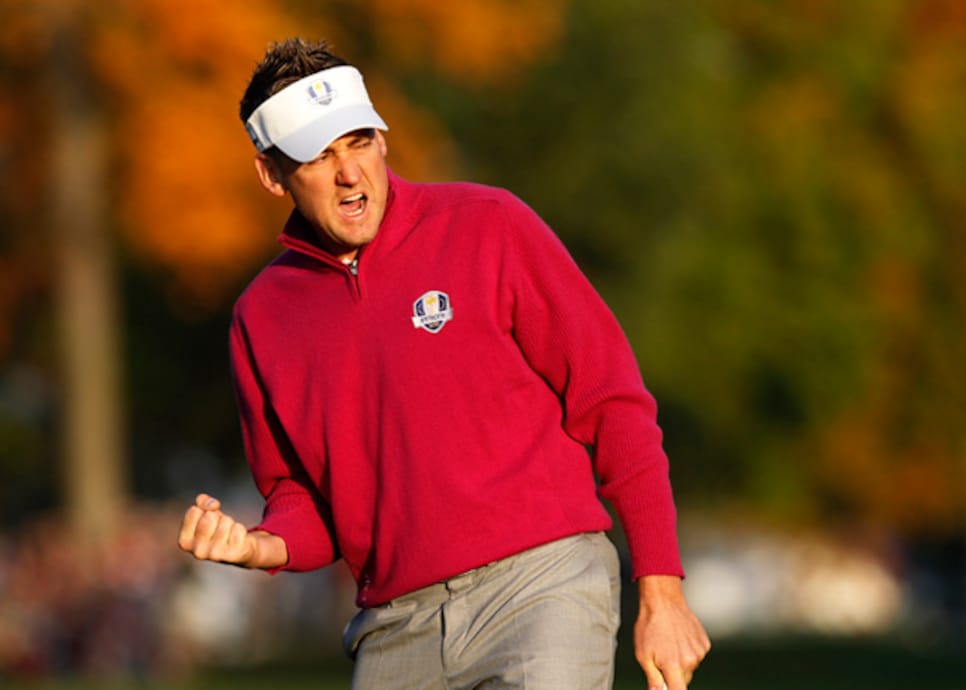 Ian Poulter's clutch Ryder Cup performance was just one highlight of 2012.
Long term, 2012 will be remembered for Rory McIlroy's second eight-shot major victory, Ernie Els' September Song at the British Open and Bubba Watson's sudden-death sky hook at Augusta. But right now, I think of a year that provided an extra degree of clarity.
In January a lot of questions hung in the air. Most, per usual, had to do with the prospects of individual players. But under increased scrutiny was the state of the game itself. What we now know, or what we know better, is surprisingly definitive.
• Pro athletes who say holding on to a lead to win a golf tournament is the psychologically toughest thing in sports gained credibility.
• McIlroy answered suspicions that he is too nice to be a great champion. He proved he is hungry, a persistent improver and can handle the moment. He's also both smart and humble enough to regularly seek out Jack Nicklaus. And when they are both on, McIlroy has more game than Tiger Woods, unlike David Duval, Vijay Singh and Phil Mickelson at their peaks.
• The USGA and R&A are more resolved to rule. It was reflected in the bold ban on anchoring, a coherent voice on "sustainability" and an overdue willingness to acknowledge the elephant in the room -- distance. Mike Davis and Peter Dawson say the word more often now, as if trying it on for size. "We want to understand what reduced distance might mean," was Davis' most recent volley. Yep, there's a new sheriff in town.
• Being projected as Annika Sorenstam's historical challenger got to Yani Tseng, and she hasn't yet recovered. LPGA Rolex player of the year Stacy Lewis might not have as much talent, but she seems more steely and less vulnerable.
• Best word to describe Watson's reaction to winning the Masters? Ambivalence. Bubba likes attention, but doesn't like expectation. Yet when you're a monster talent, that's not how the world works.
• Revealingly, after graduating from Stanford and finally devoting herself to the LPGA Tour full time, Michelle Wie not only didn't play better -- as projected by many -- she played much worse. Best word to describe her? Conflicted.
• Ian Poulter was ridiculed for saying in 2008 that eventually "it will be just me and Tiger." Well, when it comes to being clutch, Poulter arguably has not only surpassed Woods, but everybody else. Has there ever been a better, more timely run of ultimate-pressure/must-make putting than Poulter's five straight birdies late Saturday afternoon at the Ryder Cup, which transformed his mates from beaten to buoyant? Even considering Woods' incredible body of work, I say no.
• Two women finally being granted membership at Augusta National means the R&A will look increasingly ridiculous until it follows suit with at least one.
• Short hitters can still be dominant. Despite the death knells, Luke Donald spent part of the year at No. 1, and after dropping to No. 3, supplanted Woods at No. 2 by December. And the biggest blowout in the majors wasn't by McIlroy at Kiawah, it was by little Jiyai Shin, who bisected stormy Hoylake to win the Ricoh Women's British Open by nine.
• Mickelson's active mind can be an asset or a liability, but this year the latter took the career lead. Over the years, Phil's overthinking oeuvre includes (poorly) self-designed wedges, carrying two drivers, carrying no driver, the belly putter and those dark, pin-striped mobster slacks with the flesh-toned shoes. But when Phil, after he and white-hot Keegan Bradley had just ended their Saturday morning Ryder Cup alternate-shot match against Donald and Lee Westwood on the 12th hole, told Davis Love III, "You're seeing our best. You cannot put us in the afternoon, because we emotionally and mentally are not prepared for it," he outdid himself.
• Minimalism reigns. When the king of excess, Donald Trump, hires holistic Gil Hanse as his architect at glitzy Doral, that's a tipping point.
Still murky is how the game's leaders intend to attack the spreading amoeba that is slow play. And the biggest question of all -- whither Woods -- remains unanswerable. He's possibly steadier, seemingly less explosive and maybe simply not as good. But he has too many bona fides and remains too much a work in progress to make any call yet.
After all, this is golf. You you take clarity where you find it. Somehow, there was plenty in 2012.