News
D.J. And The Great Weight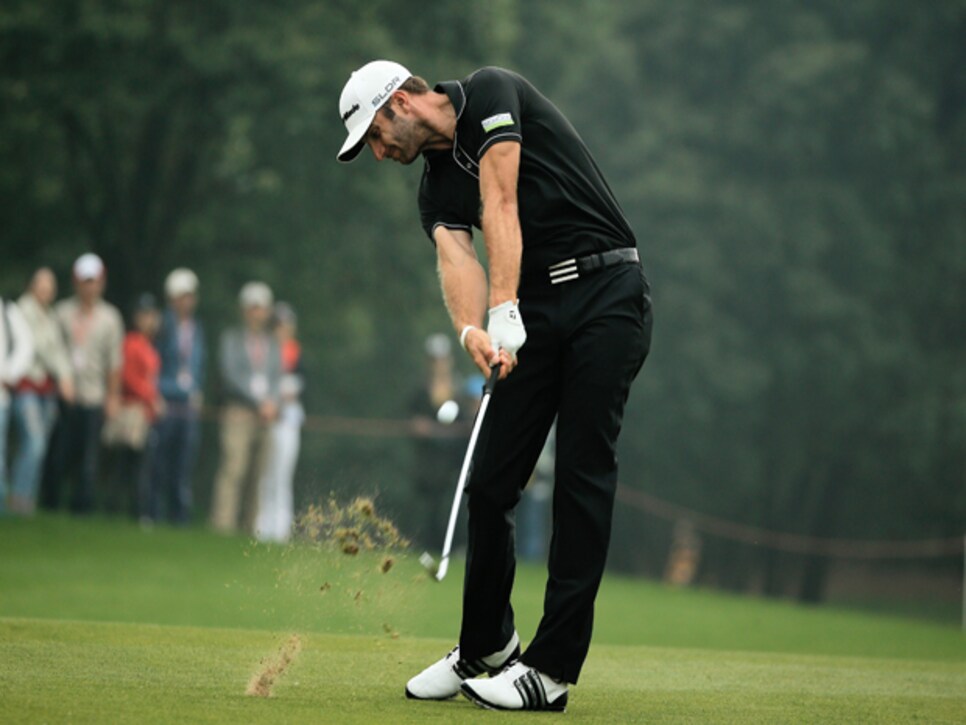 Johnson hits his approach shot on the ninth hole during the final round of the WGC-HSBC Champions.
It's hard to resist a natural. Forget specific talents -- just the loose-limbed gait that announces the physically gifted athlete entrances lesser humans. The universe has always made more sense when Fred Couples wins -- even on the Champions Tour -- and last weekend offered a dialectical double dip when Dustin Johnson was victorious in China.
Corporeally, the 6-foot-4, 200-pound Johnson has got it going on. It's measurable in the ridiculous ball speed of his tee shots, the way he astounds his trainer and fellow tour gym rats with single-leg squats and the force with which, at 29, he can still dunk a basketball. Because his driver is his best club -- relatively good accuracy for a bomber is why he's had six top-10s in his last 16 majors -- when Johnson is rolling he can make tournament golf look very easy.
But because their potential is so seductive, naturals tend to be overrated. Cautionary tales of five-tool sluggers, cannon-armed quarterbacks and rim-rattling hoopsters who've disappointed (think Josh Hamilton, Jeff George and Shawn Kemp) are so common as to nearly be stereotypes.
When it comes easy, it often doesn't come at all. In golf the superior athletes who excel are also grinders, maybe mostly grinders. It's true of Tiger Woods, who once said he wanted to be known as an overachiever. It was also true of Jack Nicklaus, who was so clinical about his golf that he erased any remnant (other than the insert-cracking power of his swing) of the BMOC team sports star he had been at Upper Arlington High.
It's almost axiomatic that if a golfer continues to be known for his athletic prowess, he's probably been an underachiever. So far, Johnson, Gary Woodland, Will MacKenzie and, yes, even Couples, fit that cruel description. While Babe Didrikson Zaharias might be the exception that proves the rule, consider that Sam Snead was deemed by his peers golf's greatest athlete as well as a player who should have won a lot more than just seven majors.
Being natural can be a no-win because for the envious rabble nothing short of sheer dominance will ever be good enough. If Johnson weren't considered supremely gifted, he would be receiving high praise for having more PGA Tour wins -- eight -- than any player under 30, or for already figuring prominently in three major championships.
At the same time, anecdotal evidence and tour word of mouth (the quote that has stuck to Johnson -- "Every other guy in the top 10 outworks him" -- came from his coach, Butch Harmon) suggest that Johnson hasn't dedicated himself to the game's nuances. For one, he gets worse the closer he gets to the hole. Johnson has ranked 98th or worse in strokes gained/putting in four of his six years on tour and, other than finishing 32nd in the category in 2012, he has never been better than 139th in scrambling.
Without a first-class short game, Johnson hasn't been able to sustain success. After he cruised to a four-shot victory in Kapalua in the first event of 2013, it seemed to set him up for a big year. Instead, Johnson was mediocre, finishing 19th on the money list. In fairness, he was hampered by a back injury, and then there was his high-profile engagement to Paulina Gretzky in August. Still, after the birdies failed to keep pace with the couple's barrage of tweets and Instagram posts, Harmon's quote echoed again when Johnson didn't even merit serious consideration as a captain's pick for the Presidents Cup.
But now Johnson has opened the 2013-14 season with what he called the biggest victory of his career. Will the overdue big year follow? The game is in a holding pattern, waiting for someone to face down Woods, who is still out-grinding everyone even as his own physical gifts are declining. With his 30th birthday coming up in June, a finally dedicated Johnson in actual grind mode could become Woods' most formidable challenger, and perhaps even his successor.
Naturals engender such extravagant talk. In the end it will come down to how much D.J. actually wants it. He hasn't shown voracious hunger to this point, and the No. 1 spot in recent years has proved repelling to the Westwoods, Kaymers and McIlroys. It's not hard to see Johnson lounging on his boat with Paulina musing, "Who needs it?"
Then again, maybe his future father-in-law will gently counter that line of thinking. Wayne Gretzky was himself a natural, but also a stealthy grinder who brought it every night. Perhaps he can help Johnson finally become, if not "the," at least "a" great one. The universe would make more sense.