News
Four-ball Lets Freedom Reign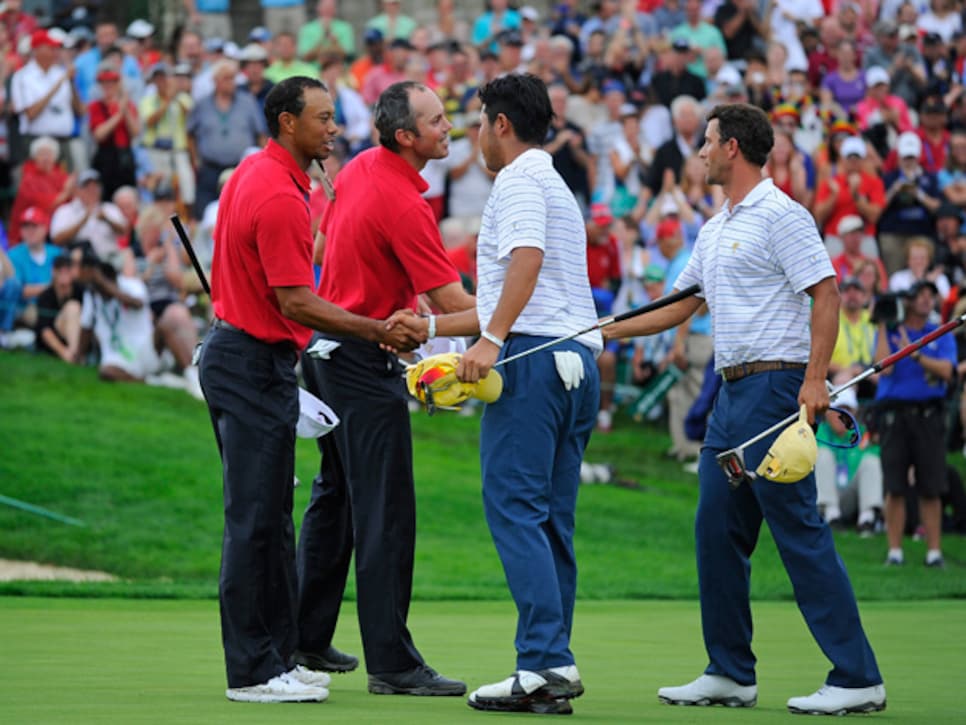 Tiger Woods and Matt Kuchar shake hands with Adam Scott and Hideki Matsuyama after defeating them during the Day 3 Four-ball matches.
Criticize the Presidents Cup and the Seve Trophy all you want, but the marathon coverage on NBC and Golf Channel last week provided the most vivid evidence of just how physically good these guys really are.
Regardless of how often the PGA Tour repeats its motto, we really can't tell from watching stroke play. Counting every single shot over four days innately suffocates freewheeling. A competitor's constant awareness that one bad swing can cause a tournament-destroying disaster creates a percentage-playing mindset that compromises the ability to demonstrate talent in full flight.
Arguably the most gifted player in history, Jack Nicklaus, confessed in his autobiography that he always played stroke-play tournaments -- and especially major championships -- with a slightly nervous defensiveness. The man who could hit it by everyone when he wanted to was very selective about when he did, which is why he is remembered more as a supreme manager than a dynamic shotmaker. It's also why the language of tournament golfers includes "managing misses" and how "it's not about hitting good ones as much as avoiding bad ones."
I'm not knocking it. Stroke play is the ultimate examination, the true test of body and mind. But it tends to put a governor on fully expressed brilliance.
Match play is a lesser challenge but more exciting. One bad swing only means the loss of one hole, allowing more freedom to go for truly great shots. Everybody's favorite player to watch -- Ballesteros -- was at his intoxicating best in match play.
Not that singles is a walk in the park. The personal element of playing against an opponent rather than the course is when a competitive golfer is most utterly alone, and most susceptible to panic. There is similarly little backup in alternate shot, which tends to make that format more about mistake avoiding.
Four-ball, however, is wide open, the one place in competitive golf in which high risk for high reward actually makes sense. The best are finally freed to be their very best.
It was on display at Muirfield Village, where the wet conditions, friendly setup and go-for-broke format made for a broad avenue of nothing but green lights. As always in four-ball, more long putts were holed, with masters like Stricker and Snedeker treating 12-footers like gimmes. But it was the ball-striking that seemed most extraordinary. I've never seen so many approaches hit so scare-the-hole close. And not just wedge shots, but full-blooded 6-irons from 200 yards.
On one hand, maybe it's the best evidence that the standard of golf is going up. Ben Hogan used to get extolled for always being pin high (and he never had a hole-in-one in official competition). When Johnny Miller was winning by double digits in the desert, my recollection is that the iron shots that were so astounding seemed to stop in the eight-foot -- not kick-in -- range.
On the other hand, maybe what we saw over the weekend is the game getting too easy at the top level. With advanced equipment, swings and ball flights so dialed in, a course condition other than fast, firm and long means a birdie-fest whether the format is medal or match.
The President Cup's first four-ball session on Friday reminded me of watching a great player attain a practice-session groove. Lore says Moe Norman lived in this state, and I've seen Lee Trevino and Tiger Woods -- but also under-the-radar strikers like Gil Morgan and Joe Durant -- reach it on the range. In my experience the player whose quality of strike and flight would consistently cause fellow players to stop and look was Mac O'Grady. At the Presidents Cup it happened on the course and collectively. Miller went so far as to say the players were in a "Nirvanic spot."
Which brings to mind what is probably the foundation of Miller's philosophy of competitive golf -- that pressure is generally a detriment to performance. Many have argued that Miller overstates, but the way four-ball produces such a rate of amazing shots convinces me that he was, and remains, right.
Great players by definition may handle pressure better than others, but that doesn't mean that like gravity, it helps more than it hurts. Just as the aim in the 100-meter dash is to slow down the least, the aim of the competitive golfer is to reduce internal pressure. As the Presidents Cup showed, the format with the lightest pressure -- four-ball -- is where the golf is as good as it gets.