News
Kaymer's Journey May Offer A Lesson To Disappointed U.S. Fans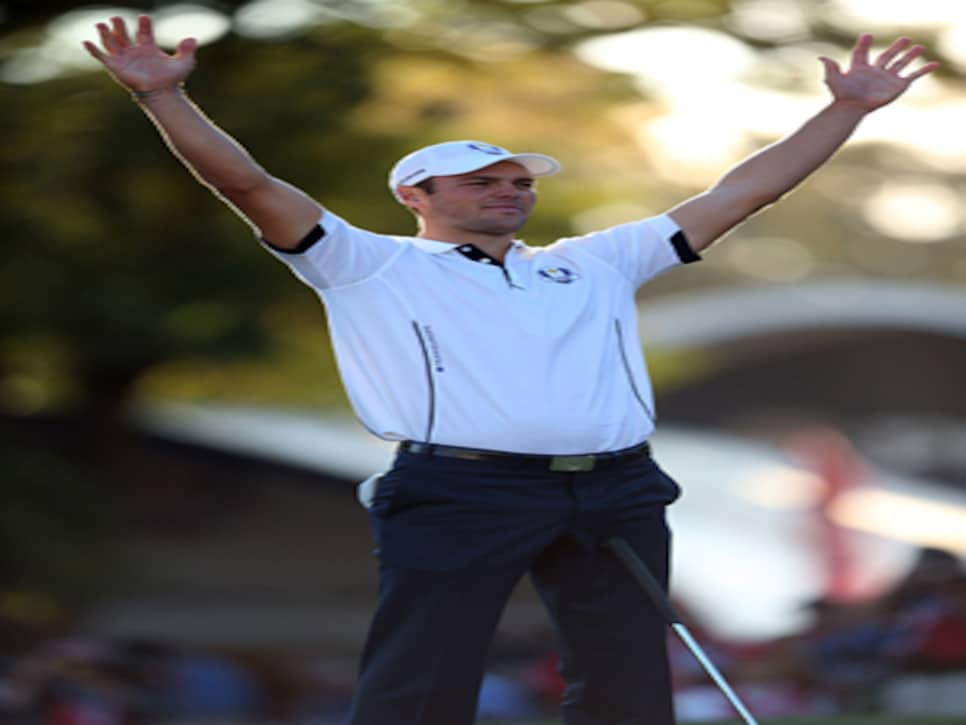 Martin Kaymer after sinking the Cup-clinching putt on 18 at Medinah C.C.
For two years Americans will be mad about how the U.S. flat blew this Ryder Cup. They needed only 4.5 points to regain the Cup Sunday, only to lose the singles session by their widest margin ever -- 8.5-3.5. Losing at home before the largest, loudest American crowds ever. Losing for the fifth time in the last six biennial matches.
And yet as I watched the latest installment of golf's greatest theater, it only seemed like a collapse on the scoreboard, not on the course. The Americans played hard, and for the most part played well. The Europeans were just a little better, were free from the defensive mode that comes with leading, and had better timing. In the major sport with the smallest ball and the biggest field of play, it was one little thing after another going in mostly one direction -- Jim Furyk's birdie putt on 16 somehow lipping out, Justin Rose's bomb on 17 somehow staying in.
Ian Poulter's late Saturday heroics gave José Maria Olazábal -- whose own style of mysticism rivals Ben Crenshaw's -- a feeling. "At one point in this match, I believe that momentum will come our way," intoned the European captain. "And why not tomorrow?"
What ensued was a historical make-up call. The Europeans avenged the much gloried U.S. comeback from another 10-6 deficit at Brookline in 1999, where it was Olazábal who had to wait to putt as the Americans over-celebrated. And certainly Martin Kaymer's five-footer with absolutely everything on the line put some salve on Europe's bitter memory of Bernhard Langer's miss on the final hole at Kiawah in 1991.
Then again, Ryder Cup history can repeat with terrible symmetry. At Medinah, Jim Furyk's crucial par miss on the 18th was nearly an identical reprise of Curtis Strange, also a maligned fortysomething captain's choice, at Oak Hill in 1995.
What used to make Ryder Cup losses so infuriating to Americans was the widely held presumption that our country had the best players. Some cold facts should make what happened at Medinah more palatable. The U.S. has now won only four of the last 14 Ryder Cups, with a tough away game on tap. Tiger Woods might remain determined to recapture his gifts, but on golf's biggest stages, none of America's often celebrated young players have demonstrated the combination of drive and skill that is required to get all the way to the top. Conversely, before Rory McIlroy ascended to world No. 1, he was preceded in that spot by three other European golfers -- Kaymer, Lee Westwood and Luke Donald.
All four members of that club won their singles matches Sunday, and the most significant of those victories -- both for the matches and for the future -- was by Kaymer. When he won the 2010 PGA at age 25, he seemed to have the hands -- and especially the head -- to set himself apart. But shortly after achieving No. 1, Kaymer embarked on adding the ability to hit a draw to his repeating fade. The result was that he lost consistency with either, plunged on the World Ranking and came to be considered a weak link on the European squad.
Kaymer reported that something clicked in his swing three weeks before the Ryder Cup at the KLM Open; he came to Medinah encouraged. Still, he played poorly Friday with Justin Rose, losing a four-ball, 3 and 2. Benched on Saturday, he drew inspiration from a meeting with Langer, the winning captain in 2004 who has become a mentor.
In his Sunday battle with Steve Stricker, Kaymer recovered from taking three from 18 feet on the 15th hole. Thinking of Poulter's exploits, he made saving putts at 16 and 17, and after driving into a bunker on 18, a hit a courageous 7-iron to 25 feet.
With two putts to win the Ryder Cup, Kaymer got tight and watched in momentary horror as what should have been a lag rolled much too far by. But just when it seemed his fragile career was on the verge of a psychological death blow, he dismissed a quick flashback to 1991 at Kiawah and calmed himself in the Germanic tradition of Langer and Nicklaus. "I don't know, suddenly I was not that nervous," said Kaymer. "There was only one choice to have; you have to make it."
It's the ultimate golf mindset, and one just about the whole European team was blessed with on Sunday. Whenever they start getting mad about Medinah, American fans should remember that.