News
Four Years Later, Captain Azinger Still Leaves His Ryder Cup Mark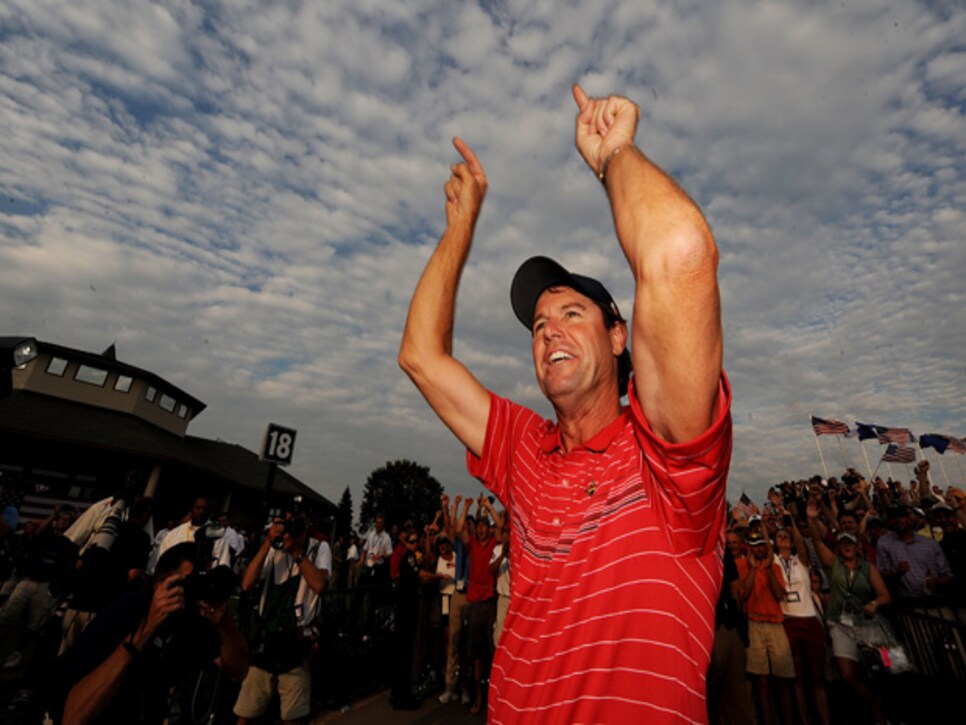 Azinger's genius was that he convinced his 2008 squad to sell out for each other. There have certainly been more impressive teams, but the lineup produced the only U.S. blowout since 1981.
If who wins the Ryder Cup is indeed important -- and while it's hard to say why exactly, it must be -- then this is a very important year for the United States.
America lost the last one in Wales, but winning at Medinah is about more than just holding serve. Since 1985, the U.S. has only won the Matches four times in 13 tries.
Four out of 14 and America will be trending like Great Britain's golfers circa 1960. And although that might be a little mean, this isn't: Combined with Tiger Woods being succeeded as World No. 1 by four Europeans over the last two years, a loss in Chicago would plausibly mark the de facto end of golf's American Century.
A win, on the other hand, will buy the idea of U.S. hegemony more time. That's what happened in 2008 at Valhalla, when the buildup to the matches felt even more like "the desperate hours." The U.S. was coming off three straight losses -- 2004 and 2006 being blowouts -- with only the miracle finish at Brookline in 1999 preventing a streak of six straight. Worn down by constant criticism, the best U.S. players began resenting the Ryder Cup like it was the strictest teacher in school, wishing it could be more along the lines of the kinder, gentler Presidents Cup.
Enter Paul Azinger, one of the five most pivotal figures in the history of the Ryder Cup, along with Jack Nicklaus, Tony Jacklin, Seve Ballesteros and Dave Stockton. As a player, Azinger was an American stalwart who beat Ballesteros and José Maria Olazábal in his first two singles matches. In his last, against Niclas Fasth in 2002, his final shot was a hole-out from a greenside bunker that kept the U.S. alive and is arguably the greatest do-or-die shot in the event's history.
But Azinger's most lasting legacy will be his captaincy in 2008. He had lobbied for the job with a burst of original thinking born from the pain of watching his country get repeatedly waxed. In short order he convinced the PGA of America to change the team selection process to double the number of captain's picks to four and tinker with the points qualifying period in the interest of gathering the hottest players.
Far more than any previous American captain, he took control of the course setup, ordering light fairway rough and firm greens in an effort to maximize the advantages of a team loaded with long hitters. To make the American galleries a vociferous 13th man, he had his players hand out commemorative lapel pins by the thousands (accompanied by solid eye contact) and emceed a Thursday night pep rally in downtown Louisville.
Most of all, Azinger employed psychological insight that began 15 years earlier while watching a Discovery Channel documentary on how Navy Seals become tightly bonded by training in small groups. "In my time, we've had the better players, but they've had the better team," Azinger says. "I used to watch the Europeans and wonder why they got along so well, and my mind went back to that documentary. Europe was bonded in small groups by nationalities. They sold out for each other more than we did, and it's how they beat us with lesser players."
Azinger's genius was that he convinced his 2008 squad to sell out for each other as well. There have certainly been more impressive teams on paper -- Boo Weekley, Ben Curtis, Kenny Perry and J.B. Holmes played prominent roles, while Tiger Woods was out with an injury -- but the lineup produced the only U.S. blowout (16½-11½) since the Dream Team of 1981.
Azinger, who had what would have been a Hall of Fame career taken away from him by cancer, is proud of his captaincy. He and I do a weekly podcast for *Golf World Monday
*, and when the conversation turns to the Ryder Cup, he can't completely restrain his desire to help Davis Love III.
"The key to this Ryder Cup is Rory McIlroy," Azinger says. "Just like we used to do with Seve, and Europe has done with Tiger, the U.S. has to find Rory. Figure out what slot he's in, either teaming up with Graeme McDowell or in singles, and put our hottest players against him. And if they aren't our biggest names, all the better, because then they'll have everything to gain. If we can beat Rory, we win this Ryder Cup."
Considering the source, Love has been listening. It is, after all, important.