News
Who Is The Real Jason Dufner?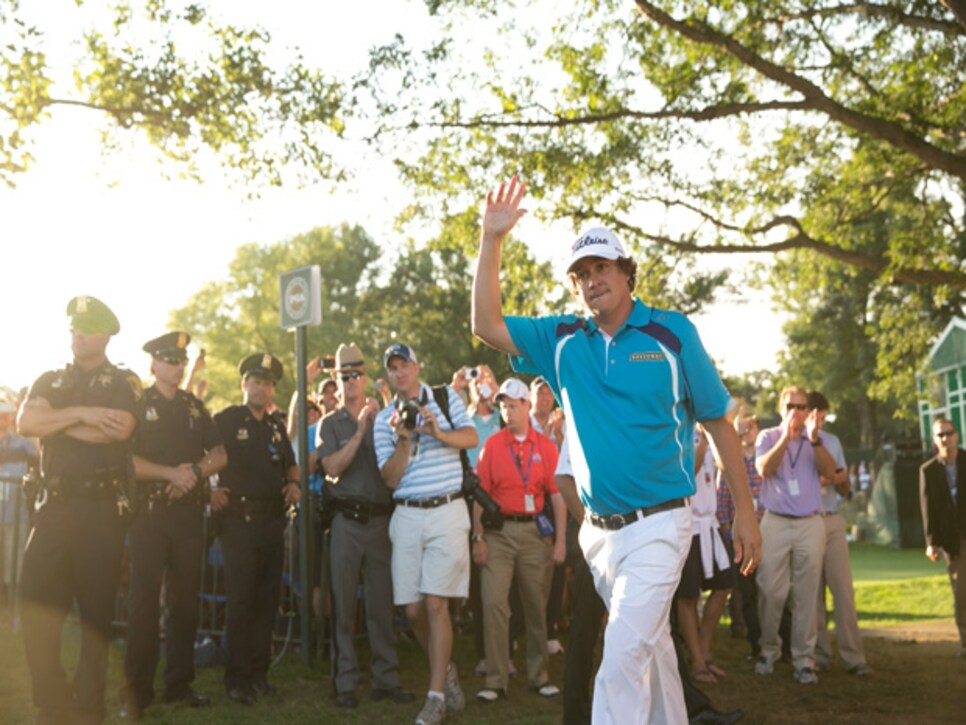 Somehow mop-haired, poker-faced, pot-bellied, sweet-swinging Jason Dufner has a certain mystique. Last week on his post-PGA media tour of Manhattan, he became probably the only person ever to do separate extended television interviews on the same day with Howard Stern and Charlie Rose, and pulled it off.
On Stern "The Duf" was loose but savvy, deftly dodging the racy stuff yet still getting close enough to the line to play along. To the inevitable question about victory-squeezing his wife, Amanda, Dufner's answer, in context, was pitch perfect, "Yeah, I grabbed her butt." As his friend and frequent foil, Keegan Bradley, tweeted, "Pains me to say that Duf did a good job on Stern."
On Rose's intelligentsia-aimed show, Dufner shifted into attentive Auburn graduate with a degree in economics, cogently explaining the difficulties of playing with a "shut face" to his golf-engrossed host.
That's Dufner, comfortable low-brow or high, and anywhere in between. Somehow, a common touch makes his stoicism intriguing rather than boring, his extensive time on social media sharing rather than self promoting -- whether intuitively riding the viral wave that was Dufnering or posing his French bulldog puppy in the Wanamaker Trophy. "I've played that angle a little bit," he admitted to Robin Quivers, "the everyman."
The late blooming 36-year-old returns to the Big Apple this week -- for the Barclays at Liberty National to kick off the FedEx Cup Playoffs -- as golf's emerging cult hero. Particularly if he plays well, the mystique will become more intriguing, although I suspect its source is simple. After all, The Duf is a seeker of excellence.
His profile may suggest sloth, but there is no way Dufner could have become perhaps the best ball-striker in the game if he wasn't consumed with honing his skills. His performance at Oak Hill -- where his precision action led to a Johnny Miller-type exhibition with his irons -- culminated the kind of long and earnest journey in a way that is irresistible to most humans.
Behind the blank expression, Dufner is a mental grinder. He reads biographies of high achievers and specialized self-help books on topics like the best brain food and breathing under pressure. As a young player, he was naturally drawn to Ben Hogan, whose Five Lessons was his first golf book. Ever since, he has had a good eye for mentors. As a PGA Tour rookie in 2004, he persuaded Vijay Singh to become a regular practice partner and sharer of wisdom, and more recently, he has struck up a friendship with Lee Trevino.
His richest source of knowledge has been swing coach Chuck Cook, whose students have included Tom Kite and Payne Stewart, who the then-struggling Dufner first saw in January 2008. "Duf was a good player, but he was in a bad spot technically," Cook says. "He'd gotten his clubface mega-closed, and it forced him into running out beneath himself with his legs to try to keep the ball online."
During their early sessions Cook regaled Dufner with stories of Hogan, who in 1980 gave Cook permission to observe him hitting balls for two days at Shady Oaks. Cook emphasized to Dufner how Hogan barely took a divot and kept his right foot close to the ground on the downswing. "His club barely touched the grass, so you couldn't really tell where he had practiced, except by the deep impressions made by his feet. Even in his mid 60s, Hogan was really pushing into the ground hard." Cook says it's the way Dufner has also mastered the movement of the right foot, and it's the key to his control and consistency.
Alas, Dufner had never taken an analytical approach to putting, always his weakness. It has been particularly abysmal in 2013, with some memorable cutaways on telecasts gruesomely showing him missing veritable tap-ins. At the PGA, Dufner was clearly yippy, marking 10-inchers to gather himself before painstakingly putting out. In hindsight, the most impressive thing about his victory was the way he dug deep enough to shake in the short ones in a way not seen by a major champion since Orville Moody won the 1969 U.S. Open.
"Duf has had very little faith in his putting for a long time," Cook says. "He thought it was just an individual thing to be done any old way. But now he's finally put his mind to the fundamentals and become reasonably conventional. At the moment, his ability to hit the ball the right distance hasn't caught up with his new ability to hit it on the right line, so the faith still isn't there. But it's coming."
If the putting ever reaches excellence, there won't be any more wondering about the source of the Dufner mystique.