News
Tiger And The Major Chase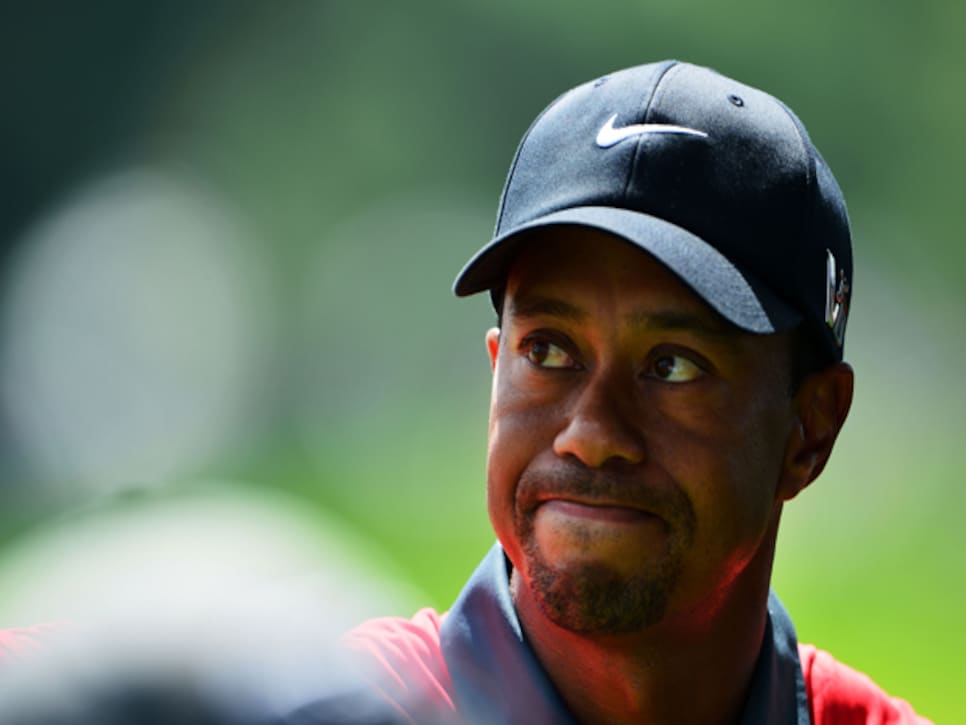 Tiger Woods of the United States walks off the 18th green after an even-par 70 on Sunday.
Now, more than ever, there is serious doubt.
With his tie for 40th at the PGA Championship, Tiger Woods has become the consensus underdog in his pursuit of Jack Nicklaus' record of 18 professional career major championships.
Because so much of what's wrong with Woods is speculative -- Is it major-countdown pressure? Injury? Swing? The driver? Putting? Psychic wounds? -- let's start with facts and numbers, the most immediate being that Woods went majorless in a 2013 season he entered professedly primed to be better than ever. Throw in that he only broke 70 once in a major this year, and that it has been nine majors since he broke 70 on the weekend. And for poetic irony, consider that he has now gone 18 majors without a victory.
Woods has also entered a realm in which he is fighting history. The next major he wins will represent a lag of at least six calendar years since his last major victory, an ominous span.
Of the 27 players who have ever won four or more major championships (a group that produced 178 major victories), on only 10 occasions has a player had a lag of six or more years between major wins: Willie Park Sr., 1866 to 1875; J.H. Taylor, 1900 to 1909; Harry Vardon, 1903 to 1911; Gene Sarazen, 1923 to 1932; Peter Thomson, 1958 to 1965; Raymond Floyd, 1969 to 1976 (and from 1976 to 1982); Lee Trevino, 1974 to 1984; Jack Nicklaus, 1980 to 1986; and Ernie Els, 2002 to 2012.
It means that, with few exceptions, the major knack can't survive a six-year drought. It also means that to get to 18 majors, Woods will have to first end his six- (or more) year lull and then follow with three more victories. In the history of golf, only Floyd and Gene Sarazen have ever won majors more than six years apart and gone on to win at least two additional majors.
The counterargument -- and one that Woods has often cited -- is that Nicklaus won his majors over 24 years (1962 to 1986), and 2014 will mark 17 years since Woods won the 1997 Masters. But a Nicklausian span is anything but a given. If Woods wins a major next year, only Nicklaus, Gary Player (19 years), Taylor (19 years), Vardon (18 years) and Els (18 years) would have won majors over a longer period.
Other numbers still favor Woods. Nicklaus, for instance, didn't win his 15th major until his 67th try as a pro, and the PGA Championship was Woods' 64th major as a pro. Five players have won multiple majors in their 40s. Woods' five victories in 12 events so far in 2013 also bode well. His former coach, Hank Haney, believes that the key to Woods passing Nicklaus will be to return to the approximately 35 percent winning rate he achieved in his best years, from which major victories will naturally flow.
But in the past two years the contrast between Woods' ease in regular events and his struggles in majors gives serious pause. That difference was never more stark than at Oak Hill, where Woods arrived fresh from a seven-stroke victory at Firestone.
For some reason, Woods simply didn't have it. As usual, he was dry and evasive afterward, though unintentionally revealing in denying he is concerned about the apparent governor on his game in recent majors. "I've been there in about half of them," he said of the last four majors, "so that's about right." It was strange and a little sad to hear the player who through 2008 won 14 majors in 46 professional tries sound satisfied about merely being in the hunt half the time.
Regardless, Woods' chase remains the most enduring water-cooler conversation in sports. Loyalists say that once Woods finds the major formula again -- just as he has in regular tournaments after his fallow period of 2010 and 2011 -- he'll be able to repeat it. And if at age 38 he wins at Augusta or Pinehurst or Hoylake or Valhalla in 2014, the debate will tip back in his favor. He will once again be Tiger Woods.
The question that matters most is whether, regardless of what has always been assumed, Woods truly cares about breaking Nicklaus' record. In his book The Big Miss, Haney recounted asking the question directly in 2007 and being stunned by the answer: "I'm satisfied with what I've done in my career."
Maybe Woods didn't really mean it. But if he did, there's all the more reason to doubt.