News
The Evolution Of Golf Greatness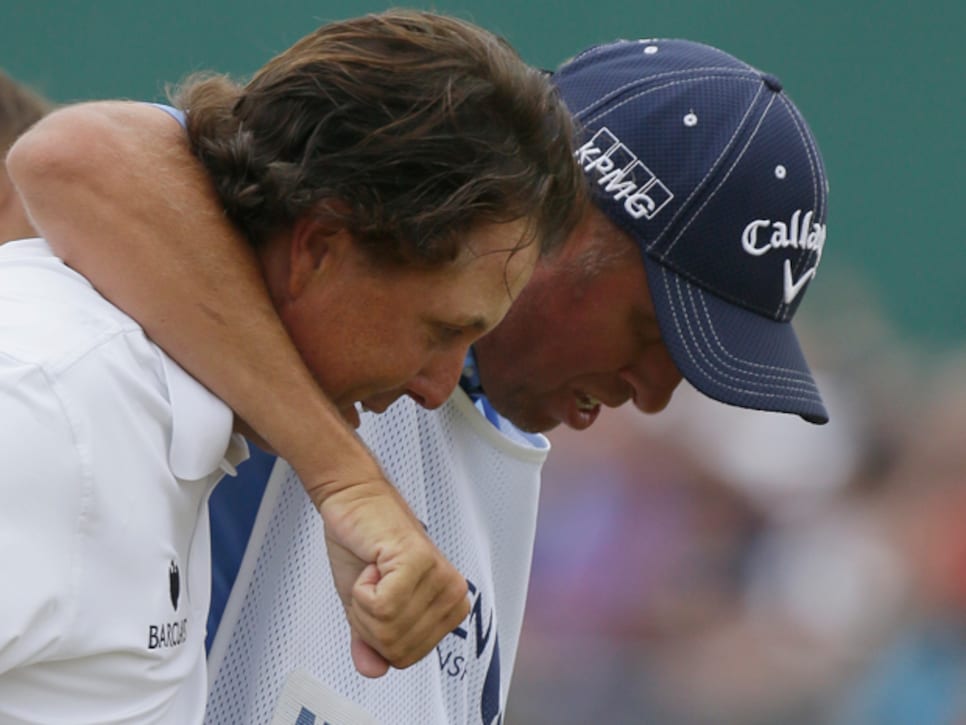 Phil Mickelson celebrates with his caddie Jim "Bones" Mackay after birdieing the 18th and final hole at Muirfield.
It's been awhile since I've really believed in Phil Mickelson.
I did back in the early 1990s when the young pro was both golden child and ironclad closer whose magical hands could work miracles with an L-wedge. That early habit of winning got him on pace for what is now 42 career victories.
But the path was altered at the 1995 U.S. Open at Shinnecock Hills, where Mickelson had a good chance but finished weakly. A long period ensued in which Mickelson would regularly capture tour events, but seem over his head in majors -- especially the British Open.
Rather than a hardened competitor, the always-amiable Mickelson began to appear more of a California softy whose swing and resolve both lacked a solid foundation when the going got tough.
Once Tiger Woods -- a supremely talented OVER-achiever -- burst on the scene, Mickelson lost more cred. By comparison he seemed out of shape, undisciplined, lacking ambition, although always a charmer who the crowds loved. Mickelson was good at hiding it, but he was disheartened by how he was widely perceived.
As would become his habit, Mickelson rallied, only to see first Payne Stewart at Pinehurst and then David Toms at Atlanta steal majors from him. He improved, but misguidedly seemed more concerned with playing aggressive power golf than winning golf, even issuing the "Mickelson Manifesto" at the 2002 Players, where he announced he would never change his high-risk style of play. It fed the impression of a player who didn't fully respect his gift.
Instructor and friend Rick Smith made progress in the early 2000s, finally convincing Mickelson to begin playing fades in the interests of accuracy over power. It meant making the technical change that was well overdue -- shortening his backswing to reduce the extreme steepness in his downswing.
It was the basis of the swing Mickelson would use to win his first three majors, the 2004 and 2006 Masters, and the 2005 PGA. Still, he wouldn't commit to the more drastic alterations needed to have any success at the British Open.
When Mickelson switched to Butch Harmon in 2007, the results were promising with an immediate and stunning win at the TPC Sawgrass Players Stadium Course, where his game had always appeared cramped. Harmon too was advocating a wider, shorter swing and quieter leg action, but rather than sign on, Mickelson became a selective listener. As Harmon would occasionally complain, Phil seemed to want to hit the ball far more than he wanted to play well.
But in 2009, Mickelson was ambushed by fate. First his wife, Amy, and then his mother, Mary, were diagnosed with breast cancer. The next year, an inspired Mickelson won the Masters for the third time. Four months after that, he was found to have psoriatic arthritis.
In the aftermath his golf was mostly mixed. At times Mickelson seemed burdened. But there were also important moments when he showed an extra resolve. In 2011 he decided he enjoyed links golf and played impressively at Royal St. George's when it hosted the Open. In early 2012 he was paired with Woods in the final round at Pebble Beach and not only shot 64 to win, but beat Tiger by 11 shots.
Still, as Mickelson was inducted into the World Golf Hall of Fame later that year, he seemed destined for an erratic performance pattern that would inevitably reflect a decline in his abilities. As well as he played at Merion, to me his loss confirmed as much.
That was wrong, as Muirfield proved. By finishing the round of his life with six consecutive superb shots on the last two holes, Mickelson proved himself a candidate for all-time greatness -- indisputably if he can finally capture a U.S. Open to complete the career Grand Slam. If he can bring the focus and controlled technique he displayed on the links to Pinehurst No. 2 next year, would you bet against him?
How did the mercurial transform into the substantial? My guess is life. Through his familial misfortune, Mickelson heeded the call to become a better, more disciplined, higher-character person. Profoundly, he grew up.
The golf has followed. He's slimmer and fitter. He's listening to Harmon more. At Muirfield the chronically saggy leg action that has always plagued him was tighter and more balanced than it has ever been.
Perhaps golf greatness has become his refuge, or his new toy, or the gift he finally respects. It's hard to know. But holding the claret jug last Sunday, Mickelson said that at age 43 he's a better golfer than he has ever been.