News
Mo Martin's Amazing Grace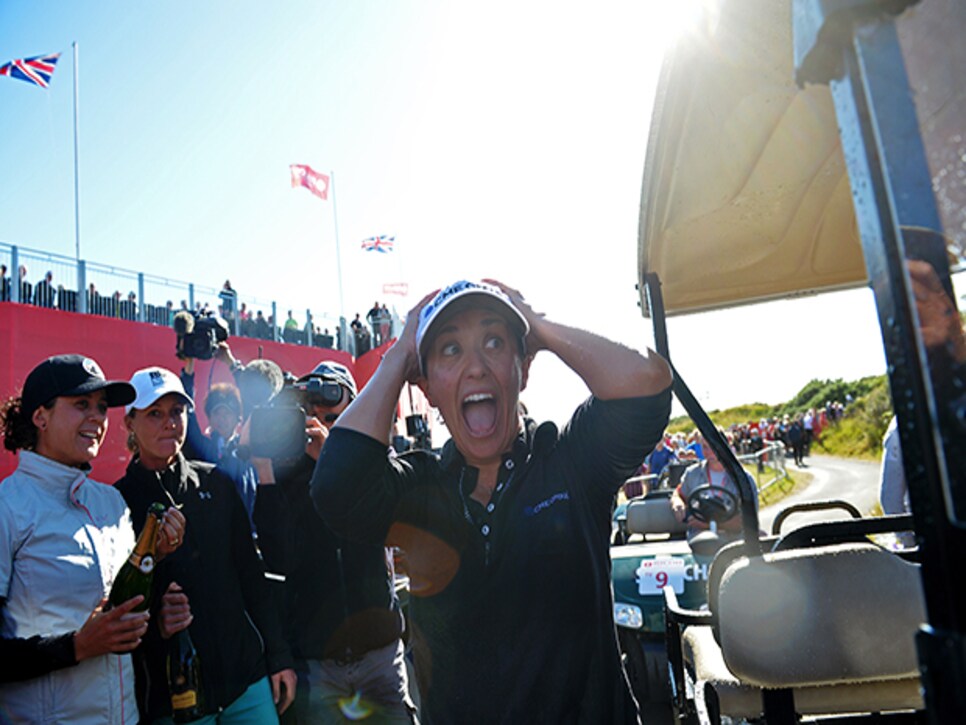 Sure, Mo Martin got lucky at the Women's British Open.
That surreal 3-wood rolled 60 yards before hitting the stick. The remaining eagle putt didn't feel like it would actually be the winner, not with several contenders on the course and two reachable par 5s at the finish. When unflappable Inbee Park crumbled under the weight of a career Grand Slam, the 31-year-old Californian who had one top-10 in her previous 63 LPGA starts was the champion.
But in the end, it's golf that got lucky. Mo Martin is one of those special people who will make the game better.
Martin may become the latest one-and-done women's major winner, who -- like Hilary Lunke or Birdie Kim -- simply had a magical week in classic fast-and-narrow championship conditions in which short hitting was only minimally punished while straight hitting was greatly rewarded. But even if she falls back into obscurity, the sheer style of her accomplishment will always make her the real deal.
Martin is that rare person among those who play golf for a living who can't help connecting with others and inviting them into her world. In both interviews and her own writing, she has shared her journey -- from learning the game from her father at age 4 to playing serious money games as a teenager against grown men at a raggedy Pasadena pitch-and-putt to her revelatory relationship with her grandfather -- with an amiable candor. Her body language at Royal Birkdale was even more eloquent, including an open-faced serenity and her memorably spontaneous celebratory wiggle from the 18th fairway. Throughout, her message was gratitude for all of it.
It's not an easy state of mind for a touring pro to attain in the heart of his or her competitive career. The battles are all-consuming, so that perspective usually comes, if it comes, in later years. Those who can carry a balanced and generous spirit during tournament play become important representatives of the sport at its best, all the more remarkable when they are champions. JoAnne Carner and Meg Mallon had the knack, as did Fuzzy Zoeller, as do Adam Scott and Martin Kaymer. The model for well-roundedness while a world beater was Bobby Jones, whose example determined that golfers more than other athletes would be judged for their character as much as their competence.
Though I have never met Martin or seen her play in person, what she projected through the television screen from Birkdale was definitely Jonesian, with an extra dollop of exuberance. A graduate in psychology from UCLA, her eclectic interests include martial arts, playing drums, rescuing and adopting animals, yoga, dancing, cooking and reading. Her wish list includes performing for Cirque du Soleil, visiting the International Space Station and eliminating procrastination from her daily schedule, "just to know what it feels like not to procrastinate."
"Mo is very smart and intuitive, always fun, a little mystical and very self-sufficient," says UCLA women's golf coach Carrie Forsyth, who brought Martin in as a walk-on freshman in 2002. "We would call her The Gypsy. When she was on the mini-tours for six years, it didn't faze her to live out of her car. She was so clear in what she wanted and why she wanted it, it was simple for her."
Her agent, Don Yee, mostly represents NFL athletes (in- cluding Tom Brady), but he took on Martin "because she's such a refreshingly real person."
"Mo has not only paid her dues, but embraced them," says Yee. "It helps her see things in a way that others don't and gives her a certain calmness."
That trait held Martin together after a seemingly disastrous run of bogeys on the back nine Saturday at Birkdale. "Mo has a lovely nature, but she's the captain of her ship," says swing coach Ian Triggs, who began working with Martin last year in an effort to raise her ball flight and create more distance. Only 5-foot-2, Martin has a swing gorgeous in its simplicity that's evocative of another Triggs student, Karrie Webb, and she possesses a demon short game that was shaped early in lessons with Paul Runyan. She began using a long putter at age 5 because her late father, Allen, a criminal defense attorney, thought the movement to ban the club's use suggested it held an advantage. But last year when Triggs saw Martin fooling around with a conventional putter, he convinced her it made her stroke better and got her to switch. Adam Scott, take note.
Actually, all golfers should take note of the many exemplary things about Martin, who is just a little more success from becoming universally known as simply "Mo." And if character is indeed destiny, bet on that to happen.