News
The Timeless Will Of Gary Player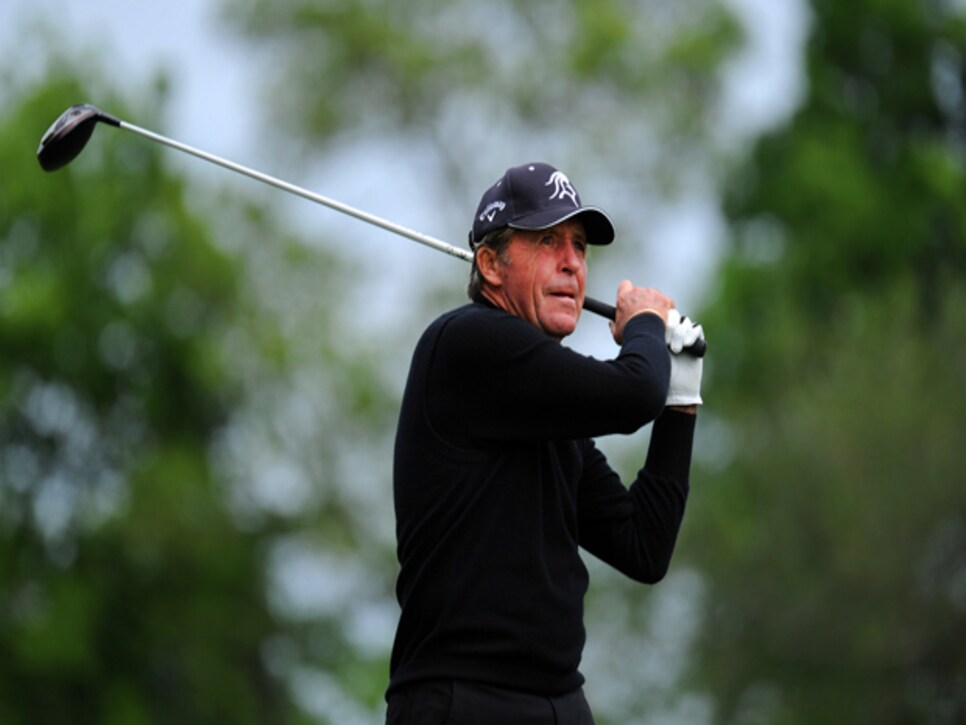 Player earlier this year at the Liberty Mutual Insurance Legends of Golf.
The dream had begun well before, when Gary Player was a 16-year-old who'd broken his neck jumping into a compost pit while showing off for friends. During his convalescence, he would look into a mirror and repeat the phrase, "You are the greatest golfer in the world."
The 1959 British Open at Muirfield was where he began to back it up. At 23, Player won the first of his nine major championships on the revered links, doing so with the same audacious self-belief that at 77 has him posing nude in ESPN The Magazine's upcoming Body Issue.
Though it was the first Open Championship televised across the Atlantic, it remains one nearly devoid of lore, the last year before Arnold Palmer made his pilgrimage to St. Andrews in 1960 and then won the claret jug in 1961 and 1962. It wouldn't be the last time Player would be overshadowed in history.
But like every Player accomplishment, a closer inspection reveals the victory was marked by his idiosyncratic blend of sheer will and engaging personal dynamics.
"The club secretary at the time was a very proper gent named Col. Evans-Lombe," remembers Player, on the phone from his horse ranch near Colesburg, South Africa, on a family break with his wife of 56 years, Vivienne. "I walked in and said, 'I've come to practice for the Open, sir.' He looked at me and said, 'You can't play here, my boy. Get that out of your mind.' Man, for a moment I felt so low. But then I started talking to him and made a great friend. We met for tea each morning, and then he'd let me on the links."
Legendary instructor John Jacobs played practice rounds with Player and was struck by how much the young ball of fire had improved since first seeing him in 1955.
"He had a genius for scoring," says the 88-year-old guru from his home in England. "Even when he had the worst golf swing you'd ever seen, he played the best golf you'd ever seen. But now he'd improved his swing dramatically. Nothing was ever going to stop Gary from being a winner."
After opening with rounds of 75 and 71, Player was eight strokes behind going into Sunday's 36 holes. Before teeing off, he announced to a friend, "Today you are going to see a small miracle. I am going to win."
He shot 70 in the morning and in heavy wind put on an inspired afternoon charge. He came to the last hole needing par for a final-round 66. But after bunkering his drive, he three-putted for double bogey. Close to tears, he spent most of the next two hours desolately pacing back and forth along the 400-yard entrance road to the club before finally learning he had won.
Does he think his career would have been derailed if he had lost? Player pauses for a moment before responding. "No," he says, "I was too determined."
And so he remains. When asked how much he misses competitive golf, Player at first gives his stock answer that 60 years of it was enough, but then can't contain himself. "In the last two years, I've found certain things in the swing that I never, ever did, ever," he says. "In all my 18 majors -- I won nine on both tours -- I never found this out. And I tell you what, you can't believe how I play now."
His youthful self-image trumped any reservations he might have otherwise had about posing for the Body Issue, in which he will be the oldest ever participant. It also gives Player his best platform ever regarding the crusade for which he was long mocked but proved ahead of its time.
"My great ambition now is to get a message through to people," he says. "Stay in shape. Stay well. Health care is self care."
Player says he posed in an Atlas-like stance, holding over his head a four-foot-diameter ceramic golf ball that his son, Marc -- with the photo shoot in mind -- bought from a roadside driving range for $1,000.
"You have no idea how heavy it was," he says, "but I can still squat 250 pounds, and I weigh 145. To lift that ball as if it were the world, it gave me such pride."
Here Player switches back to his memories of Muirfield, where in his zeal he showed up at the outdoor trophy presentation a half-hour early, wearing a white suit.
"In that beautiful setting, everything went through my mind," he says. "My past, my future. And the incredible power of dreams."