News
Kaymer's A Man Of His Words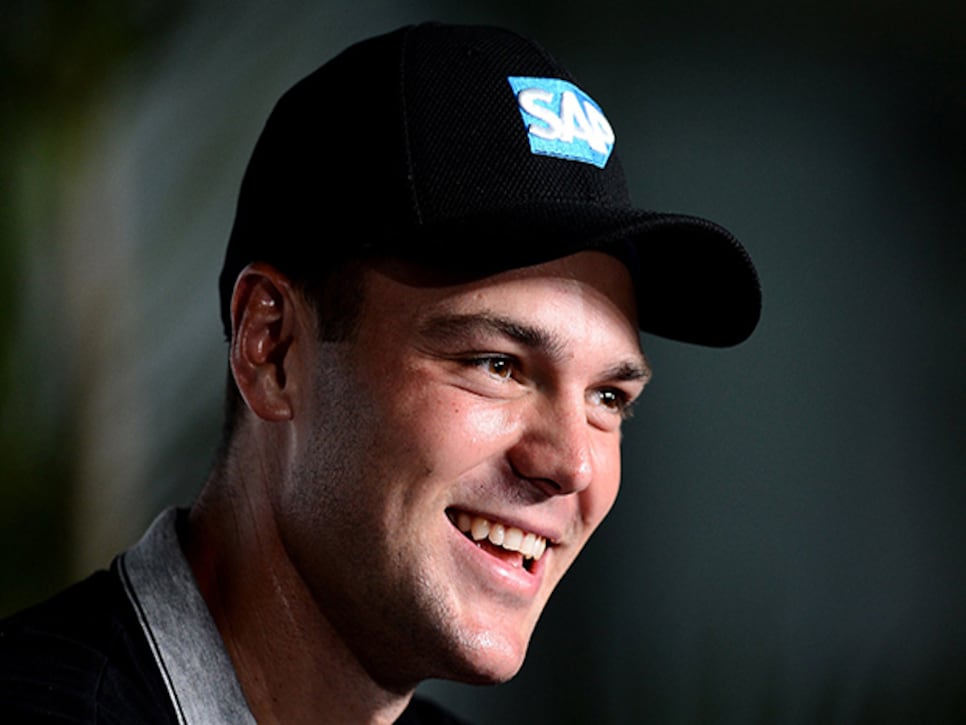 As it was in the run-up to the championship, the easy choice for star of the 2014 U.S. Open remains the renovated Pinehurst No. 2. For others, it's Erik Compton. Me, I'll take Martin Kaymer, by about eight shots. Not just for the incredible way he played, but for the generous way he talked the game.
In four expansive post-round interviews, the 29-year-old transfixed the assembled golf writers with a soft-spoken delivery that provided candid, thoughtful, insightful answers about the greatest game of all. "I always think I have to say something special and something that might be interesting," he said. "Because you know, that is what the PGA Tour, what golf, needs. Nice characters, good personalities. That is what people look up to."
Still, his distinct German accent alone would seem to make Kaymer an unlikely golf messenger. And while he's just won both the Players and the Open wire-to-wire, doesn't the way he virtually disappeared soon after reaching world No. 1 in February of 2011 -- plummeting to 63rd this April -- suggest Kaymer won't retain a prominent platform?
Maybe. But I see Kaymer, now 11th in the world, getting near or even again reaching the very top and this time staying there. At both TPC Sawgrass and Pinehurst he demonstrated a rare completeness through the bag, especially with the putter. And the same player who made the do-or-die five-footer at the 2012 Ryder Cup has done in two of golf's most grueling events the very thing that has become increasingly difficult for the current era's tour pro: close convincingly.
This tough and tender package makes Kaymer a potential change agent, a player whose willingness to share the real stuff of what it takes to produce championship golf will help carry the game to the people. Maybe his mentor and fellow German Bernhard Langer wasn't built that way (although he's become more accessible on the Champions Tour), but Jack Nicklaus with Teutonic persistence became an oracle for golfers through his thoughtful interviews and books.
Of course, Kaymer is also pragmatic. "I want to explain [so] that you understand," he said. "Otherwise people write something which is not true. And I'd rather take a minute longer to explain it properly, what I mean, than if you make something up."
At that same time, he has a natural inclination to share his story, as if articulating his thoughts will bring him closer to solving personal mysteries. Of his difficult slump, Kaymer said, "Four years ago I didn't know what was happening. I was surprised about a lot of things. I couldn't handle a lot of things that happened in Germany, all the attention I could get. And then becoming No. 1 in the world, that added another thing. It was too much."
According to his manager, Johan Elliott, Kaymer at the time didn't feel worthy of his own perception of what a No. 1 player should be, and so he embarked on a technical change to his swing that would allow him to add a draw to his arsenal.
"It was more than just wanting to play better at the Masters, it was an inner thing for Martin, something he had to do to feel fulfilled in himself," says Elliott. "The problem was that as a pure feel player he had never before gotten technical."
The two forces -- one internal, one external -- pulled Kaymer away from his normally serene center. "I knew I would struggle a little bit for a while," he said. "You know, you don't win again. So why is that? So why do you change? So you have to answer all those questions all the time . . . And you know, I don't want to be rude to people, so that's why I kept answering."
It's a cycle most of today's top players understandably want to avoid. At the same time, giving canned and/or evasive answers has removed arguably the most important figures in the game from golf's conversation more than ever, and at a time when the sport needs all the outreach it can muster.
What Kaymer proved at Pinehurst is that confronting what's most challenging and difficult about competition in a public way doesn't have to be a psychological negative. "Martin very much believes that being honest about your fears is liberating," says Elliott. Kaymer eloquently shared the inner dialogue he went through on Sunday morning before finally resolving to "play brave" with his big lead. "The funny thing is when you approach that day with that attitude, you don't hit that many bad shots," he said.
Now that's the kind of authentic battlefield insight that makes our game richer. Hopefully, others will follow Kaymer's lead and keep it coming.