News
The Case For Phil At No. 2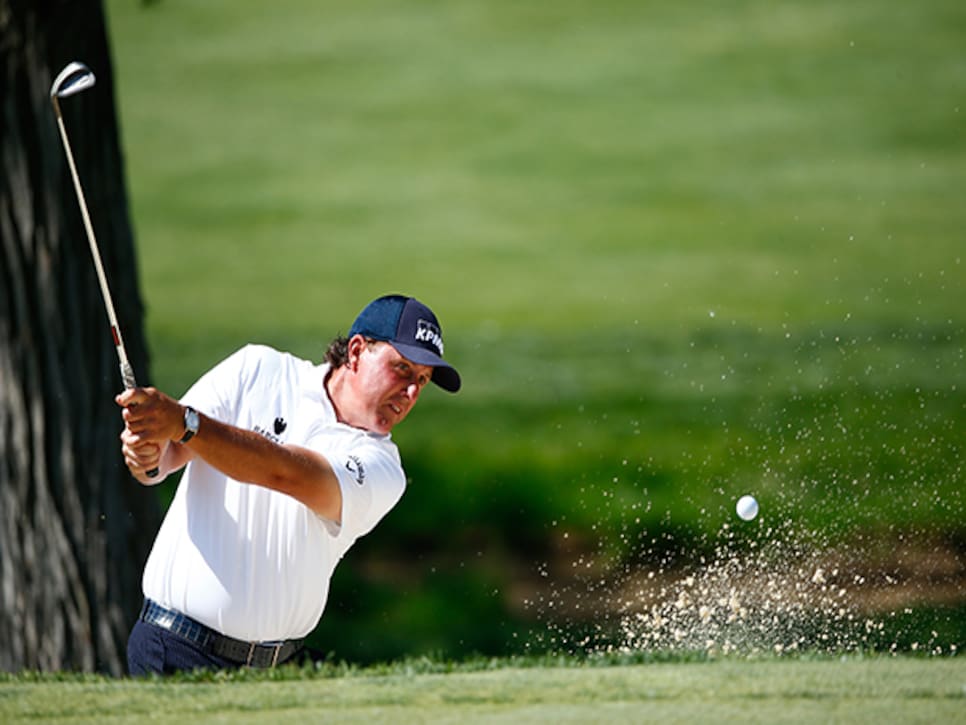 I used to think of Pinehurst No. 2 as golf's version of Atlantis. Back in the 1970s and '80s, when its original terrain was completely grassed over and it looked nondescript in books and on golf calendars, I knew Jack Nicklaus had called a scruffier and more naturalistic iteration his favorite strategic course in the world.
Pinehurst was rediscovered in the 1990s, since then having held two Tour Championships, a U.S. Amateur, U.S. Women's Amateur, U.S. Senior Open and two U.S. Opens. Still, attending those events didn't alter my sense that Donald Ross' masterpiece had been forever lost in the North Carolina Sandhills. But the recent, painstakingly brilliant renovation of No. 2 by Bill Coore and Ben Crenshaw has changed my mind. The architectural duo has, in Crenshaw's words, "illuminated the passages of play" to the point that the lost Pinehurst has been found.
Not that we know exactly what that will mean, which is a huge part of the excitement of the 2014 U.S. Open. At the moment all that's known for sure is that No. 2 has finally become a visual stunner, and that Pinehurst's resort guests love it despite finding it harder to score on. Soon we will know how the world's best will play it. No rough, wider than normal fairways, capricious natural areas dotted with random vegetation that will -- exactly opposite of graduated rough -- reward and punish capriciously.
Some players think this No. 2 will play harder. My guess is that it will be a bit easier, based mostly on the notion that the world's best will take a bare or slightly sandy lie over one in Bermuda rough every time.
Ultimately, the USGA will decide which way to tilt the scales. If it's feared the course won't present a suitable challenge, the greens might be made too firm, as happened in 2005. There is potential for the worst Open ever, or the best. I'm hoping for a low 72-hole score, maybe even a record-breaking 270, 10 under. Like St. Andrews in the British Open, I see low scores elevating Pinehurst's iconic allure.
Who will win? The new/old Pinehurst will be receptive to many styles. There is really only one mandatory requirement: dexterity around the greens. No. 2 has established itself in its first two Opens as the championship venue where the most greens are missed. In 2005, only Tiger Woods managed over 70 percent of greens in regulation, and only nine players were better than 59 percent. That means effectively negotiating the frighteningly tight lies around Pinehurst's crowned greens will be a separator. Under the heat, most pros have favored putting, but it's a compromise shot, intended to avoid a disastrous chunk or skull, rather than going for the perfectly clipped contact that produces the control to save precious pars.
Presuming a good short game, a bomber with a hot hand -- say Bubba Watson, Rory McIlroy or Henrik Stenson -- could take advantage of the wide fairways to miniaturize the 7,500-yard setup. Unlikely, however, because the tabletop greens are effectively so small, even wedges will be difficult to stop close. Players with the restraint to settle for the middle of the green will benefit, and temperamentally, medium-length hitters with lower ball flights are more suited to resist the temptation of flag hunting available to high-ball bombers.
Matt Kuchar checks those boxes. The 35-year-old top-10 machine also has the gift for staying cool while burning competitively hot, and because there is no rough, his flattish swing plane won't cause him the problems after missed fairways that it has in past Opens.
Still, something more than just sentiment tells me that Phil Mickelson's career Grand Slam could be completed at Pinehurst. No. 2 will give him room to be aggressive off the tee, his underrated control with his high-flying irons should keep him on a good percentage of greens, and his all-time ability with wedge shots around the green gives him a bigger than normal advantage over the field.
But here's the most important variable: Mickelson knows how to deal with pressure and close, something we haven't seen a lot of from top players in 2014. Watson, McIlroy, current No. 1 Adam Scott, Henrik Stenson, Dustin Johnson, and yes, Kuchar, have all suffered late Sunday meltdowns that have cost them wins.
Mickelson has never gotten on as many leader boards as a player with 42 victories including five majors seemingly should, which actually substantiates his closing bona fides. Yes, he's 43, deals with arthritis, carries the burden of his wife's cancer scare, and is currently being shadowed by the SEC and FBI. But at last year's British Open at Muirfield, Mickelson proved he can seize an ultimate moment. If he does so again next week, Pinehurst would become golf's Xanadu.